A Bit More on AMD's Polaris GPUs: 36 & 16 CUs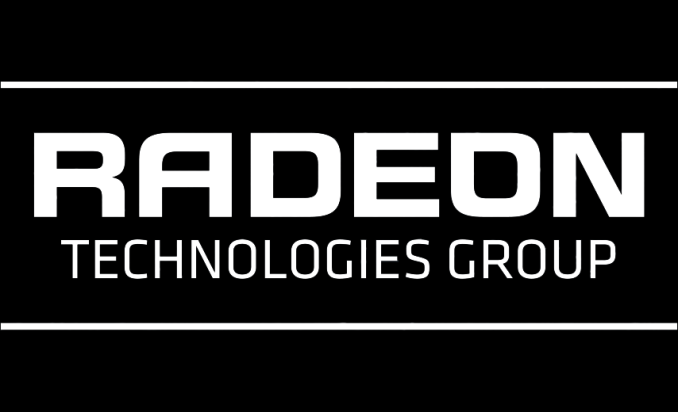 Along with this week's teaser of the forthcoming Radeon RX 470 and RX 460 at E3, AMD also held a short press briefing about Polaris. The bulk of AMD's presentation is going to be familiar to our readers who keep close tabs on AMD's market strategy (in a word, VR), but this latest presentation also brought to light a few more details on the company's two Polaris GPUs that I want to quickly touch upon.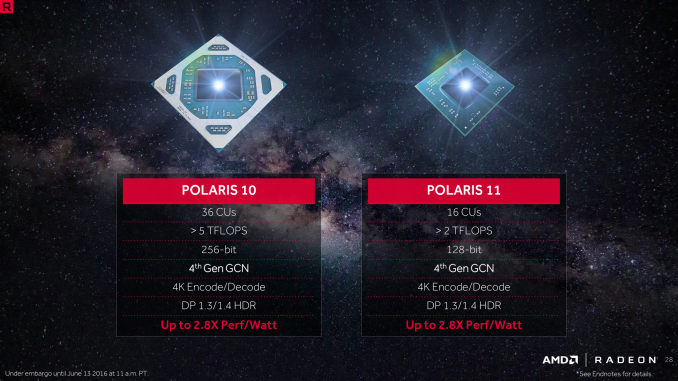 First and foremost, AMD's presentation included a slide with pictures of the two chips, and confirmation on their full configurations. The larger Polaris 10 is a 36 CU (2304 SP) chip, meaning that the forthcoming Radeon RX 480 video card is using a fully enabled chip. Meanwhile the smaller Polaris 11 (note that these pictures aren't necessarily to scale) packs 16 CUs (1024 SPs). This puts it a bit below Pitcairn (20 CUs) before factoring in GCN 4's higher efficiency. Meanwhile as is common for these lower-power GPUs, AMD's slide also confirms that it features a 128-bit memory bus.
AMD is expecting Polaris 11 to offer over 2 TFLOPs of performance. Assuming a very liberal range of 2.0 to 2.5 TFLOPs for possible shipping products, this would put clockspeeds of a high-end Polaris 11 part at between 975MHz and 1220MHz, which is similar to our projections for RX 480/Polaris 10. Note that AMD has not yet announced any specific product using Polaris 11, however as we now know that RX 470 is a Polaris 10 based card, it's safe to assume that RX 460 is Polaris 11, and the over-2 TFLOPs projection is for that card.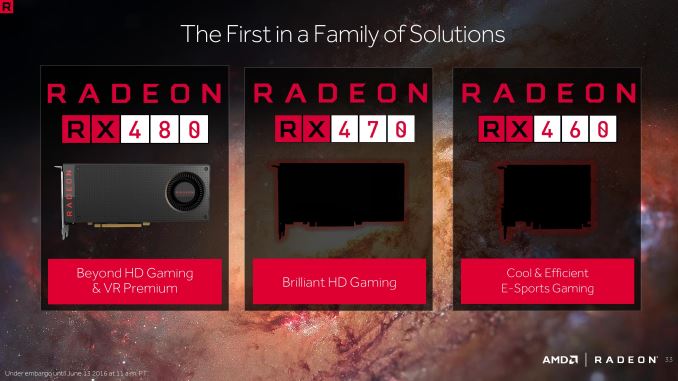 Second, briefly mentioned in AMD's press release on Monday was the low z-height of at least Polaris 11, and it pops up in this slide deck again. There was some confusion whether z-height referred to the laptop or the chip, but the slide makes it clear that this is about the chip. So it will be interesting to see how thin Polaris 11 is, how that compares to other chips, and just what manufacturers can in turn do with it.