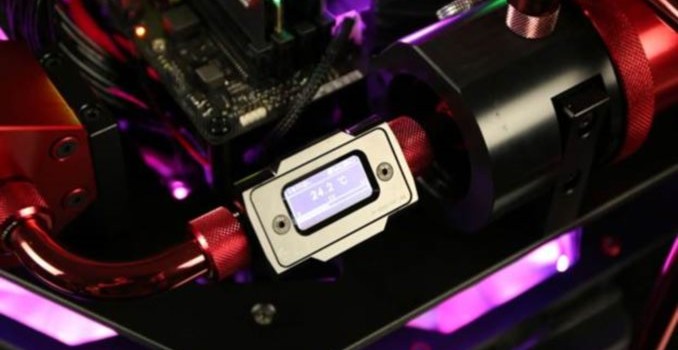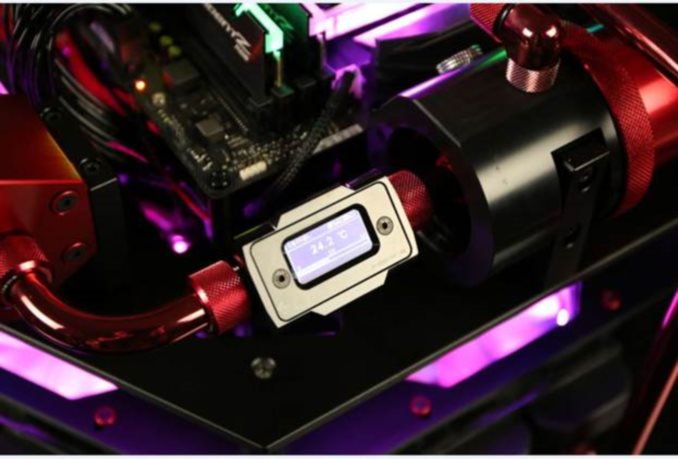 Bykski has unveiled two new real-time temperature sensor monitors, both featuring LCD displays capable of displaying real-time temperature information on its screen to the users. The Bykski B-TME-SE-AL and B-VGA-SC-AL both are added inline to your water cooling loop to allow for instant monitoring of the water loop fluid temperature right from its screen. Aside from temperature monitoring, it can add a unique touch to a user's loop. Typically temperature readings are handled by software or much larger devices that fit in the 5 1/4″ bays.
The B-TME-SE-AL is an inline device designed for use on the main loop tubing and features an OLED display showing real-time temperature information. It is able to get this information through a thermistor in the inlet screw which reads the liquids current temperature when passing through the device. Users are able to present the information in a curve display or progress bar on the screen. The TME is constructed of aircraft-grade aluminum and is available in black and grey colors with a smooth finish.
The B-VGA-SC-AL, on the other hand, is intended for use with VGA blocks and mounts to the VGA block itself. Like the TME, the VGA version works the same way with an integrated thermistor in the inlet screw reading temperatures. Like the TME, a curve display or progress bar are also options on its OLED screen. The VGA is made out of aluminum + acrylic and comes in two colors, black and grey, which should blend in with many VGA blocks on the market.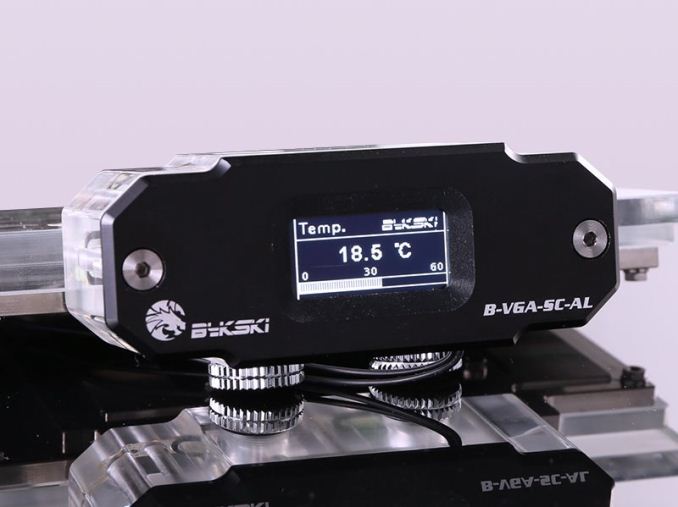 Both devices use a standard G ¼" threads so users are able to connect their own fittings and integrate the temperature monitors in the loop. These are made out of aluminum and we are unsure if there is a nickel coating. Be aware of potentially mixing metals inside your loop. Bykski stands by these two products with 3-year warranty.
Bykski B-TME-SE-AL and B-VGA-SC-AL
B-TME-SE-AL
B-VGA-CD-AL
Color
Black / Grey
Material
Aluminum
Aluminum + Acrylic
Process
Anodized
Pattern
Smooth
Thread Size
G 1/4″
Annex
No
Warranty
3 Years
Both are available now with the B-VGA-SC-AL block found at AliExpress.com for $35.95 and the B-TME-SE-AL found at sgshop.com for $47.27. I have to admit I would have expected these to cost more, regardless if they are a bit limited in functionality (temps only). Availability of the devices appear limited to the above sites overseas as a cursory search to find these anywhere local for the US/EU contingent turned up without results. That said, both websites above do ship internationally.
Related Reading: