ADATA Announces Ultimate SU900: 3D MLC NAND, SMI Controller, SATA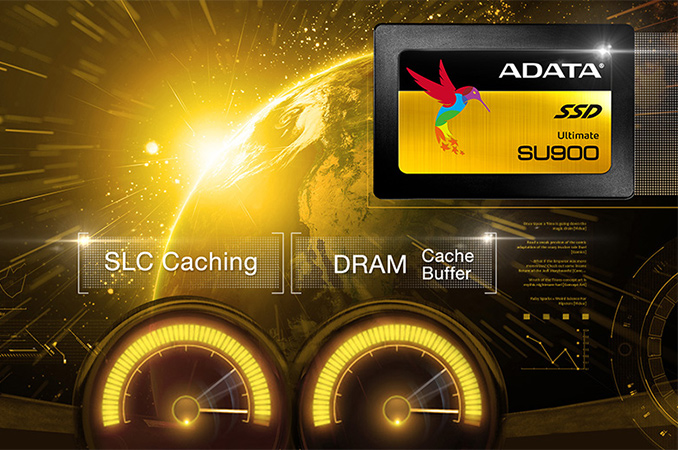 ADATA has introduced its second family of consumer SSDs featuring 3D MLC NAND memory. The Ultimate SU900 drive is claimed to be designed for users who value extended reliability that 3D MLC flash promises to offer under a SATA interface. Apart from usual capacities from 256 to 1 TB, the new lineup also includes a 2 TB model.
It is no secret that suppliers of SSDs are engaged into a price war in the recent years in a bid to maximize their sales and replace HDDs from various market segments. As a result, the progress made by SSD controllers has enabled makers of drives to use TLC NAND for consumer and then enterprise-grade SSDs. In the recent quarters, TLC-based SSDs made by various independent manufacturers demonstrated their viability in terms of costs and endurance and it was not surprising that when producers of flash memory began their transition to 3D NAND, they prioritized ramp of TLC-type flash memory. While performance of SSDs powered by TLC satisfies a lot of users and their reliability and durability cause no problems for SSD makers, there are people who demand a bit higher performance and a better endurance than TLC-based drives can provide. Particularly for such people, ADATA introduced its new Ultimate SU900 family of SSDs based on Micron's (IMFT's) 3D MLC NAND. The new drives are the company's second lineup of SSDs to use 3D MLC NAND after the high-end XPG SX8000 launched in late September.

The ADATA Ultimate SU900 family of 2.5"/7 mm SSDs consists of four models with 256 GB, 512 GB, 1 TB and 2 TB capacity. The drives are based on Silicon Motion's SM2258 controller, which has four NAND flash channels, LDPC ECC technology and supports a DRAM buffer as well as pseudo-SLC (pSLC) caching in order to maximize SSD performance.
Speaking of performance, ADATA says that the Ultimate SU900 SSDs support sequential read speed of up to 560 MB/s as well as sequential write speed of up to 525MB/s when pseudo-SLC caching is used. The manufacturer traditionally does not disclose random performance of its drives as well as their power consumption, but the SM2258 controller is rated up to 90,000 read IOPS and up to 80,000 write IOPS.
ADATA Ultimate SU900 Specifications
Capacity
256 GB
512 GB
1 TB
2 TB
Model Number
ASU900SS-256GM-C
ASU900SS-512GM-C
ASU900SS-1TM-C
ASU900SS-2TM-C
Controller
Silicon Motion SM2258
NAND Flash
3D MLC NAND
Sequential Read
560 MB/s
Sequential Write
520 MB/s
525 MB/s
Random Read IOPS
Up to 90K IOPS (taken from SM2258

, actual will be lower

)
Random Write IOPS
Up to 80K IOPS (taken from SM2258, actual will be lower)
Pseudo-SLC Caching
Supported
DRAM Buffer
Yes, capacity unknown
TCG Opal Encryption
No
Power Management
DevSleep
Warranty
5 years
MTBF
2,000,000 hours
MSRP
$117.99
$219.99
$409.99
Unknown
The Ultimate SU900 SSDs will be ADATA's most advanced SATA 6 Gbps SSDs to date and because their performance is higher compared to that offered by ADATA's Premier Pro SP920, the manufacturer will likely position them accordingly. Moreover, the inclusion of a 2 TB model into the product line emphasizes that the drives are aimed at both general consumers and users that need a lot of flash storage space. Given such positioning, it is a little strange that ADATA does not disclose TBW ratings of its Ultimate SU900 drives.
ADATA's Ultimate SU900 SSDs will be available in the coming weeks. MSRPs for 256 GB, 512 GB and 1 TB drives will be $117.99, $219.99 and $409.99, respectively. The 2 TB configuration will be available a little later and will naturally cost more. Like the rest of ADATA's premium SSDs featuring MLC flash memory, the Ultimate SU900 will be offered with a five-year warranty and with MTBF rating of 2 million hours.
Related Reading: