AKiTiO Introduces Node: Thunderbolt 3 eGFX Box for $299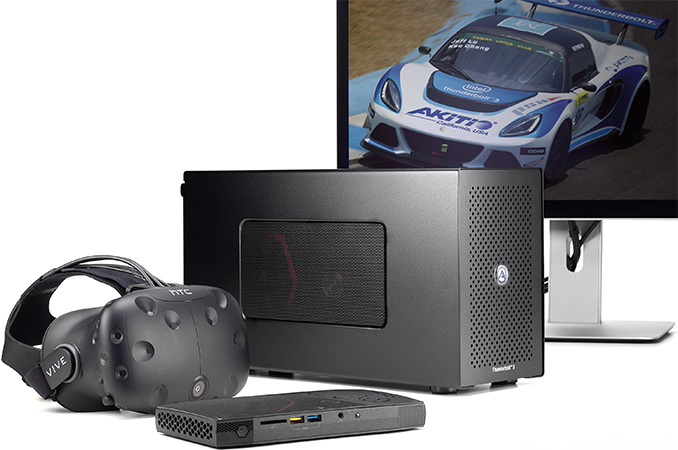 Over the past week AKiTiO has formally introduced its new external graphics enclosure using a Thunderbolt 3 connection. As with other external graphics enclosures, the AKiTiO Node allows a user to easily upgrade the graphics sub-system of notebook, AIO or SFF PCs that have a Thunderbolt 3 port by using a discrete graphics card. One of the key elements to eGFX is price and look, and AKiTiO has placed the Node at $299, but itcan fit graphics cards with massive coolers.
Enthusiasts started to experiment with external graphics over Thunderbolt 2 interface several years ago after multiple attempts of companies like ATI/AMD, ASUS and some others to develop commercial external GPU technologies had failed. Back in 2014, plugging a video card to a MacBook Pro using Thunderbolt 2 was costly: users had to buy a chassis for up to $1000 (there were cheaper methods, but they did not look solid), a PSU and a graphics board. The homebrew method worked, but had a number of limitations when it came to bandwidth, hot-plugging (more importantly, unplugging), driver support and some others, not to mention the aesthetics of such eGFX setups. Given the trend towards miniaturization of mobile and desktop PCs, the idea of external graphics was far too alluring to skip, which is why Intel decided to support it with its Thunderbolt 3 technology introduced in 2014. While technically TB3 is PCIe 3.0 x4 over a cable, to properly enable operation of external GPUs, Intel and its allies had to ensure support of eGFX hardware though operating systems, GPU drivers, firmware and so on. Earlier this year all pieces of the puzzle finally came together and the first "official" TB3 eGFX chassis were introduced by Razer and PowerColor.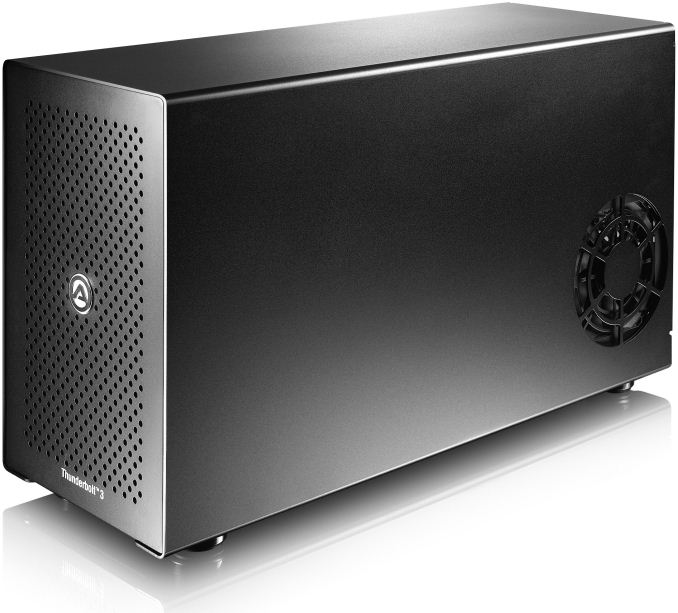 While both Razer Core and PowerColor Devil Box do the job and even feature a couple of extras, they are rather expensive as they add more than just GPU features – $499 and $379, respectively. This week, AKiTiO, which has been offering external Thunderbolt enclosures for years, introduced its eGFX box that costs $299.99.
AKiTiO Node (NODE-T3IA-AKTU) eGFX Chassis Specifications
Max Video Card Size
Double-Wide, 12.2" Long
(312 × 170 × 44 mm)
Max Video Card Power
300 W (?)
Connectivity
1 × Thunderbolt 3 (>40 Gbps via active cable)
Chassis Size
5.71 × 16.85 × 8.94 inches
(145 × 428 × 227 mm)
Internal PSU
400 W SFX
System Requirements
Thunderbolt 3 eGFX Certified PC
Thunderbolt 3 w/Active Cable (included)
Windows 10
Shipping Date
December 2016
Price
$299
The AKiTiO Node is a 42.8 × 14.5 × 22.7 cm (16.85 × 5.71 × 8.94 inches) box made of stainless steel that is compatible with a variety of double-wide full-length/full-height AMD and NVIDIA graphics cards (see the list here). The Node comes with an integrated 400 W SFX PSU (which means that it can be upgraded) as well as one 120 mm fan. As for dimensions, the Node seems to be a little more spacious inside than its rivals, which is good for cooling and compatibility with custom video cards (such as those from ASUS or EVGA). Despite this, GPUs with hybrid cooling (integrated liquid cooling) are not supported, such as AMD Radeon R9 Fury X.
Comparison of Thunderbolt 3 eGFX Chassis
AKiTiO
Node
BizonTech
BizonBox 3
PowerColor
Devil Box
Razer
Core
Chassis Dimensions
Length
42.8 cm
16.85 in
36 cm
14.17 in
40 cm
15.748 in
34 cm
13.38 in
Height
22.7 cm
8.94 in
20.5 cm
8.07 in
24.2 cm
9.52 in
21.84 cm
8.6 in
Width
14.5 cm
5.71 in
8 cm
3.5 in
17.2 cm
6.77 in
10.5 cm
4.13 in
Max Dimension of Compatible Graphics Card
Length
31.2 cm
12.2 in
Height
(PCB+Cables)
17 cm
6.7 in
over 14"
over 5.51"
14 cm
5.51 in
15.2 cm
5.98 in
Width
4.4 cm
1.73 in
5
1.96 in
4.4 cm
1.73 in
Maximum GPU Power
300 W (?)
375 W
PSU
Wattage
400 W
200W/400W
500 W
Form-Factor
SFX
external
internal proprietary
Cooling Fans
1 × 120 mm
2 × 60 mm
unknown
3 × 80 mm
Connectivity
Thunderbolt
1 × TB3
2 × TB3
1 × TB3
Ethernet
1 × GbE
USB
–
4 × USB 3.0
SATA
–
1×SATA 6Gb/s
–
DisplayPort
–
1 × DP 1.2
–
Availability
December 2016
October 2016
April 2016
Price
$299
$649
$379
$499
Unlike competing products, the AKiTiO Node is a pure external GPU box and nothing more. It does not have extra USB 3.0 ports (to connect a VR headset, for example), a GbE controller nor a SATA connector. This naturally cuts down its costs and allows Akito to sell the eGFX enclosure at $299 price-point, but additional USB ports will be greatly missed by owners of ultra-thin laptops as well as SFF PCs.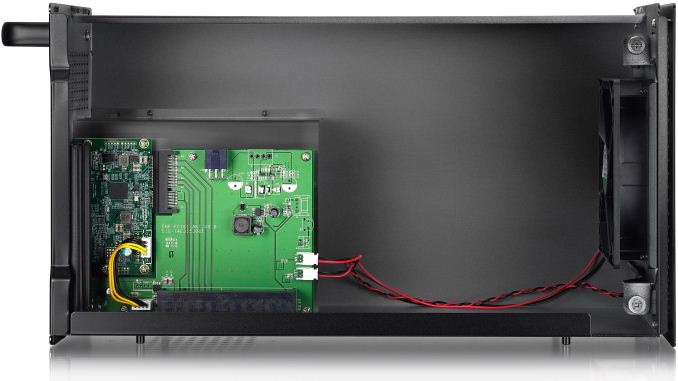 AKiTiO plans to start selling the Node (NODE-T3IA-AKTU) in December.