AMD Intros Radeon Pro W7700: Rounding Out RDNA 3 For Workstations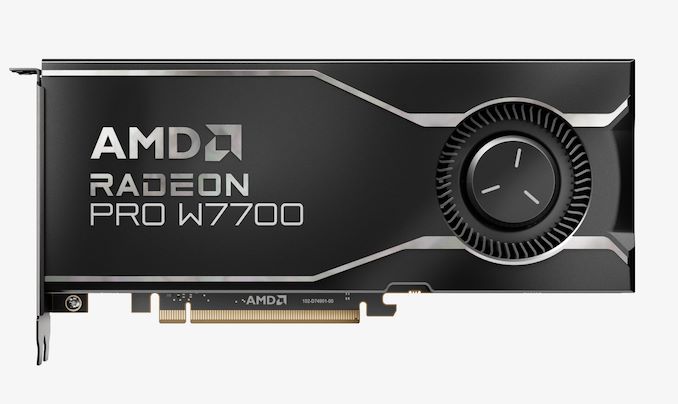 Although AMD doesn't have any major HPC announcements for this year's SC23 show, the company isn't starting this week empty-handed. For the workstation market the company is introducing its latest (and likely final) Radeon Pro W7000 series card, the Radeon Pro W7700.
Based on AMD's latest-generation RDNA 3 architecture, the W7700 slots in between the Navi 31-based Radeon Pro W7800 and the Navi 33-based Radeon Pro W7600. As the final member of the lineup, the Navi 32-based card is designed to split the difference between AMD's high-end and low-end Radeon Pro cards, offering a more modest level of performance for a far more modest price tag. Priced at $999, AMD is looking to hit a sweet spot in terms of hitting the high-end workstation market, edging out more expensive NVIDIA cards with a combination of higher performance and lower pricing.
AMD Radeon RX 7000 Series Specification Comparison




 

AMD Radeon Pro W7800

AMD Radeon Pro W7700

AMD Radeon Pro W7600

AMD Radeon Pro W5700




ALUs

8960

(70 CUs)

6144

(48 CUs)

4096

(32 CUs)

2304

(36 CUs)




ROPs

128

96

64

64




Boost Clock

2.5GHz

~2.3GHz

2.43GHz

1.9GHz




Peak Throughput (FP32)

45 TFLOPS

28.3 TFLOPS

19.9 TFLOPS

8.89 TFLOPS




Memory Clock

18 Gbps GDDR6

18 Gbps GDDR6

18 Gbps GDDR6

14 Gbps GDDR6




Memory Bus Width

256-bit

256-bit

128-bit

256-bit




VRAM

32GB

16GB

8GB

8GB




ECC

Yes

(DRAM)

Yes

(DRAM)

No

No




Infinity Cache

64MB

64MB

32MB

N/A




Total Board Power

260W

190W

130W

205W




Manufacturing Process

GCD: TSMC 5nm

MCD: TSMC 6nm

GCD: TSMC 5nm

MCD: TSMC 6nm

TSMC 6nm

TSMC 7nm




Architecture

RDNA3

RDNA3

RDNA3

RDNA (1)




GPU

Navi 31

Navi 32

Navi 33

Navi 10




Launch Date

Q2'2023

11/13/2023

Q3'2023

11/2019




Launch Price (MSRP)

$2499

$999

$599

$799



Under the hood, the Radeon Pro W7700 looks a lot like a Radeon RX 7800XT that's been dialed down to make a lighter TDP. We're looking at a Navi 32 GCD with just 48 CUs enabled, and a more modest peak clockspeed of around 2.3GHz. The total rated throughput of the card is 28.3 TFLOPS FP32, trailing the more powerful (and more power-hungry) consumer cards a bit.
The Radeon Pro W7700 is paired with Navi 32's full suite of Memory Cache Dies (MCD) however, giving it a better-than-usual ratio of FLOPS to memory bandwidth. With 16GB of GDDR6 attached to a 256-bit memory bus, the card offers 576GB/second of memory bandwidth – and ECC-protected memory, at that, a feature carried over from the high-end Radeon Pro models.
As noted earlier, AMD is aiming a bit more conservatively in terms of power consumption for this card, looking to offer something between the toasty 250W+ flagship cards, and the more petite 130W W7600. The end result is that AMD has set the TBP for the W7700 at 190W, allowing for the construction of an easily-cooled dual slot card.
In terms of features, as the fifth RDNA 3 video card in AMD's Radeon Pro lineup, the W700 is on par with its peers. Like the flagship parts, we're looking at a fairly performant version of AMD's RDNA 3 architecture, with the company looking to leverage various optimizations and new features throughout the card to offer better performance, and for specific tasks, new features. The core architecture includes a significant update to the CUs to improve the total number of compute FLOPS attainable, as well as optimizations to improve the kind of dense matrix math used in AI inference calculations. As well, the ray tracing units have been updated to provide better performance and a larger overall ray rate.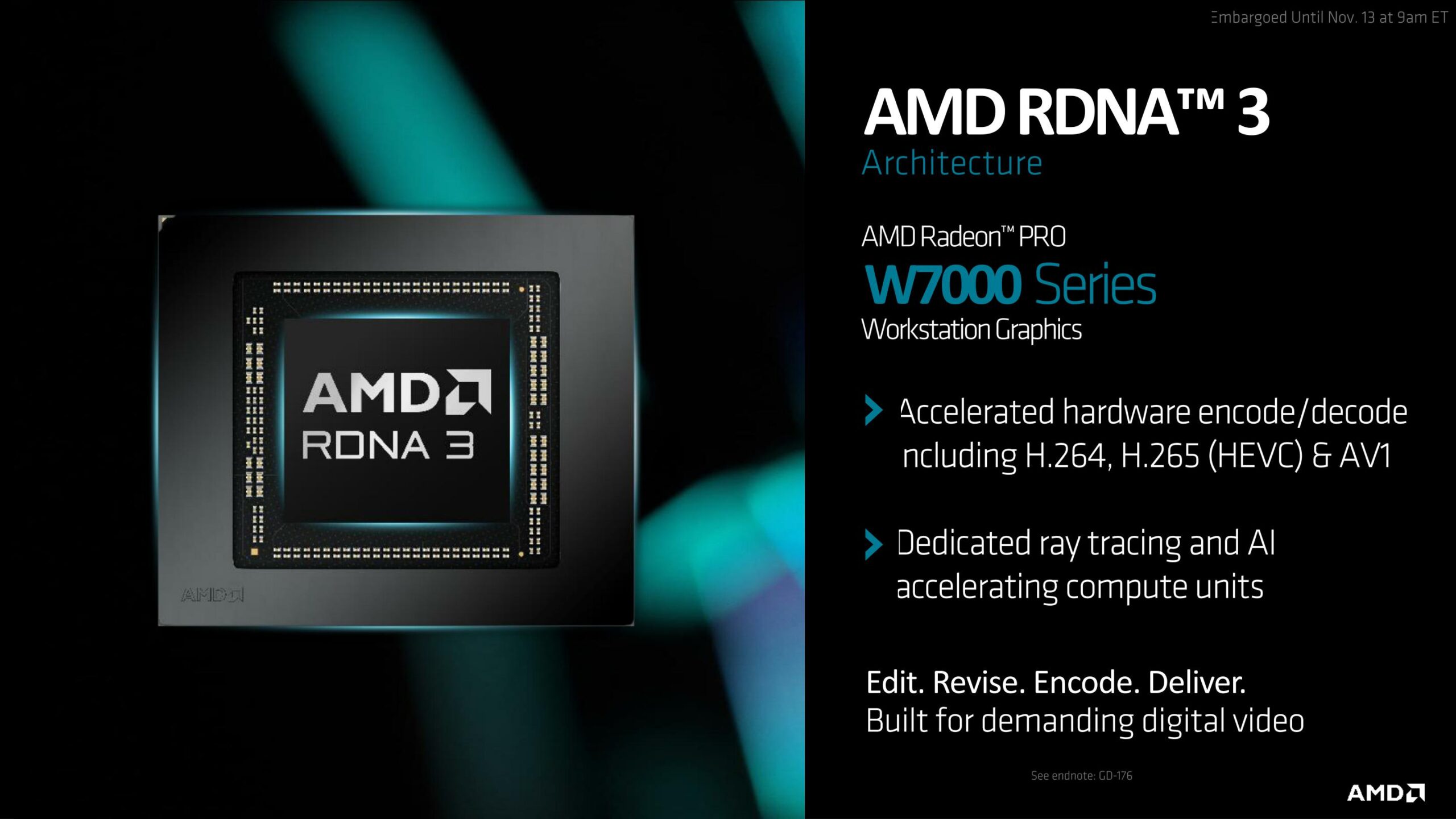 RDNA 3's marquee video feature of AV1 encoding support also makes it over to the card as well. The W7700 can encode a single AV1 stream at up to 8K60, a very useful feature as AV1 adoption increases – though it doesn't get the more powerful dual media engine found on the flagship W7800/W7900's cards.
Meanwhile, AMD's ace in the hole on the display output side of matters is their support for DisplayPort 2.1 connectivity, something all of NVIDIA's cards in this generation lack. Still, Pro users intending to take advantage of DP 2.1 will want to pay close attention to the specifications for AMD's Radeon Pro lineup, as support is not consistent throughout the cards. Whereas the cheaper W7500/W7600 only have UHBR 10 data rate support, the W7700 gets faster UHBR 13.5 support for higher resolution/color depth displays. Still, this is a step down from the W7800/W7900, which can uniquely drive a max-bandwidth UHBR 20 display.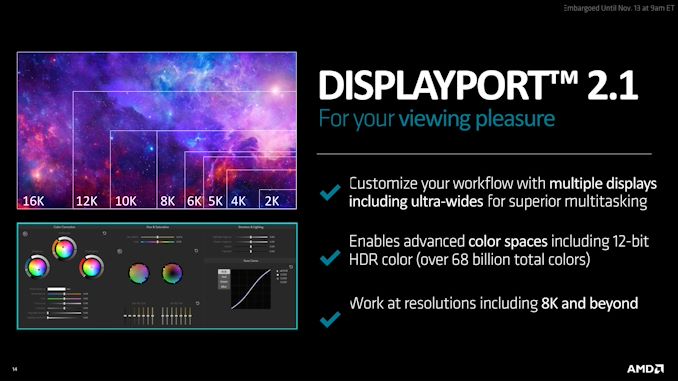 As for the physical W7700 card itself, it is a fairly typical-for-workstations dual slot blower design. AMD is using their standard DisplayPort configuration here, equipping the card with a quartet of full-sized DisplayPorts. In terms of length, the W7700 is a bit shorter than its W7800/W7900 counterparts, though AMD hasn't sent over the exact dimensions for the card. And while not shown in any of AMD's pictures, the card is fed additional power a single 8-pin PCIe power connector.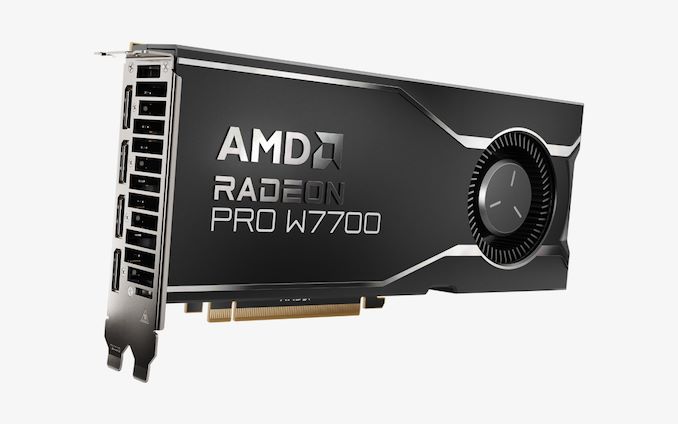 Wrapping things up, the Radeon Pro W7700 is getting a hard launch, and will be available today in stand-alone card form from the usual PC parts retailers at an MSRP of $999. Meanwhile, OEMs are expected to start shipping the card in their workstations beginning later this month.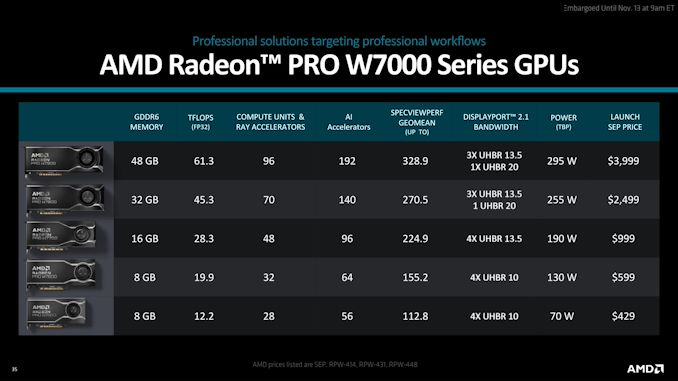 Source: Recent News