AOC Announces the AGON AG352UCG 21:9 Curved Display: 35″, 3440×1440, 100Hz with G-Sync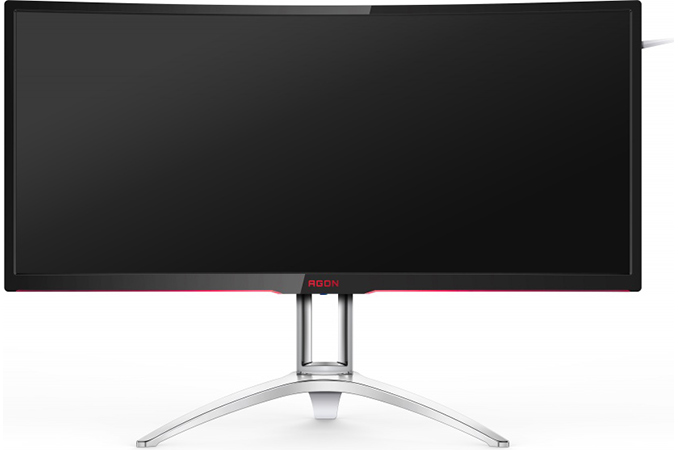 Last week AOC introduced its new high-end curved gaming display, the AGON AG352UCG. The new 35" monitor boasts a considerably higher resolution than AOC's other large curved gaming display. The 3440×1440 resolution, size, curvature, a 100 Hz refresh rate and G-Sync support make the AG352UCG one of four curved displays with such combination of features. The other AGON AG352QCX 21:9 panel is a 2560×1080 resolution, but with a 200 Hz refresh rate.
The AOC AGON AG352UCG uses a 35" MVA panel with a 3440×1440 resolution, a 21:9 aspect ratio and a native 100 Hz refresh rate (which means that actual panel response times are perfectly aligned with its high refresh rate). We presume the panel is made by AUO (AU Optronics), which reportedly started volume production of such panels in September, 2016. General specifications of the monitor are similar to many other gaming displays: 300 nits brightness, 2000:1 contrast ratio, 178°/178° viewing angles, 16.7 million colors, a 4 ms response time (grey-to-grey) and so on.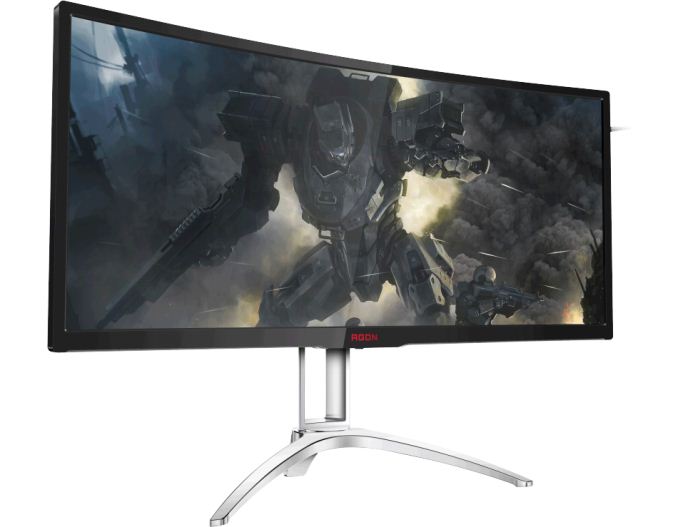 When it comes to connectivity, the AGON AG352UCG has a DisplayPort input and an HDMI input. To take advantage of NVIDIA's G-Sync as well as the high refresh rate, the DP connector has to be used. The monitor is also equipped with a dual-port USB 3.0 Type-A hub and two integrated speakers.
AOC's AGON Curved UWQHD Display with a 100 Hz Refresh Rate
AGON AG352UCG
Panel
35" MVA
Native Resolution
3440 × 1440
Refresh Rate Range
30-100 Hz (DP)
NVIDIA G-Sync
Response Time
4 ms
Brightness
300 cd/m²
Contrast
2000:1
Viewing Angles
178°/178° horizontal/vertical
Curvature
2000R
Pixel Pitch
0.23 mm
Inputs
1 × DP
1 × HDMI 1.4
USB Hub
2-port USB 3.0 hub,
one port supports fast charging
Audio
2 W × 2
audio in/out ports
Power Consumption
Up to 70 W
As for visual aesthetics, the curved AOC AGON has a rather aggressive yet minimalistic design that emphasizes its gaming nature through a combination of sharp lines and colors. To add further atmosphere, the AG352UCG has six large LEDs with adjustable colors (red, green, blue) located on the back and on the bottom edge of the display.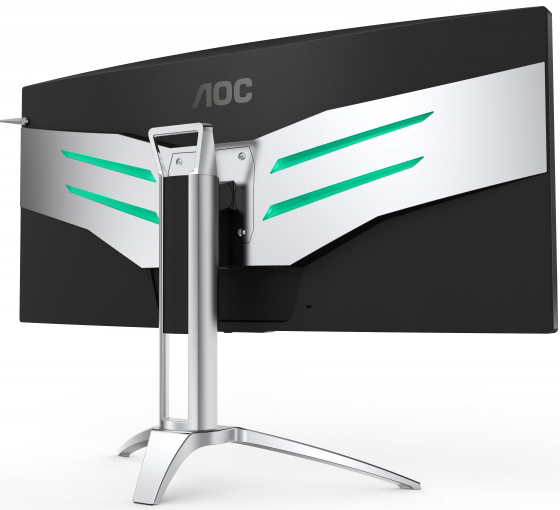 The key selling point of the AGON AG352UCG is the combination of its features: the resolution (3440×1440), size (35"), curvature (2000R), a native 100 Hz refresh rate and using NVIDIA's G-Sync variable refresh tech make up for a very interesting gaming display. At present, only three monitors can offer a similar set of technologies: the ASUS ROG Swift PG348Q, the Acer Predator X34 (this one uses an IPS panel with 60 Hz, but it is overclockable to 100 Hz) as well as the upcoming HP Omen X 35". By launching the AGON AG352UCG, AOC contends for the highest end of the gaming monitor market and that is clearly an important milestone for the company.
AOC has not formally announced the AGON AG352UCG in the U.S. yet, so we do not know its ETA and MSRP. Meanwhile, Hexus reports that the display will land in the U.K. this March for the price of £799 (that's including 20% sales tax). Therefore expect the AG352UCG to cost around $1000 in the U.S. when it becomes available this spring. Considering the combination of its features (size, resolution, curvature, G-Sync support) and only three direct competitors that retail for $1100-$1300 today, it looks like AOC's AG352UCG might be priced rather competitively.
Related Reading: