ASRock Shows DeskMini GTX/RX, using Micro-STX Motherboard with MXM Support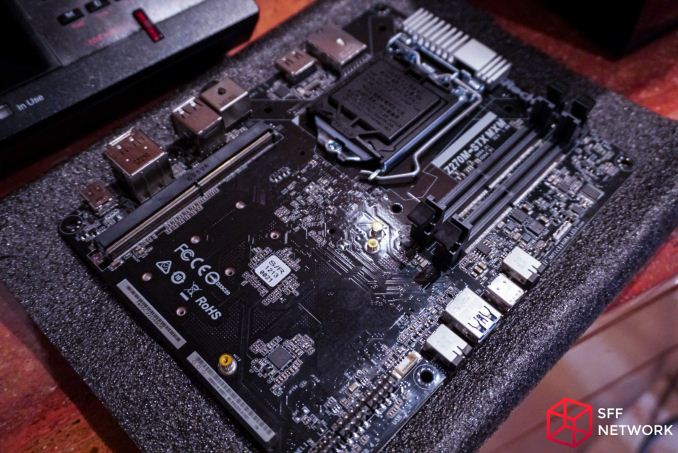 One of the recurring themes in my discussions with motherboard manufacturers over the past several years is one of introducing differentiation to products and through that, new form factors. When mini-STX was shown by Intel last year as a different form factor focusing just on the processor rather than PCIe lanes, we saw the launch of several small-sized PCs, mainly for embedded functions, that could leverage a full desktop-class CPU and socket. As always with CPU-only products, some users request a little more graphics oomph, so insert ASRock's new 'micro-STX' type of motherboard and mini-PC that uses MXM-type graphics.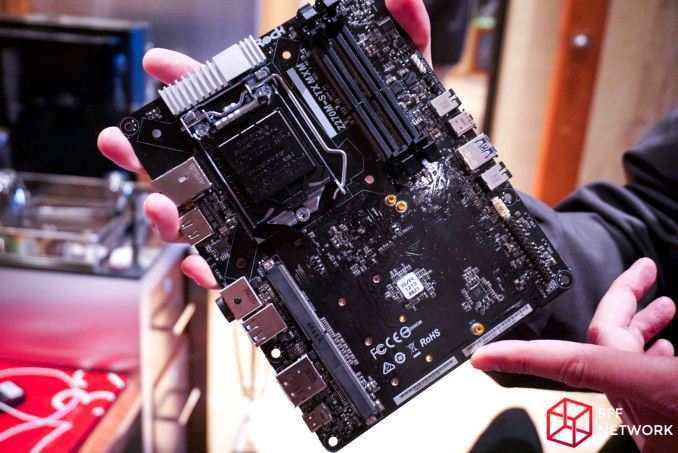 Unfortunately our trip to ASRock at CES was curtailed due to other meetings overrunning, but it was interesting to note that ASRock was at the show formally with a suite, rather than just casually taking coffee meetings the previous two years that I had been. So all our pictures in this piece are from the Small Form Factor Network, and many thanks to them.
The mini-STX form factor is based around a 5-inch by 5-inch motherboard design, which gets you enough space for a socket, some memory and some IO. With this micro-STX motherboard, ASRock is clearly going at length to support more: the MXM module bay takes up the whole second half of the motherboard, and one key thing to note here is the socket area.
On the left-hand side, where we would normally expect to see the IO, we have Intel's recommended socket area marked. Normally this is left near-blank to account for coolers and such, but ASRock as engineered the rear IO right up to the socket itself, and using low profile IO ports to allow a cooler to fit. Because of the way mini-STX platforms work with few power phases, these are solely above the socket as not to interfere with to the left of the socket.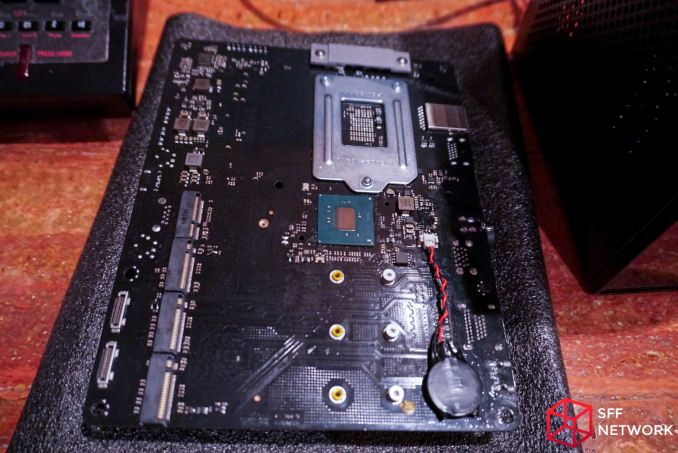 On the front side of the board, the chipset is nowhere to be found. That's because it is on the back, along with the CR2032 battery and three M.2 ports. Because of the chipset support, all three are PCIe 3.0 x4 capable, with spacing for 2260 and 2280 sized M.2 ports. For good measure, there's also an M.2 WiFi port.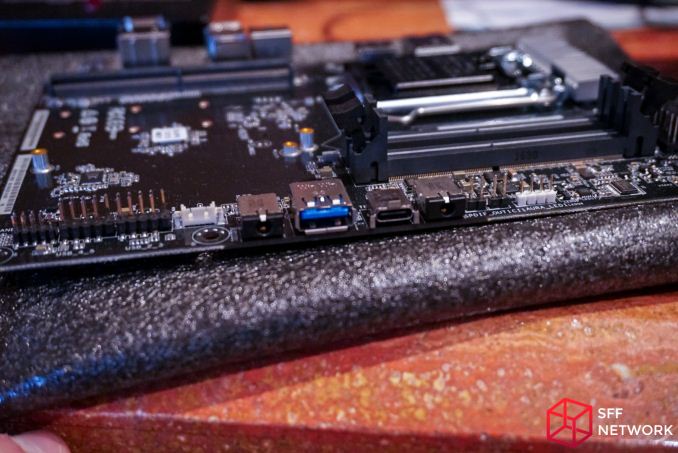 Front functionality comes through a USB 3.0 Type-A, a USB 3.0 Type-C (ASRock in their sign claim this is USB 3.1 and Thunderbolt 3, however I cannot see an ASMedia ASM1142/ASM2142 nor an Alpine Ridge controller for this), and two audio jacks from the Realtek ALC283. The front uses an Intel I219-V gigabit Ethernet controller, two USB 3.0 ports, an HDMI port, HDMI 2.0 port (via MCDP2000), a DisplayPort adaptor, a mini-DP port, and a DC-In jack.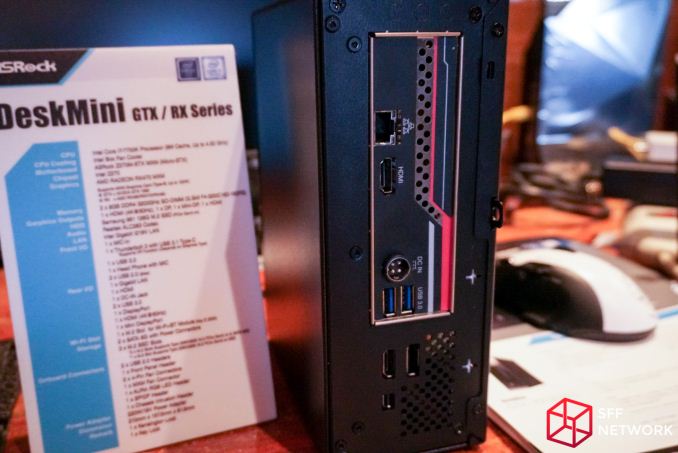 It's worth noting that the specifications list also has two SATA ports on the description, but like the TB3 controller, I can't see them on the pictures, front or rear.
As a system, the 2.7-liter DeskMini GTX/RX will feature a Core i7-7700K using an Intel stock cooler (so don't expect much in the way of overclocking), support for up to 16GB of DDR4-3200 SODIMM (not sure why it's not 32GB, perhaps z-height?), a 128GB Samsung 961 M.2 SSD, and an MXM Type-B graphics card: either a GTX 1060 for the GTX model, or an AMD RX card for the RX version. The PSU is rated at 220W, which can limit options.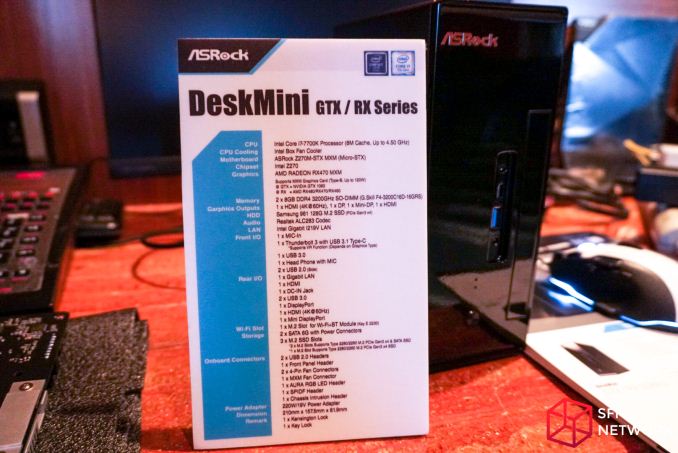 Personally, I'd prefer a solid copper cooler on there for a Core i7, but a Core i5/i3 would do OK with the stock cooler.
Prices and release date are unknown.