ASRock Upgrades Beebox-S SFF PCs with Kaby Lake CPUs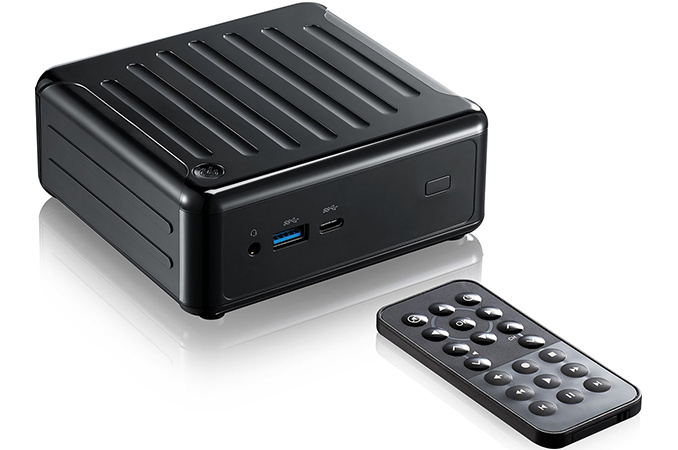 ASRock has introduced updated versions of its Beebox-S small form-factor PCs. The new NUC-like systems are powered by Intel's Core i5-7100U/i3-7200U CPUs featuring the Kaby Lake microarchitecture, but apart from that the computers are identical to their predecessors running the Skylake chips. ASRock positions its Beebox-S both for general-purpose computing as well as for multimedia playback.
Just like their predecessors, the Asrock Beebox-S comes in a small black enclosure (110×118.5×46 mm, 0.6 L) that is akin to other Intel NUC-like systems. Since the PC is based on Intel's Kaby Lake processor, it has rather advanced video playback capabilities, which make it a good candidate for an HTPC. Moreover, ASRock specifically mentions HDMI 2.0 and support for 4Kp60 with 10-bit HDR output as one of the key features of the new Beebox systems. The manufacturer also installed an IR receiver compatible with a bundled remote controller, further emphasizing a possible positioning of the Beebox-S.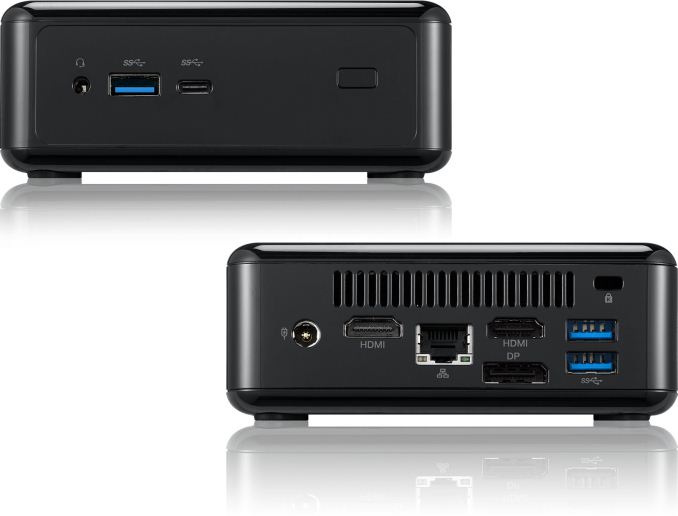 When it comes to connectivity, the SFF PC seems to be good for both office and the living room. The system is equipped with an HDMI 2.0 output (implemented using an LSPCon controller, most likely a MegaChips MCDP2000, and supporting 4096×2160 pixels at 60 Hz as well as HDR10) to connect to modern 4Kp60 UHDTVs (not sure about HDCP 2.2 support, but it should logically be there), an HDMI 1.4 as well as a DisplayPort 1.2. The Beebox-S also has one USB 3.0 Type-A and one USB 3.0 Type-C headers as well as a 3.5 mm TRRS connector for headsets on the front panel. Tthe back panel features two more USB 3.0 ports and one GbE connector.
The heart of the ASRock Beebox-S is either Intel's Core i3-7100U or Core i5-7200U microprocessor in BGA packaging with integrated HD Graphics 620. The system can also be equipped with up to 32 GB of DDR4-2133 memory (two SO-DIMM slots), an M.2-2280 NVMe SSD and a 2.5" SSD/HDD depending on demands of exact customer. Meanwhile, Intel's 802.11ac Wi-Fi + BT 4.0 wireless module is pre-installed.
ASRock Beebox-S SFF PCs Based on Intel's Kaby Lake CPUs
Beebox-S 7200U
Beebox-S 7100U
CPU
i5-7200U
2C/4T
2.5 GHz
3.1 GHz
i3-7100U
2C/4T
2.4 GHz
GPU
HD Graphics 620
24 EUs
up to 1050 MHz
RAM
2×DDR4-2133 SO-DIMMs (up to 32 GBs)
SSD
Up to M.2-2280 SSDs
HDD
2.5"/9.5 mm
GbE
Intel i219-V (?)
Wi-Fi
Intel Dual Band Wireless-AC 3160 (?)
1×1 802.11ac + BT 4.0
(via M.2 2230 card)
I/O
USB 3.1 (10 Gbps) via ASMedia ASM1142
1×USB 3.1 Type-C
3×USB 3.0 Type-A
Video
1×HDMI 2.0 (HDCP2.2) via LSPCon
1×DisplayPort 1.2
Audio
Realtek ALC283
TRRS and HDMI connectors
Size
H: 46 mm
W: 118.5 mm
L: 110 mm
Full
Specs
Beebox-S 7200U
Beebox-S 7100U
This week Newegg started to sell the Beebox-S 7100U and Beebox-S 7200U SFF PCs for $291 and $349, respectively. As it appears that retail pricing of the new Kaby Lake-based ASRock Beebox-S SFF PCs is higher that of the Skylake-powered Beebox-S, which are available for $264 to $320. One more thing to note about the new Beebox-S systems is that they only come in black enclosures, whereas their predecessors feature black, white, silver and golden finishes. We haven't heard of other colors coming, although that may change in the future.
Related Reading: