ASUS, Inno3D, & Gigabyte Tease Custom GeForce GTX 1060 Cards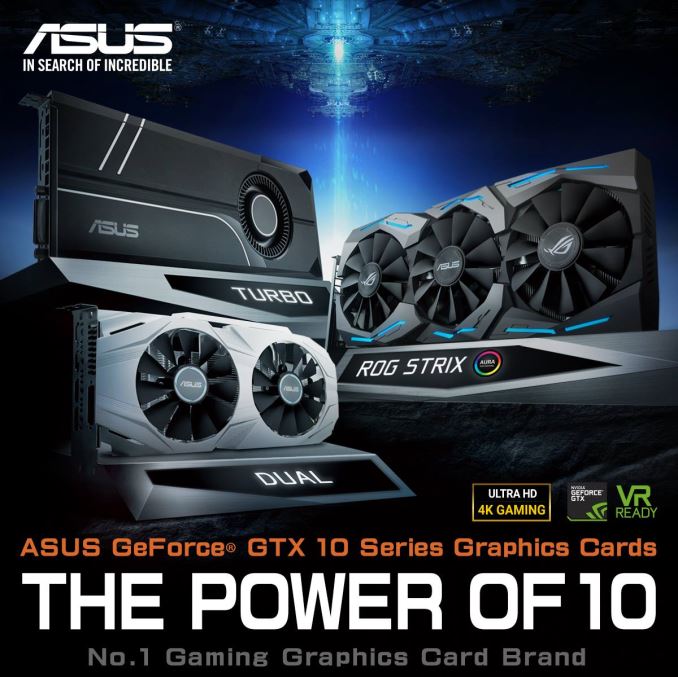 Yesterday we saw the announcement of NVIDIA's GeForce GTX 1060. Though NVIDIA is producing a reference Founders Edition card, as this is a more mainstream product, NVIDIA is leaving retail card production to their partners, who will be launching their custom solutions on day one. With the retail release still approaching what we have is more of a teaser then an announcement, but can begin to show us more of what the $250-$300 price bracket will start to look like as the GTX 1060 launch approaches.
ASUS has teased three separate renditions of the GeForce GTX 1060, as pictured above. These include a Turbo card with a blower, the Dual with two fans, and an ROG STRIX card. The last of which has the same cooler as the ROG STRIX 1080 and 1070, and as hinted by the AURA logo may feature the same RGB lighting found in the GTX 1080 and GTX 1070 ROG STRIX cards. There is no news yet on specs or performance numbers, or price and release date for these cards, but we should see those as soon as the July 19 release of the GTX 1060.
Inno3D has announced that two cards are on the way. First is the Inno3D GeForce GTX 1060 Gaming OC X2, which features two fans and translucent highlights. We don't yet know of any physical details aside from what is pictured. Next we have the Inno3D GeForce GTX 1060 iChill X3. This card appears to be longer and also has three fans. While this cooler may be more effective than the two fan Gaming OC X2 card, it appears that these cards have identical specifications with a boost clock of 1784 and memory clock of 8.2Gbps. That identifies these cards with a factory overclock, but performance should be identical with the numbers that are currently reported.
Finally, in the truest definition of a teaser by not even showing the whole card, Gigabyte is teasing its GTX 1060 G1 GAMING. The card features a dual fan Windforce X2 cooler, with RGB lighting built into the shroud. Gigabyte has also disclosed that the card will feature a 6+1 phase power design (as opposed to 3+1), which indicates that they'll be using a custom PCB for their card and not NVIDIA's reference PCB.

Mainstream NVIDIA card launches typically feature semi and fully-custom designs from NVIDIA's partners right off the bat, so no doubt we'll see more custom cards unveiled as we get closer to the 19th. Meanwhile with vendors no doubt eager to lock in sales with premium cards, it remains to be see how many of these designs will actually approach the $249 MSRP NVIDIA has announced.
Sources: Tom's Hardware & Tom's Hardware