ASUS Launches GeForce GTX 1080 & GTX 1060 Models With Faster RAM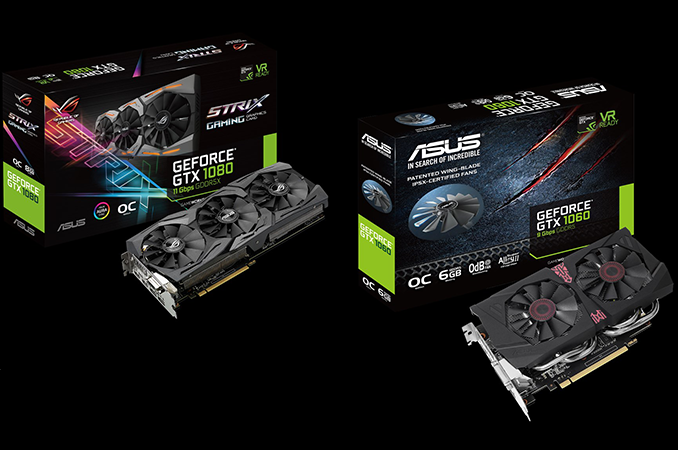 ASUS has released graphics cards based on NVIDIA's GeForce GTX 1060 and 1080 GPUs that are equipped with faster memory. The new add-in-boards (AIBs) are designed to offer greater performance in high resolutions than reference designs and enable ASUS to charge a premium for the higher FPS.
Back in February when NVIDIA cut the price on the GTX 1080, the company also announced that they would be working with partners to sell factory overclocked cards with higher speed grades of memory. At launch the fastest grades available for the GTX 1080 and GTX 1060 were 10Gbps GDDR5X and 8Gbps GDDR5 respectively; however in the last year, 11Gbps GDDR5X and 9Gbps GDDR5 have become available. Now those faster memory grades are being made available to their partners for use in factory overclocked cards, giving partners more configuration options for their factory overclocked SKUs.
For partners, this marks their first real opportunity to sell cards with memory overclocks. While NVIDIA's GPUs have been able to support these higher speeds, the stock configurations for the GTX 1080 and GTX 1060 were already pushing their respective RAM types to their limit, leaving partners no real headroom for the kind of stable and consistent overclocks required for factory overclocking.
At a hardware level, things are pretty straightforward for GTX 1080 cards; vendors can now grab Micron's 11Gbps GDDR5X chips and use them in the place of 10Gbps chips. Things are a bit less clear on the source of the GDDR5 however. The only manufacturer with an official 9Gbps part listed is Samsung, whose K4G41325FE is still at the "Customer Sample" phase. More importantly however, that chip is only offered in a 4Gb density, whereas NVIDIA has used 8Gb chips for both the GTX 1080 and GTX 1060 6GB. So it will be interesting to see just how 9Gbps GTX 1060s are equipped.
Now, back to ASUS' GeForce GTX 10 cards with faster memory. At present, the company offers two of such boards: the ROG Strix GeForce GTX 1080 OC Edition 8 GB 11 Gbps as well as the ASUS GeForce GTX 1060 OC Edition 6 GB 9 Gbps. The two AIBs belong to different classes of products, but in both cases ASUS did something more than just soldered faster memory chips to PCBs.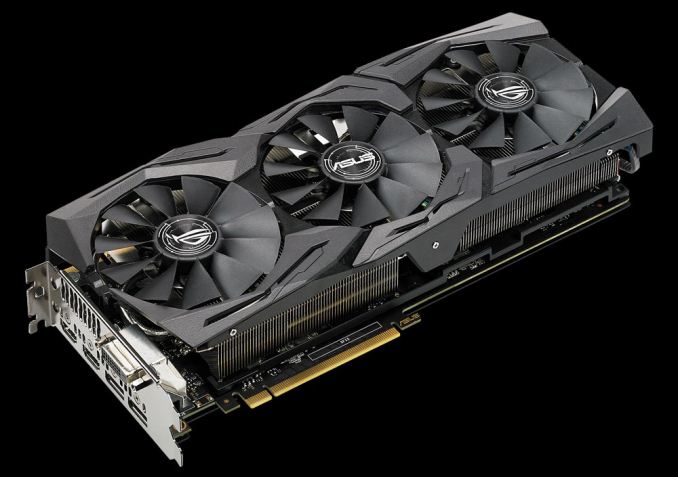 The ASUS ROG Strix GeForce GTX 1080 OC Edition 11 Gbps GDDR5X is based on the company's proprietary PCB design with an 8+2 phase VRM, one 6-pin and one 8-pin PCIe power connectors. The enhanced power supply circuitry and an additional power connector enable ASUS to increase GPU and memory frequencies from those recommended by NVIDIA and ensure some additional headroom for end-user overclocking. Meanwhile, ASUS does not disclose exact GPU clock rates of its flagship GeForce GTX 1080, which means that the company is still finalizing them.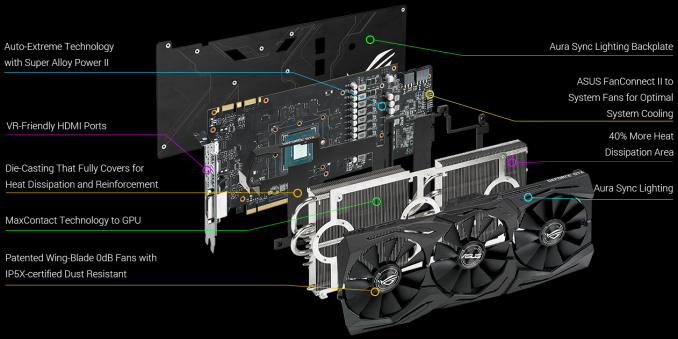 To ensure proper cooling of the GPU, VRM and memory, ASUS equips its ROG Strix GeForce GTX 1080 OC Edition 11 Gbps with a 2.5-wide cooling system featuring six heat pipes and three fans (which stop rotating at low GPU temperatures). As an added bonus, the cooler features ASUS' user-controllable Aura Sync RGB lighting.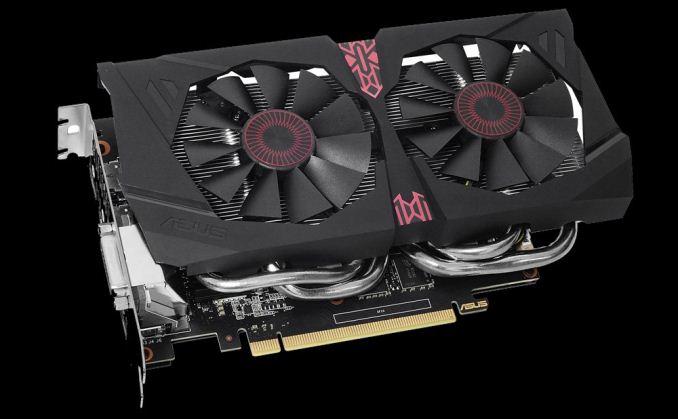 The ASUS GeForce GTX 1060 OC Edition 6 GB 9 Gbps also uses ASUS' own PCB as well as the company's DirectCU II cooling system with four heatpipes and two fans. Obviously, since this is an OC Edition AIB, its GPU frequency is higher than that on reference cards, but ASUS does not publish it. The card does not belong to the ROG or the Strix families, it is not the top-of-the-range GeForce GTX 1060 from ASUS, so expect company to offer something faster based on the GP106 GPU over time.
Specifications of ASUS GeForce GTX 1080 11 Gbps and GTX 1060 9 Gbps
ASUS
ROG Strix GeForce GTX 1080
OC Edition
11 Gbps
NVIDIA
GeForce GTX 1080
Founders Edition
ASUS
GeForce GTX 1060
OC Edition
9 Gbps
NVIDIA
GeForce GTX 1060
Founders Edition
Stream Processors
2560
1280
Texture Units
160
80
ROPs
64
48
Core Clock (MHz)
1670 – 1695 (?)
1607
1506 – 1531 (?)
1506
Boost Clock (MHz)
1809 – 1835 (?)
1733
1708 – 1746 (?)
1708
Memory
Capacity
8 GB
6 GB
Type
GDDR5X
GDDR5
Clock
11 Gbps
10 Gbps
9 Gbps
8 Gbps
Power
1×8-pin PCIe
1×6-pin PCIe
>180 W
1×8-pin PCIe

180 W

1×6-pin PCIe
~150 W
150 W
VRM
8+2 phases
5+1 phases
?
3+1 phases
PN, Additional Details
ROG-STRIX-GTX1080-O8G-11GBPS
–
GTX1060-O6G-9GBPS
–
Launch Date
Q2-2017
5/2016
Q2-2017
8/2016
Launch Price
?
$699
?
$449
ASUS has not announced MSRPs for its GeForce GTX 1080 11 Gbps and GeForce GTX 1060 6 GB 9 Gbps products, but since they are listed on its website, they are going to show up on shelves soon and thus prices will be revealed. As usual, bear in mind that prices will vary depending on the region.
Related Reading: