Best Gaming Laptops: Holiday 2016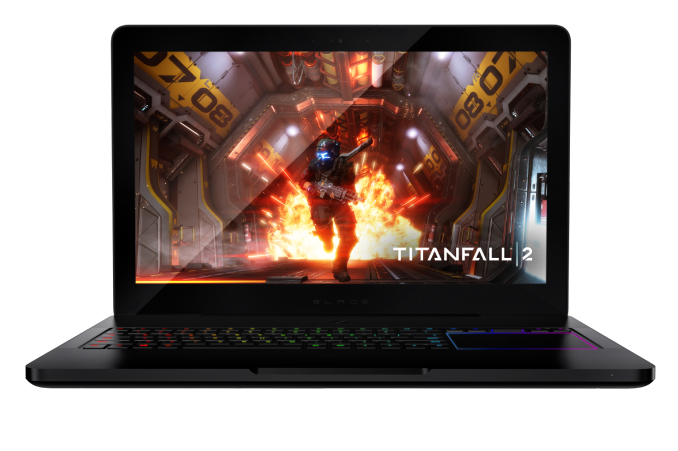 It's been about a year since our last look at gaming laptops, and the one major change over last year is the launch of the 16 nm FinFET GPUs, specifically NVIDIA's launch of their Pascal GPUs for laptops, with the GTX 1080, GTX 1070, and GTX 1060 which launched in August. Over the last several months, all of the major gaming laptop manufacturers have updated their product lines to include these newer, much faster GPUs. The unfortunate part is that the smaller, slower laptop GPUs have not been refreshed yet, so anything under a GTX 1060 is going to have the older Maxwell parts. With the dropping of the "M" from the rear of the NVIDIA laptop GPU naming, they've also shifted the lineup somewhat, so a GTX 1060 would be what I would consider a replacement for the GTX 970M, the GTX 1070 would be a replacement for the GTX 980M, and the GTX 1080 is a replacement for the short-lived desktop GTX 980 for notebooks. What this means is that if you're after someone on a budget, the GTX 965M is about the best you can get if you can find it, with most low-cost gaming notebooks featuring a GTX 960M.
If you want to use this as a portable desktop, don't forget that these gaming notebooks are generally larger, generally heavier, and almost always have poor battery life compared to a more traditional notebook. Many of the gaming notebooks forgo battery saving technology like NVIDIA's Optimus in order to add features like NVIDIA G-SYNC, although that varies notebook to notebook. If you do need battery life, Optimus is generally the way to go, but also try to find something with a large capacity battery as well.
Although getting harder to find, some entry-level gaming laptops may also still ship with a TN display, so watch out for that, but luckily it is getting to be more difficult to find those devices.
Entry-Level Gaming: Less than $1000
For under $1000, options are limited. There are no laptops under $1000 which have a Pascal GPU, so Maxwell is still the answer here. Luckily there is some selection here, including a Dell which offers quite a bit for the money.
Dell Inspiron 15 7000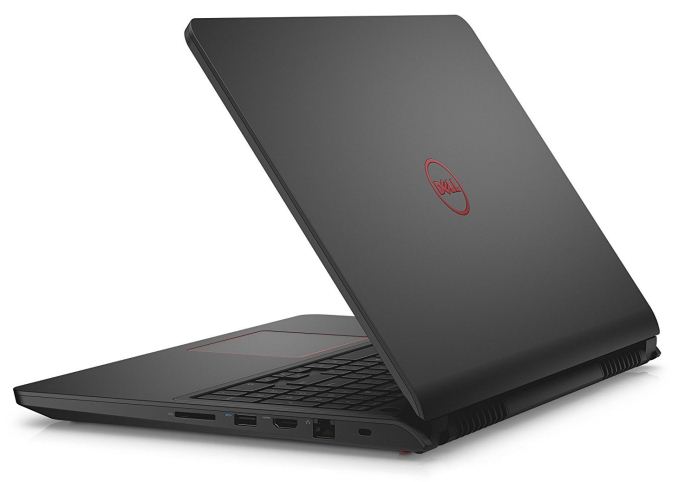 While not falling under their Alienware gaming laptop line, the Inspiron 15 7000 offers a lot of bang for the buck. It's a 15.6-inch notebook with a 1920×1080 FHD display, which is a nice resolution for a gaming notebook, and the more expensive models do offer a 3840×2160 UHD panel, although if your budget allows for the UHD display, that money could instead be spent on a more powerful gaming system. Dell offers several CPUs, but for $800 on Amazon you can find the Core i7-6700HQ, which is pretty much the same CPU found in most more expensive gaming systems. This is paired with a 4 GB GTX 960M, and while Maxwell based, it's a reasonable GPU for less demanding gaming like Dota 2 or League of Legends. The 1 TB hard disk drive has 8 GB of SSD caching, which is not going to help a lot but it's better than nothing. Going for a smaller SSD would likely be a mistake since PC games can easily be 50 GB+ each. The subtle styling is a nice touch from Dell as well. Trying to find a gaming laptop for under $1000 can be difficult, and there are generally some compromises to be made, but the Dell Inspiron 15 7000 does not make too many.
Mid-Range Gaming: Less than $1500
Stepping up over $1000 reveals a lot more possibilities. The biggest upgrade here is that the GTX 1060 laptops fall into this range, offering a significant increase in performance over the Maxwell parts.
Gigabyte P55Wv6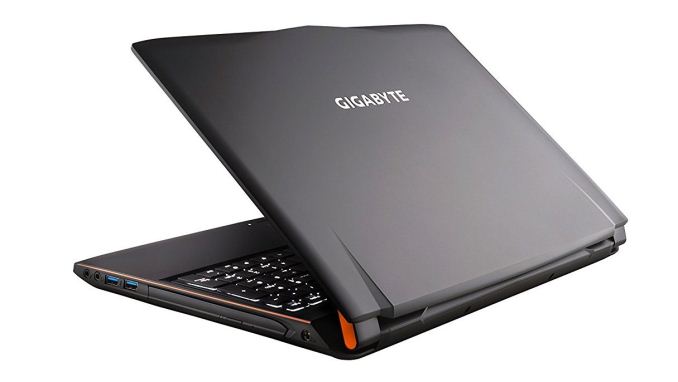 Gigabyte's P55 line offers some more restrained styling than many of the other gaming notebooks, and this will certainly appeal to many buyers. The P55Wv6 is well appointed inside as well, with a Core i7-6700HQ processors, GTX 1060 6 GB GPU, and for those that need a bit more battery life, Optimus is supported here which is becoming a rare to find feature, although the 63 Wh battery isn't going to give it spectacular battery life. The backlit keyboard doesn't feature the more advanced color options of some of the competition either, but it's relatively light weight for a gaming notebook at 2.6 kg / 5.73 lbs. The standard display is a 1920×1080 IPS model, with an optional 2880×1620 IPS, but the 1920×1080 will be easier on the GPU for gaming, especially since this device lacks G-SYNC. Storage is a 256 GB M.2 SSD paired with a 1 TB 7200 rpm drive, and there is a full array of ports with HDMI 2.0, USB-C, SD card reader, Ethernet, and USB 3.0. It even has a Blu-Ray burner. For the price, there's a lot of laptop here, and the GTX 1060 is a big step up from the GTX 960M of the less expensive gaming laptops.
MSI GE62VR / GE72VR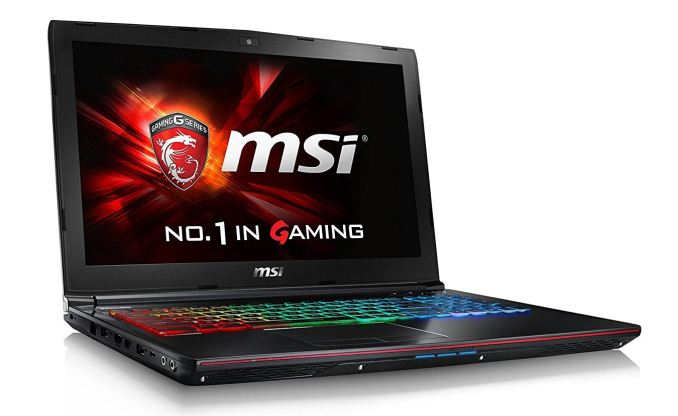 MSI offers some very nice gaming notebooks, and their GE lineup is their mid-range models. The GE62VR is the 15.6-inch model, and if you want a larger notebook, the GE72VR is a 17.3-inch version. Both offer the same Core i7-6700HQ processors and GTX 1060 6GB GPU. While the GE models don't offer G-SYNC like the GT models, the GE72 offers a 120 Hz refresh rate, with the GE62 a more typical 60 Hz. MSI offers some nice customization options for lighting, including the SteelSeries keyboard backlighting. Storage is M.2 SSDs paired with hard drives for bulk storage, with the 128 GB SSD base being a bit small, but that is always upgradeable, as is the memory. MSI's GE lineup is finished in a rather nice brushed metal finish as well, which looks and feels great.
MSI GT62VR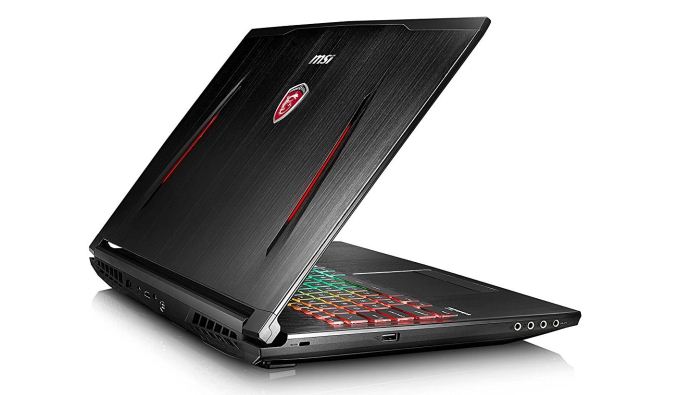 MSI's GT lineup is their top of the line models, and it's great to see one of them under $1500. The GT62VR is a 15.6-inch notebook with the typical for this price range Core i7-6700HQ and GTX 1060. The display is a 1920×1080 IPS which has G-SYNC support. Like the GE models, there is quite a bit of customization with the lighting, including the keyboard backlighting. The GT62VR has a nice metal chassis as well. It's a bit heavier than the GE models, at 2.93 kg / 6.48 lbs. For under $1500, this is a pretty nice gaming notebook.
Mid-Range Gaming: Less than $2000
Bumping up the budget a bit more opens up some GTX 1070 laptops, and a few other models. Some smaller, some larger.
Alienware 13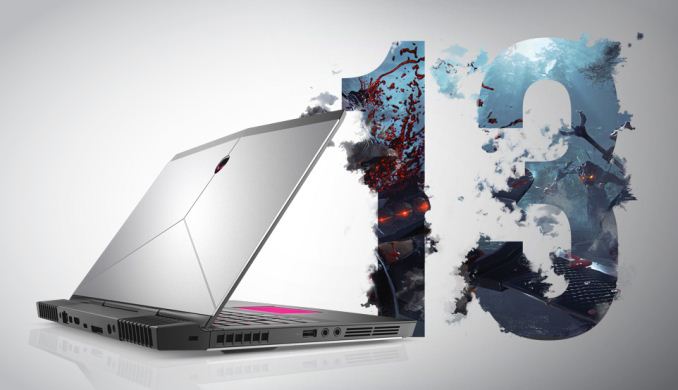 Maybe you want something a bit smaller. Alienware recently refreshed it's entire lineup of laptops with a new look, with what they are calling a Hinge Forward design. By moving the display forward on the notebook, they've found a bit more space to add cooling, as well as prevent the display blocking the exhaust vents. Beauty is in the eye of the beholder, but the design, along with the myriad of lighting customization options, really sets this design apart from others. For $1300, a Core i7-6700HQ is paired with a GTX 1060, but only with 8 GB of RAM in the less expensive models, but that's 1×8 GB, so you can add another 8 GB to gain dual-channel and 16 GB, which isn't too bad, but the base models feature a 13.3-inch 1366×768 TN display which is unforgivable and which is why this notebook did not make it in the sub-$1500 range. For $1700, there are a few items upgraded, with the biggest one being the 13.3-inch display is now a 1920×1080 IPS. Alienware are not bang-for-the-buck type machines though, but if you love the styling then you can configure a good option here.
MSI GT72VR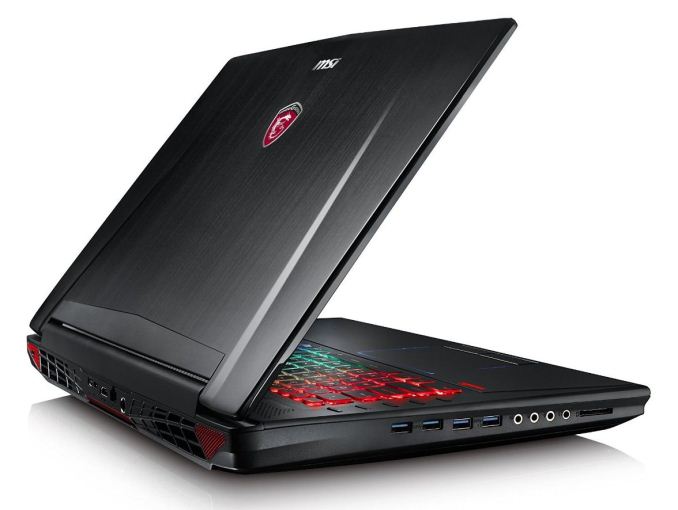 Much like the GT62VR, the GT72VR is the top of the MSI stack. It offers a nice metal chassis, along with a 17.3-inch 1920×1080 G-SYNC display. The CPU is a Core i7-6700HQ, but the GPU steps up to a GTX 1070 once you get into this price range, and that's a significant step up in performance. 16 GB of RAM can be expanded if necessary, and it comes with a 128 GB boot drive and 1 TB storage drive. For just over the $2000 limit, you can get 32 GB of RAM along with a 512 GB SSD boot drive, along with the 1 TB HDD, which isn't a bad upgrade. MSI makes some quality gaming notebooks, and this one is tough to beat in the price range.
Razer Blade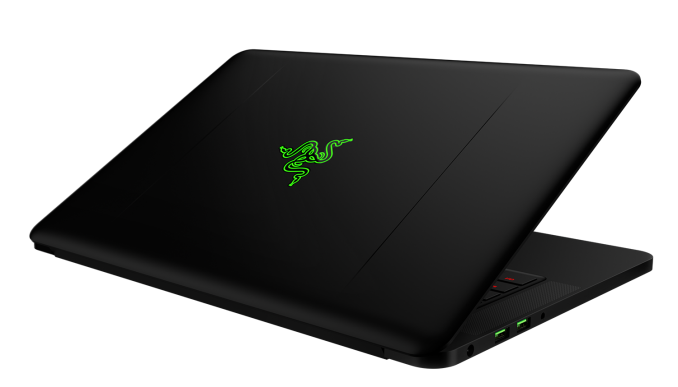 If you need gaming performance along with a thin and light design to bring it on the go, Razer may have you covered. The Razer Blade is a 14-inch gaming notebook, and for 2016 Razer has brought back the 1920×1080 model to get it under the $2000 threshold. If you've got a bit more to spend, you can opt for the beautiful 3200×1800 IGZO display as well. The Razer Blade is one of the nicest notebooks around, gaming or otherwise, with a full CNC aluminum chassis, and per-key RGB backlighting with Razer's Chroma software. It has a Core i7-6700HQ along with 16 GB of system memory, and a GTX 1060. All of this is in a package that weighs 1.89 – 1.95 kg / 4.16 – 4.30 lbs (the QHD+ adds touch which adds a bit to the mass). At 17.9 mm / 0.70" thick, it's one of the thinnest and lightest gaming notebooks around.
High-End Gaming
Prices can quickly get out of hand on the upper-end of the gaming notebook spectrum, but you can sure get a lot of performance out of that money. The GTX 1080 reigns supreme here, or maybe you'd like SLI. Regardless, there is almost no limit to what you could spend, but here are a couple of good options for high-end gaming.
ASUS ROG G752VS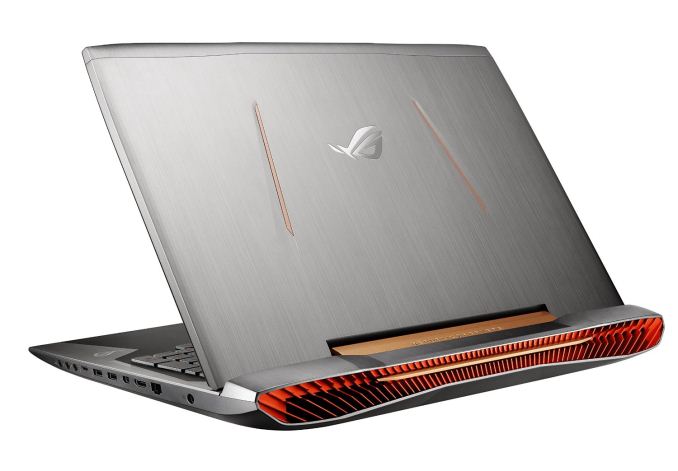 ASUS steps in with one of the great gaming notebook designs with the G752VS. The color scheme and brushed finish is excellent to look at, and there's plenty of performance inside as well. This is still a GTX 1070 laptop, but it is paired with a Core i7-6820HK processor. There are a couple of RAM and storage options, with up to 64 GB of DDR4 and 512 GB SSD paired with a 1 TB hard drive. The 17.3-inch 1920×1080 IPS display features G-SYNC, and ASUS has included plenty of IO including HDMI 2.0, USB-C with Thunderbolt 3, and more. It's all powered by an 88 Wh battery which should give reasonable battery life too, or at least as reasonable as a gaming notebook can be.
MSI GT83VR Titan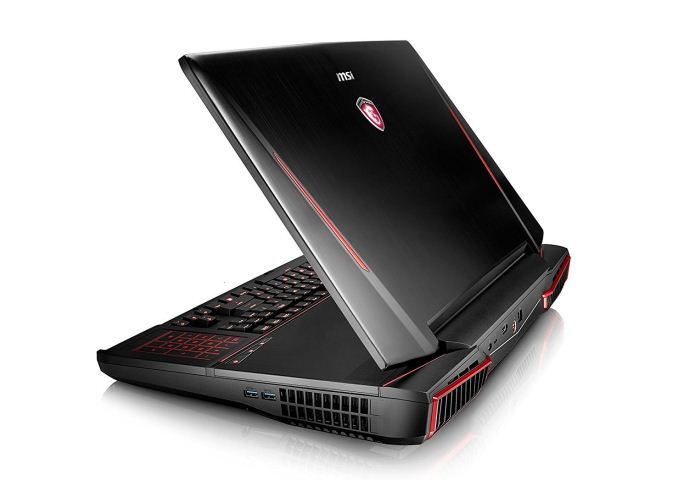 The GT83VR Titan is a halo product from MSI, offering a fully mechanical Cherry MX keyboard plopped on the front, and a massive 18.4-inch display. I think the display is somewhat holding this notebook back though, since it must be difficult to source, and it's still a 1920×1080 panel. The reason it's holding the system back is that it is offered with either SLI GTX 1070 or SLI GTX 1080 GPUs. This system could easily drive a UHD panel, or VR. The processor is a Core i7-6820HK, or a Core i7-6920HQ, and you can get up to 64 GB RAM with a 1 TB SSD and 1 TB HDD. Prices can climb quite high though, especially with SLI GTX 1080.
Razer Blade Pro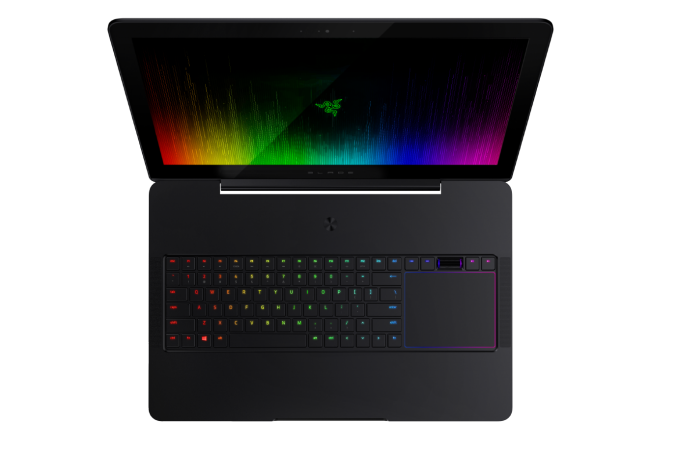 Razer kind of left their 17.3-ich Pro sit for a while, but for 2016 they have completely updated it. It is an amazingly thin and light notebook for this size range, with a 3.53 kg / 7.8 lbs weight and just a 22.3 mm / 0.88" thickness. Compare that to a MSI GT72VR, which is 47.7 mm / 1.88" thick and weighs 3.76 kg / 8.3 lbs and it becomes apparent just how thin this is for a full gaming laptop. Despite the thin and light design, Razer did not skimp on performance. The Core i7-6700HQ is pretty typical for a gaming laptop, but the GTX 1080 it is paired with it is the fastest laptop GPU around. It has 32 GB of RAM, and can have up to 1 TB of SSD storage. The display is a 3840×2160 UHD display with G-SYNC and Adobe RGB color gamut, with touch. Razer calls it "The desktop in your laptop" and it's hard to argue. They have also outfitted it with their new mechanical keyboard, with the same switch design they have used in their iPad Pro case. It's a stunner of a gaming notebook, and while it's not inexpensive, the CNC aluminum chassis and thin and light design makes this one of the nicest looking gaming notebooks around.