Corsair Launches Dominator Platinum Memory Modules for ASUS ROG Systems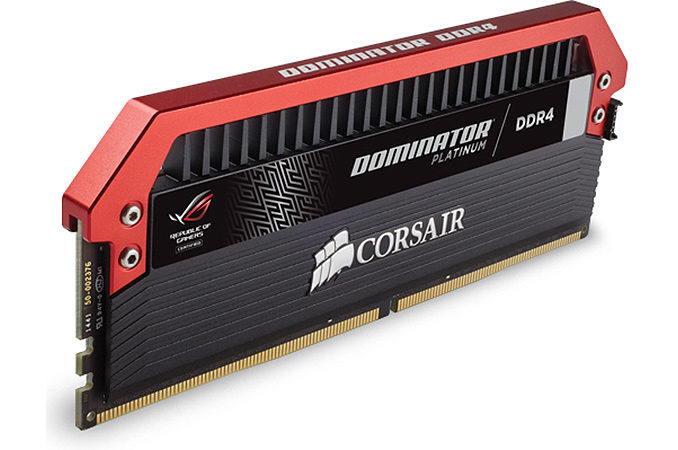 Corsair has introduced its new custom-built kit of Dominator Platinum memory modules, which are specifically designed for ASUS ROG motherboards. The new DDR4 modules contain an exclusive SPD profile, which is only available on select ASUS ROG platforms featuring Intel's Z170 PCH (platform controller hub).
The Corsair Dominator Platinum ROG Edition kit (CMD16GX4M4B3200C16-ROG) consists of four 4 GB DDR4 memory modules rated to run at 3200 Mbps data-rate with CL16 18-18-36 timings at 1.35 Volts. The modules are primarily designed for Intel's Skylake-S processors when used in Intel's Z170-based motherboards that support XMP 2.0 technology (to automatically set their frequencies and latencies when they are installed into appropriate PCs and the BIOS option is selected). However, when the Dominator Platinum ROG Edition kit is installed into one of ASUS ROG motherboards featuring the Z170 chipset, it allows setting 3333 Mbps data-rate and CL16 timings.

The Dominator Platinum ROG Edition modules are based on binned DRAM chips as well as Corsair's proprietary 10-layer PCB with internal cooling planes as well as external thermal pads. For improved cooling and visual aesthetics, the modules come with aluminum heat-spreaders and customizable LED lighting. The memory sticks also feature famous Republic of Gamers red and black brushed aluminium finish, to compliment the current-generation ASUS ROG line of motherboards.
As for the price, the Corsair Dominator Platinum ROG Edition kit represents a premium, much like other DDR4-3200+ kits. The set of four ROG-branded modules costs $224.99 excluding taxes in the U.S., which is considerably higher than the price of any other 16 GB DDR4-3333 kit. The Dominator Platinum ROG Edition kit is also more expensive than Corsair's own Dominator Platinum 16 GB DDR4-3200 CL15 (4 x 4 GB kit), which is priced at $189.99. Possibly, an exclusive SPD setting, custom-painted heatsinks as well as elite Republic of Gamers brand add a tangible amount of money to the price tag, but is aimed squarely at users with specific ROG motherboards.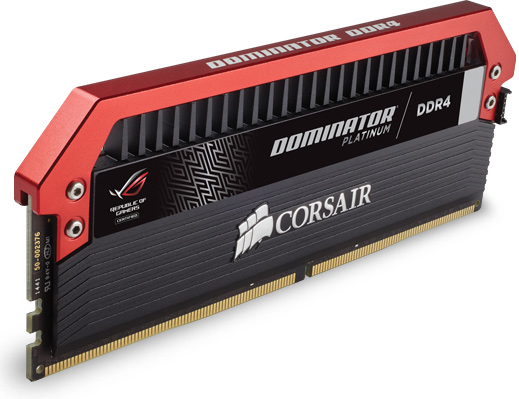 The list of compatible motherboards looks as follows:
ROG Maximus VIII Formula
Maximus VIII Hero
ROG Maximus VIII Extreme/Assembly
ROG Maximus VIII Hero Alpha
Maximus VIII Impact
Maximus VIII Extreme
Maximus VIII Ranger
Maximus VIII Gene