CORSAIR ONE PC Announced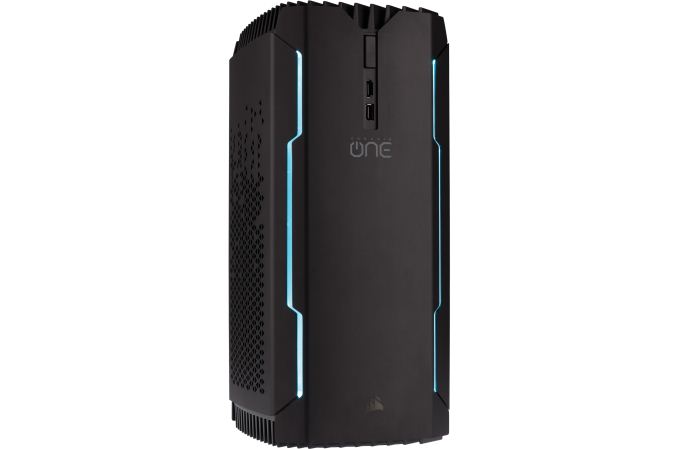 Corsair is very well known and well regarded for their ever-expanding line of PC cases, components and peripherals. After recently branching out to barebones PC kits with their Bulldog line, Corsair is now making the leap to fully-assembled systems.
The Corsair ONE is their first ready-to-run PC, a compact tower system with familiar design traits of angular shapes and a dark brushed aluminum finish. Aesthetically, the front of the Corsair ONE most closely resembles their Carbide 330R and Obsidian 550D cases, but overall the Corsair ONE's design is not as minimalist. The top and bottom have a finned structure reminiscent of a large heatsink, and the side panels are perforated with triangular ventilation holes. Corsair is not sharing technical specifications yet, but the accent lighting betrays a clear gaming focus. The tower is too shallow to contain a full ATX motherboard, but given the thoroughly ventilated side panels it should have no trouble accommodating high-power desktop components. Their PR photos also show that the Corsair ONE has an HDMI port on the front in addition to USB, allowing for easy use of a VR headset. There is no evidence of an optical drive bay.
While engineering a complete PC system should be no trouble for a company that already provides so many key components, the Corsair ONE will require a big shift in sales and support strategy for Corsair: The target audience will mostly be consumers who aren't interested in the hassle of assembling a system based on the Bulldog or Corsair's other products. A high-end VR-ready gaming PC will also be several times more expensive than any other product Corsair has sold. As a ready-to-run machine, the Corsair ONE will require broader post-sale customer support including supporting the pre-installed operating system and software.
Pricing and availability for the Corsair ONE have not been announced.