Corsair Releases MP700 Pro SSDs: Up 12.4 GB/s With Three Cooling Options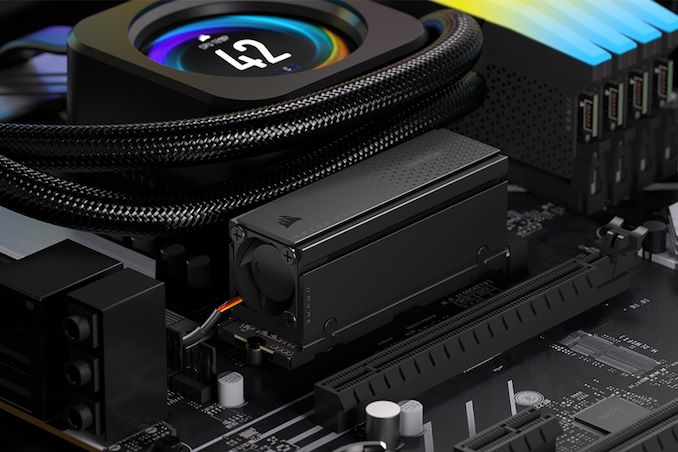 Corsair has introduced its MP700 Pro-series solid-state drives with a PCIe 5.0 x4 interface that offer sequential read speed of up to 12.4 GB/s. The new high-end drive family offers a trio of cooling options, including active air cooling and liquid cooling. The SSDs will complement the company's MP700-series PCIe Gen5 drives and will offer a new level of performance for PC enthusiasts.
Corsair's MP700 Pro drives are based on Phison's PS5026-E26 controller as well what initial teardowns have discovered to be 232 layer Micron 3D TLC NAND memory. Compared to their earlier E26-based MP700 drive, Corsair has been able to increase the drive's maximum sequential read speed to 12.4 GB/s and maximum sequential write speed to 11.8 GB/s thanks to the use of faster NAND, which offers a higher 2000 MT/sec transfer rate (versus the original's 1600 MT/sec rate). In addition, the company increased random read speed to 1.5 million IOPS and random write speed to 1.6 million IOPS, which is comparable to speeds offered by enterprise-grade SSDs.
As far as capacity points are concerned, Corsair's MP700 Pro are currently available in 1 TB and 2 TB configurations, whereas 4 TB versions will be available sometimes in the future.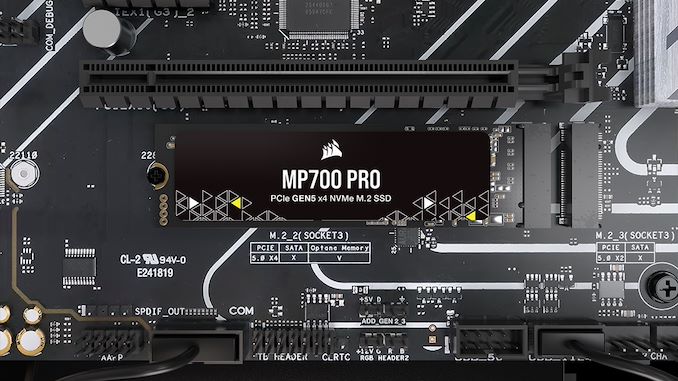 In addition to very high out-of-box performance, there is another selling point that Corsair's MP700 Pro drives have. They are available with three different cooling system to cater different PC form-factors and audiences. For high-performance laptops and compact desktops, Corsair offers MP700 Pro with a simplistic graphene heatspreader; for high-performance desktops, the company will offer these drives with an aluminum heatsink and a fan to ensure sufficient cooling and consistent performance even under high loads; whereas for owners of PCs with custom-built liquid cooling the company will offer a SSDs with a waterblock.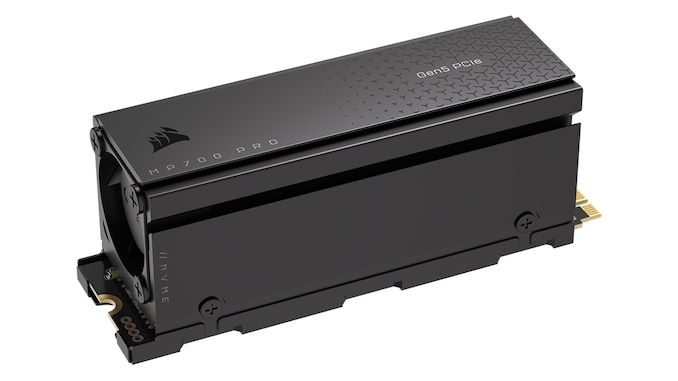 When the first M.2-2280 solid-state drives with a PCIe 5.0 x4 interface hit the market earlier this year, the majority of PCIe Gen5 SSDs topped out at a 10 GB/s sequential reads and writes since fast 3D NAND chips were in short supply. Now that 3D NAND with a 2000 MT/s interface is getting more widespread, Corsair and other manufacturers of SSDs are rolling out drives that can hit 12.4 GB/s read speeds.
In fact, Sabrent and some other makers are working on even faster SSDs with around 14 GB/s read speeds, so it is well possible that we are going to see a yet another 'sub-generation' PCIe Gen5 drives that will saturate a PCIe 4.0 x4 interface.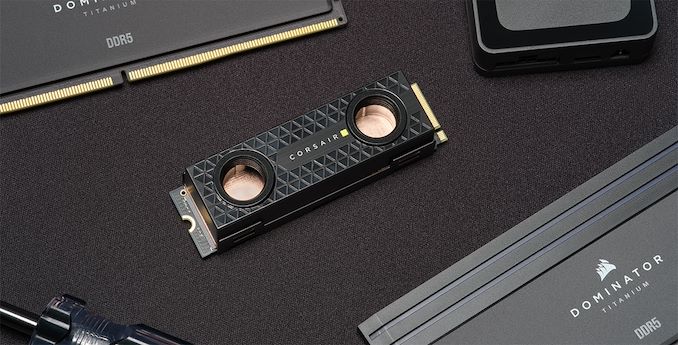 Source: Recent News