Dell Unveils UltraSharp U3417W: Makes Its Curved Display More Curved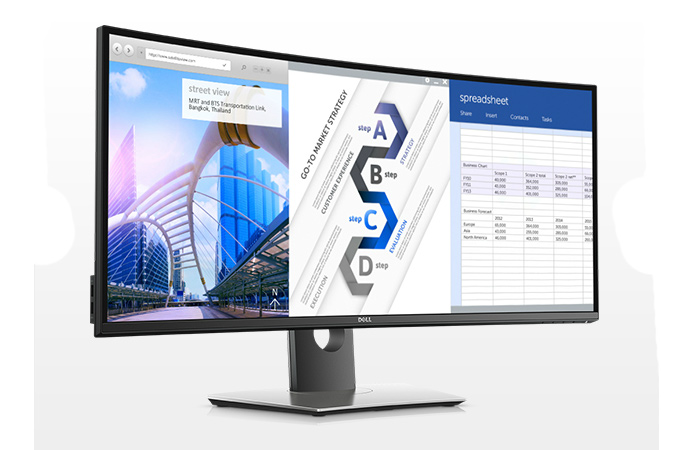 Dell has unveiled its new top-of-the-range 34" curved monitor for consumers. The new UltraSharp U3417W display has the same WHQD resolution as the U3415W introduced a year ago, but increased curvature and a new chassis design. The monitor is aimed particularly at users who do heavy multitasking but do not want to install two monitors on their desks.
Nowadays, the majority of display makers position their curved monitors primarily for gamers and multimedia enthusiasts, thus, trying to incorporate very high refresh rates along with dynamic refresh rate technologies like AMD's FreeSync or NVIDIA's G-Sync. Meanwhile, Dell, quotes IDC's findings that professionals from many industries (including those, who do finance, accounting and creative work) can benefit both from ultra-wide 21:9 aspect ratio as well as curvature. As a result, Dell offers curved monitors specifically tailored for professionals. Back in April, 2015, the company released its first U3415W curved display and this month it unveiled a newer model, the U3417W.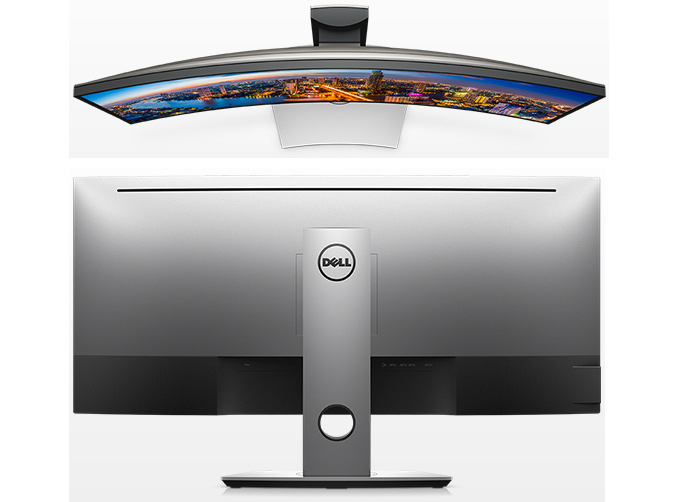 The Dell UltraSharp U3417W has higher curvature than its predecessor: 1900R vs 3800R. All the other specifications are generally similar: an IPS panel with 3440×1440 resolution, 1000:1 contrast ratio, 300 nits brightness, 178°/178° viewing angles, 5 ms response time in fast mode and a 60 Hz refresh rate. Dell believes that slightly higher curvature will further improve professional productivity.
Dell's Curved Displays
UltraSharp U3417W
2016 model
UltraSharp U3415W
2015 model
Panel
34" IPS
Native Resolution
3440 × 1440
Maximum Refresh Rate
60 Hz
Response Time
5 ms in fast mode
8 ms in normal mode
Brightness
300 cd/m²
Contrast
1000:1
Viewing Angles
178°/178° horizontal/vertical
172°/178° horizontal/vertical
Curvature
1900R
3800R
Pixel Pitch
0.233 mm
0.2325 mm
Pixel Density
109 ppi
unknown
Anti-Glare Coating
Yes
Diagonally Viewable Size
86.72 cm
34.14 Inches
86.5 cm
34.055 inches
Preset Display Area
799.80 mm × 334.80 mm
31.49" × 13.18"
267773.04 mm²
415.01 inches²
798.20 mm × 334.80 mm
31.43" × 13.18"
267237.36 mm²
414.2474 inches²
Inputs
1 × DP 1.2 (HDCP 1.4)
1 × mDP 1.2 (HDCP 1.4)
1 × DP 1.2 (out) with MST (HDCP 1.4)
2 × HDMI 2.0 (HDCP 1.4)
1 × DP 1.2
1 × mDP 1.2
1 × DP 1.2 (out) with MST
1 × HDMI 2.0
1 × MHL
USB Hub
4-port USB 3.0 hub, two ports support fast charging
2 USB Type-B upstream ports
Audio
9 W × 2
audio in/out ports
Launch Price
$1199.99
When it comes to connectivity, the UltraSharp U3417W resembles other modern monitors from the company (e.g., the UP3017) designed for professionals as it supports two HDMI 2.0, one DP 1.2, and one mDP 1.2 inputs. For convenience, it has one DP 1.2 output with MST to for daisy-chaining to another display. Besides, the monitor also supports PBP and PiP features when connected to two PCs. Finally, it has a quad-port USB 3.0 hub with two receptacles supporting BC 1.2 charging as well as two USB Type-B upstream ports (to connect to two different computers).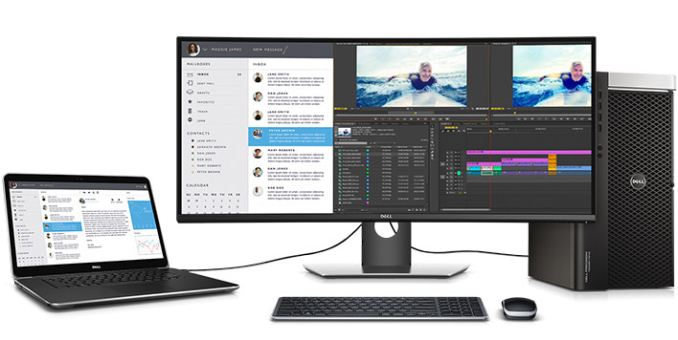 The Dell UltraSharp U3417W curved display is available now for $1199.99 from the manufacturer. Meanwhile, the older model, the U3415W is now available for $899.99. It is unknown whether Dell will keep selling both models, but for now the previous-gen display is available for the price, which is $300 below its original MSRP.