Digital Storm BOLT X: A Kaby Lake-Based SFF PC with Custom Liquid Cooling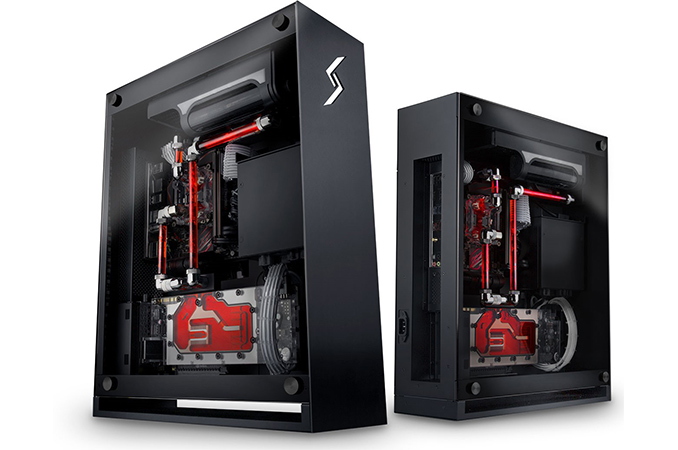 At CES this year, Digital Storm introduced its new compact PC design that weds a small form-factor with a specially-designed liquid cooling system. The BOLT X is designed to enable a significant overclocking potential of components even in a space-constrained form-factor, and it should benefit those who need to have maximum performance in a minimum footprint.
Over the past few years we have observed the culmination of several separate trends: compact computers with liquid cooling, with style and with serious overclocking capabilities. The new BOLT X from Digital Storm is the company's next-generation SFF PC with a HydroLux LCS that features a number of upgrades aimed to advance its cooling performance as well as improve the system in general. First off, the BOLT X has two 140-mm top mounted fans (up from two 120-mm fans in case of the BOLT 3, the predecessor). Second, it comes with an integrated stand that helps to minimize the amount of dust it sucks in through openings for cool air on the bottom. Third, it features a simplified open layout to make it easier to upgrade and service the PC.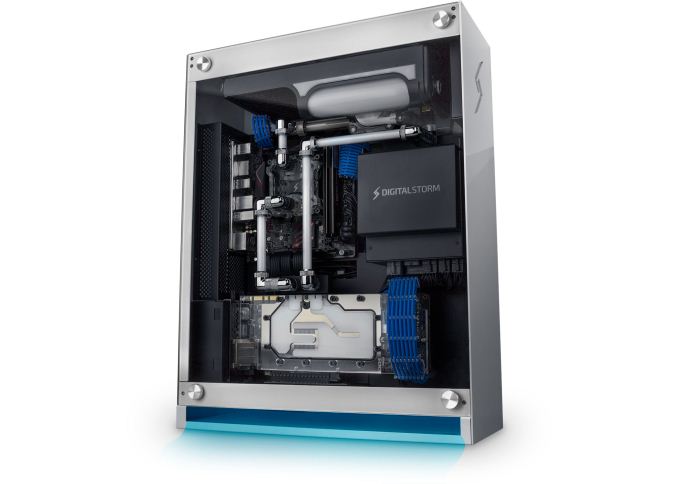 Just like the predecessors, the Digital Storm BOLT X can accommodate a Mini-ITX motherboard and one graphics card located beneath the mainboard to ensure proper cooling and compatibility with custom cards that have tall PCBs. With the BOLT X, Digital Storm will offer the Intel Z270-based platforms (so, they will support technologies like NVMe, Thunderbolt 3, USB 3.1 Gen 2, 802.11 ac Wi-Fi, etc.) along with various Intel Core processors powered by the Kaby Lake microarchitecture. As for GPUs, expect the PC maker to offer the latest graphics cards that will be available with its BOLT X — NVIDIA's GeForce GTX 10-series for now and whatever comes up next.
At present, Digital Storm does not discuss the exact number of SSDs/HDDs that can be housed by the BOLT X chassis, but the PC will definitely support one high-performance M.2 SSD with a PCIe 3.0 x4 interface on the motherboard as well as a number of storage devices in a 2.5-inch form-factor. Following the latest trends, the boutique PC maker eliminated the ODD from the chassis completely, resulting in a perfectly flat front surface.
One of the intrigues of the new BOLT X system is its PSU. In theory, Digital Storm can install almost any SFX power supply inside (except, perhaps, the SFX-L versions) to improve overclocking potential and/or support power hungry components. However, with the BOLT 3 the company only offers 400 W PSUs.
Digital Storm will start selling BOLT X systems in the first quarter. Exact pricing will depend on actual configuration and will thus vary. At present, the company offers BOLT 3 systems starting at $1906, so the new versions are likely to start at approximately the same price-point.
Related Reading: