GALAX and KFA2 Katana: Single-Slot GTX 1070 GPUs Coming Soon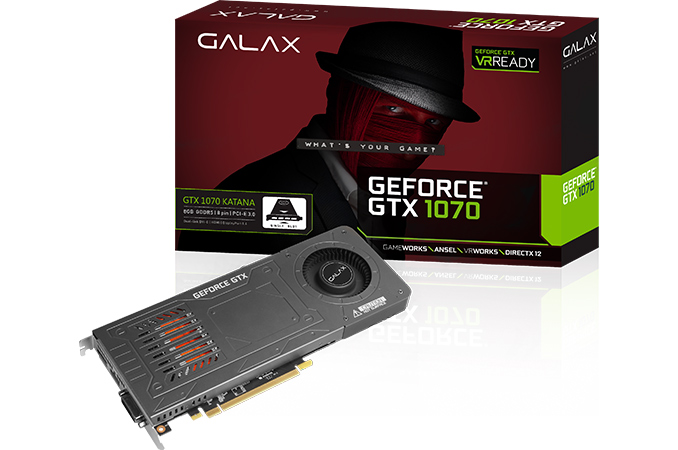 GALAX and KFA2 have added single-slot GeForce GTX 1070 Katana video cards to their lineups, which is usually an indicator that the graphics adapters are going to hit the market shortly. The add-in-boards (AIBs) will be the only thin GTX 1070 high-end graphics cards on the market and will join a few other single-slot adapters in GALAX's lineup.
As discussed before, when GALAX first demonstrated a prototype of its single-slot GeForce GTX 1070 Katana graphics card, single-slot gaming AIBs are uncommon these days because GPU developers and hardware makers use dual-slot coolers for everything with a TDP of 75 W and higher. While most of gaming desktops can accommodate at least one double-wide graphics adapter, there are systems equipped with extra add-in-boards (audio, SSD, additional SATA or Thunderbolt 3 controllers, etc.) that may require slim single-slot components as there is simply not enough space inside. For this reason, single-slot graphics cards from ELSA and now GALAX and KFA2 will find their buyers.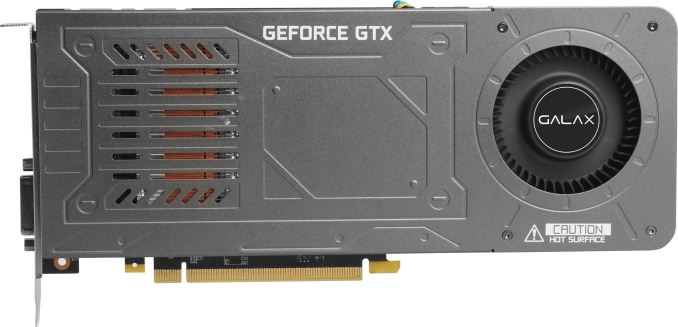 The GeForce GTX 1070 Katana graphics cards from GALAX and KFA2 are produced by Palit Microsystems, the owner of the two brands. To make the boards thinner than their counterparts, the manufacturer had to develop a custom PCB design with a 4+1-phase VRM moved towards display outputs. Such design ensures that cool air takes heat away from the GPU first and only then the air is applied to inductors, MOSFETs and capacitors of the VRM (which are sturdier). The GeForce GTX 1070 Katana graphics adapters run their GPUs at 1518/1708 MHz (base/boost), which is very close to NVIDIA-recommended frequencies and thus the cards only require one 8-pin PCIe auxiliary power connector.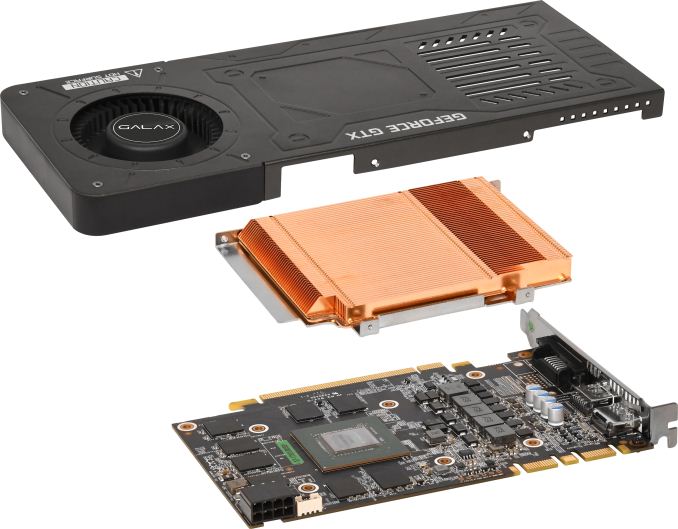 Another key element of the adapters is their single-slot cooling system that relies on a copper radiator with a vapor chamber and a high-pressure blower. The lid of the radiator has special openings above the VRM that exhausts part of the hot air and helps to better cool-down inductors and MOSFETs. In addition, there are exhaust holes on the bracket, therefore, at least part of the hot air is blown away outside of the PC. Palit does not disclose the maximum noise level produced by its cooling system, but it is logical to expect it to be noisier than their large brethren with multiple fans and doublewide radiators.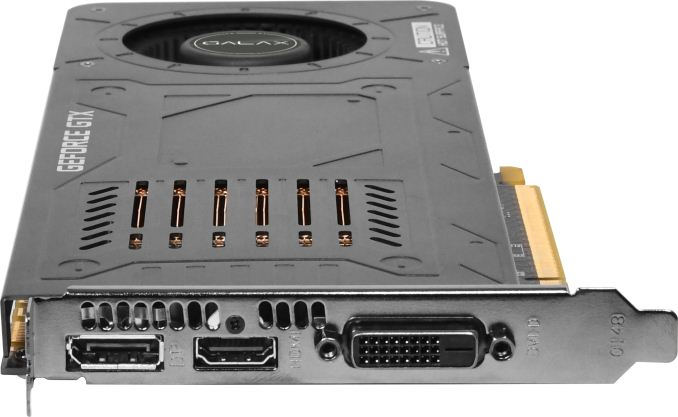 Since the GeForce GTX 1070 Katana cards are thin, the manufacturer had to sacrifice two out of five display connectors offered by most of the GP104-based designs. The graphics adapters feature a DisplayPort 1.4, a DVI-D output and an HDMI 2.0b connector. On the other hand, as most gamers use only one monitor, three different headers will be enough for vast majority of the target audience.
GALAX and KFA2 have not announced MSRPs of their GeForce GTX 1070 Katana graphics cards for their respective regions. Since the boards are unique, it is likely that they will be sold at a premium. Typically these cards are difficult to source outside of China or Japan, so it is worth letting these companies know if you want them in other regions.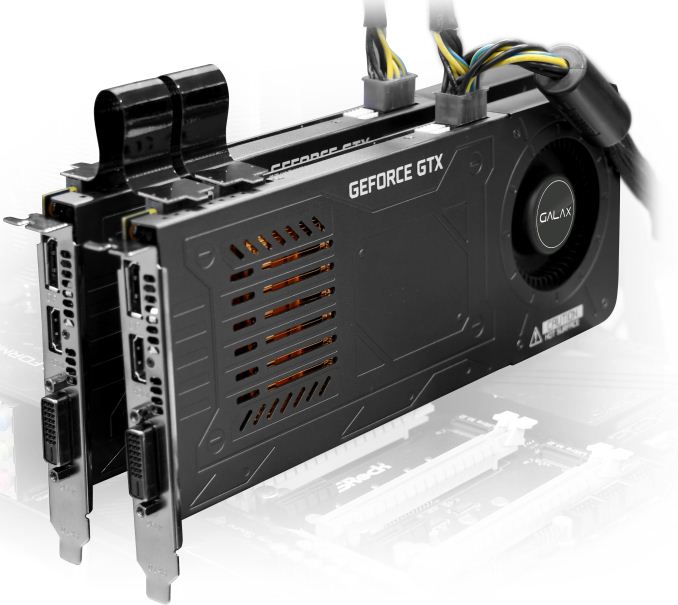 Related Reading: