GALAX Launches Low Profile GeForce GTX 1050 OC and 1050 Ti OC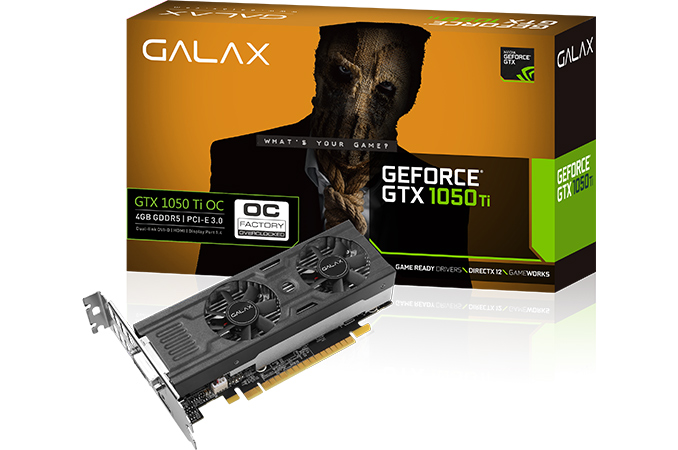 GALAX has joined the list of manufacturers to offer low-profile video cards based on NVIDIA's GeForce GTX 1050-series GPUs. The boards resemble similar products from other makers and are designed to upgrade low z-height PCs or build affordable small form-factor HTPCs. As with the other 1050-series parts, these are <75W, meaning no PCIe connector is needed.
The GALAX GeForce GTX 1050 OC LP and the GALAX GeForce GTX 1050 Ti OC LP graphics cards are powered by NVIDIA's GP107 GPU in different configurations and are equipped with 2 GB and 4 GB of 7Gbps GDDR5 memory respectively. Both add-in-boards use the same PCB design, which the manufacturer is proud of because it uses solid-state coils and has an additional heatsink on the VRM MOSFETs. For the main GPU cooling, the cards also use the same dual-slot dual-fan cooling system featuring an aluminum heatsink with a copper base. As for connectivity, both AIBs have the same set of outputs: one DL-DVI-D, one HDMI 2.0b and one DisplayPort 1.4 with HDCP 2.2 support.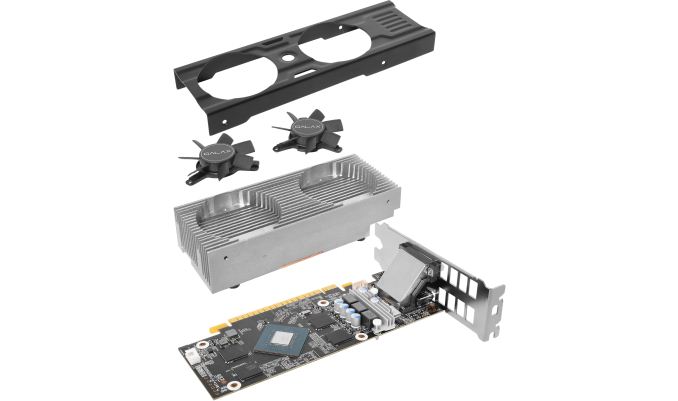 The new low-profile graphics cards from GALAX run ~12 MHz faster than reference designs. The 1% frequency increase does not have any effect on the official power consumption of the cards, so their TDP remains at around 75 W level. They do not need any additional power connectors and can be installed in any modern PC with an open-ended PCIe slot.
Specifications of Low Profile GeForce GTX 1050-Series Graphics Cards
GALAX GeForce GTX 1050 Ti OC LP
GIGABYTE
1050 Ti OC
LP 4G
MSI
1050 Ti
LP 4G
GALAX GeForce GTX 1050 OC LP
GIGABYTE
1050 OC
LP 2G

MSI


GTX 1050
LP 2G
SKU
GV-N105TOC-4GL
GV-N1050OC-2GL
Stream Processors
768
640
Texture Units
48
40
ROPs
32
Core Clock (MHz)
1303
1303 – 1328
1290
1366
1366 – 1392
1354
Boost Clock (MHz)
1417
1417 – 1442
1392
1468
1468 – 1506
1455
Memory
Capacity
4 GB
2 GB
Type
GDDR5
Clock
7 Gbps
Bus Width
128 bit
Outputs
DisplayPort
1 × DP 1.4
DVI
1 × DVI-D
HDMI 2.0b
1
2
1
1
2
1
TDP
75 W
Launch Date
1/2017
2/2017
11/2016
1/2017
2/2017
11/2016
GALAX is the third supplier after GIGABYTE and MSI to officially launch low-profile GeForce GTX 1050-series video cards. While demanding gamers hardly pay attention to low-profile cards, these come handy when upgrading low-cost PCs or building miniature HTPCs. The GP107 chip supports DirectX 12, Vulkan, and has an advanced media playback engine that features hardware-accelerated decoding and encoding of H.265 (HEVC) video.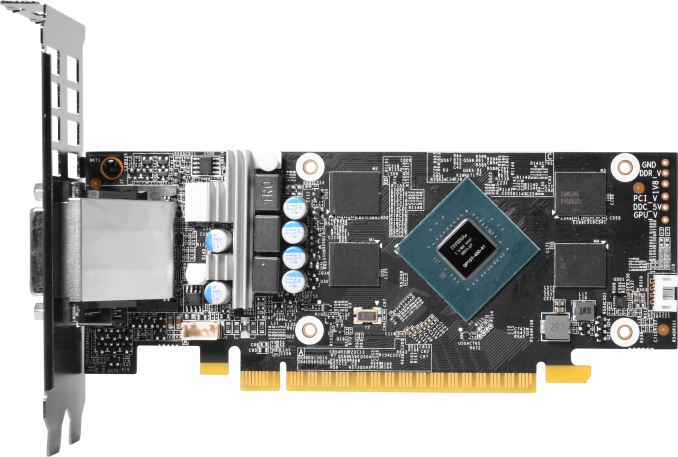 As reported previously, considering the positioning of the GeForce GTX 1050-series products, it unlikely that the new cards from GALAX will cost significantly more than NVIDIA's MSRPs for similar video cards: $139 for the GTX 1050 Ti and $109 for the GTX 1050. Meanwhile, it remains to be seen when are we going to see the low-profile GALAX cards in the US. Right now the company's online store as well as Amazon.com do not have them for sale. Since the GALAX brand belongs to Palit Microsystems, low-profile GeForce GTX 1050-series graphics cards from this manufacturer may emerge under different trademarks in different parts of the world (e.g., Gainward or KFA2 in Europe).
Related Reading: