GIGABYTE Aero 14: Thin Gaming Laptop with NVIDIA GeForce GTX 970M and 10-Hour Battery Life
GIGABYTE has introduced its new Aero 14 gaming laptop, which weds a relatively thin form-factor with high-performance components such as an Intel Skylake-H CPU, and a NVIDIA GeForce GTX 970M GPU, along with a high-resolution display and a claim of a 10-hour battery life. The new notebooks are designed for those who would like to have decent performance in games, but who are not ready to sacrifice mobility for gaming.
The GIGABYTE Aero 14 is based on the Intel Core i7 H-series processor (four cores with Hyper-Threading technology, 6 MB LLC cache, 45 W TDP, dual-channel DDR4 memory controller, integrated Intel Gen9 graphics core) and is equipped with a 14" IPS display panel with a 2560×1440 resolution. The system can be equipped with the NVIDIA GeForce GTX 965M (1024 stream processors, 64 texture units, 32 raster operations pipelines) or the 970M (1280 SPs, 80 TUs, 48 ROPs) graphics adapters, up to 32 GB of DDR4 memory (using two 16 GB SO-DIMMs) as well as two SSDs in M.2 form-factor (with PCIe 3.0 x2 interface). For some reason, GIGABYTE decided not to reveal exact details regarding things like Wi-Fi as well as the amount of VRAM, but it is natural to expect the PC of this class to feature 802.11ac.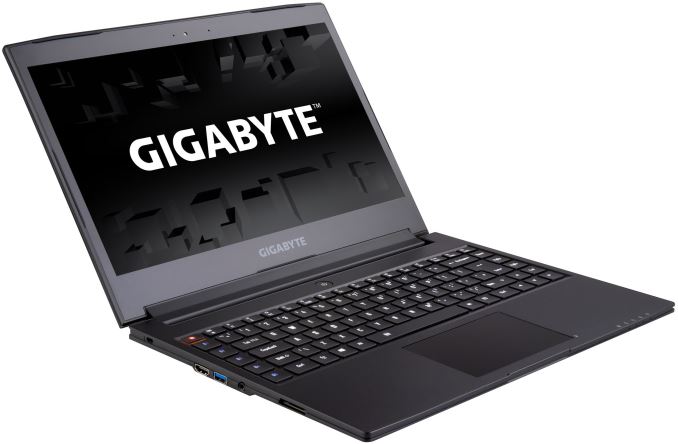 In a bid to make the system even friendlier to gamers, GIGABYTE included a keyboard featuring five programmable keys to simplify input of complex key combinations. Other I/O capabilities of GIGABYTE's Aero 14 include one USB 3.1 Type-C receptacle, three USB 3.0 ports, a TRRS audio connector, a SD card reader, an HD webcam, built-in speakers and microphones as well as an HDMI 2.0 and an mDP display output.
The Aero 14 comes in a full aluminum chassis, though, we are not dealing with a unibody design here. GIGABYTE offers three color options for the display lid, with black, green and orange to emphasize gaming nature of the device.
Despite of rather powerful hardware inside, the Aero 14 boasts with a 10-hour battery life (obviously, when the integrated graphics core is used), which is in-line with that of modern business notebooks. To make such long battery life possible, GIGABYTE integrated a 94.24 WHr lithium-ion polymer accumulator into its gaming laptop. The Aero 14 is 19.9 mm thick and weighs 1.89 kilograms, making it one of the lightest and thinnest notebooks with gaming-grade hardware inside.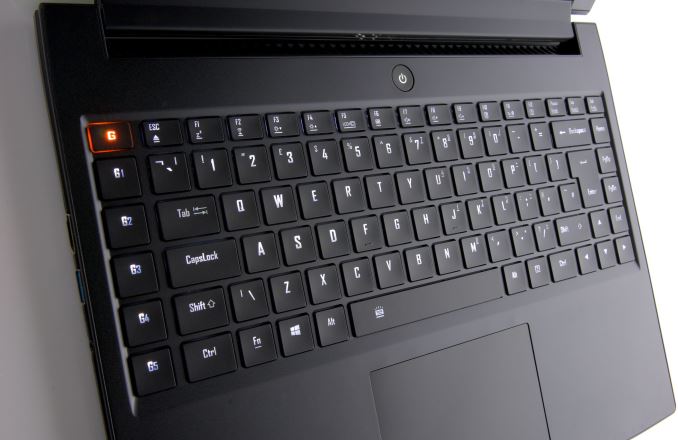 The Aero 14 from GIGABYTE will, among other products, compete against Razer's Blade, which is also relatively thin (17.9 mm) and sports a 14" display. When compared to the Aero, the Razer Blade has a higher resolution 3200×1800 display, slimmer chassis, as well as Thunderbolt 3 support. However, GIGABYTE's machine has larger battery, potentially more DDR4 memory (because the Blade uses soldered down DRAM and cannot be upgraded), potentially higher amount of storage (thanks to two M.2 slots) as well programmable keys.
Exact pricing of GIGABYTE's Aero 14 will depend on actual configuration, but typically, gaming machines from the company are not overpriced.