HP Announces EliteBook Laptops with On/Off Sure View Privacy Screens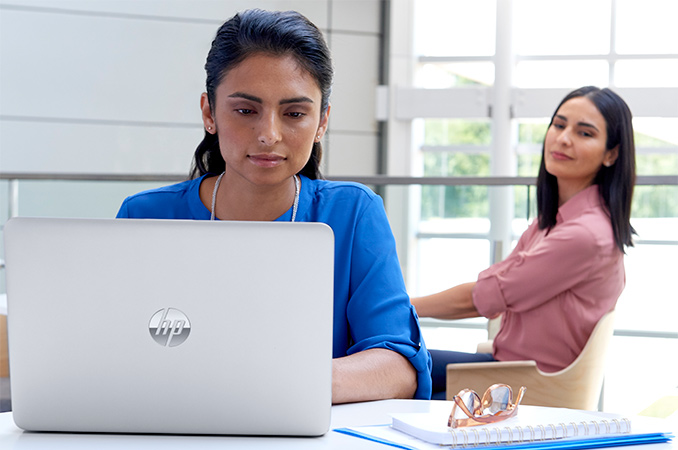 On Thursday, HP introduced adjustable privacy screens for the EliteBook 840 as well as the EliteBook 1040 notebooks. These are aimed at business users concerned about visual hacking and disclosing sensitive information to onlookers (something a number of journalists have to consider when working on NDA information when flying back from a press event). The protective measures for the screens are based on the Sure View technology jointly developed by HP and 3M, which relies on a number of HP's proprietary technologies as well as 3M's optical films. Ultimately, the user can control the privacy with an on/off switch as required, rather than equipping a perminant film that can reduce comfort. Right now, the Elitebook laptops are the first batch to get the technology, but eventually HP's Sure View technology may appear on other PCs from the company depending on feedback.

In the conference call, HP was keen to point out that according to the Pew Research Center, around 60% of employees nowadays take their work outside of office walls and can potentially (without knowing) share confidential information with the wrong people. Most users that have to work while on the move might not be aware of who is staring at their displays from the back or from the side (which is incredibly annoying in general even if you are playing Tetris). Knowing that, HP explained that some employees tend not to work with sensitive data in public places, which can reduce their overall productivity. Meanwhile there is a market to ensure privacy in cafes, airports and other venues – other people install aftermarket privacy screens on their laptops. While that helps businesses to better comply with regulatory requirements in healthcare, finance and industries dealing with sensitive information, such screens reduce viewing angles of notebooks which affects overall user experience. By contrast, HP's Sure View can be turned on and off, thus improving privacy without persistent reduction of viewing angles of laptop screens.
HP's Sure View technology uses a special film from 3M as well as HP's own backlighting. When the setting of the backlighting is adjusted, the film decreases viewing angles of the display down to around 35 degrees. The tech can be activated by pressing Fn + F2 and actual viewing angles can be further adjusted by pressing other combinations of buttons (viewing angle adjustments are independent of brightness and one is not dependent on the other). HP claims that the technology can be used with different display panels, but initially the company will use the technology on TN or SVA panels with FHD resolution. The Sure View does not consume extra power and since it relies on different setting of the backlighting, it might help to improve battery life a bit. HP does not reveal the price of its integrated privacy screen technology, but claims that with higher-end configs it will be virtually free. Moreover, the company mentioned that since it is not just a film on top of the display itself, it is going last throughout the lifetime of the laptop.

As for configurations, the HP EliteBook 840 G3 and the HP EliteBook 1040 G3 are 14" laptops based on Intel's dual-core Core Skylake-U chips with integrated HD Graphics 520 and vPro (select models only). They come with up to 32 GB of DDR4-2133 memory and use 2.5" HDDs/SSDs (EliteBook 840) or M.2 SSDs (EliteBook 1040). The notebooks are equipped with 802.11ac WiFi + Bluetooth modules, Gigabit Ethernet (via dongle in case of the 1040) as well as an LTE or HSPA+ WWAN module. As with many business PCs, the systems are equipped with anti-spill keyboards, fingerprint readers (optional in case of the 840) and TPM 1.2/2.0 modules.
Both laptops feature 14" display panels and are fairly light and thin for mainstream business models. The EliteBook 840 weighs 1.48-1.7kilograms and is 1.89-2.02cm thick (the peak values for touch-enabled models. Meanwhile, the EliteBook 1040 weighs starting at 1.43 and is 1.58-1.65cm thick. Depending on the exact configuration, the EliteBook 840 can work for up to 13.5 hours, whereas the EliteBook 1040 can boast with 10 to 11.5 hours of battery life. Since configurations of the notebooks can vary, HP does not mention recommended prices, but we are talking about machines that start at around $1200 and can end up at $2000 or higher. B2B sales will differ in price depending on volume and support packages. Users should see systems with Sure View privacy screens available in September.