Huawei Launches Ascend P7 Based on Custom HiSilicon SoC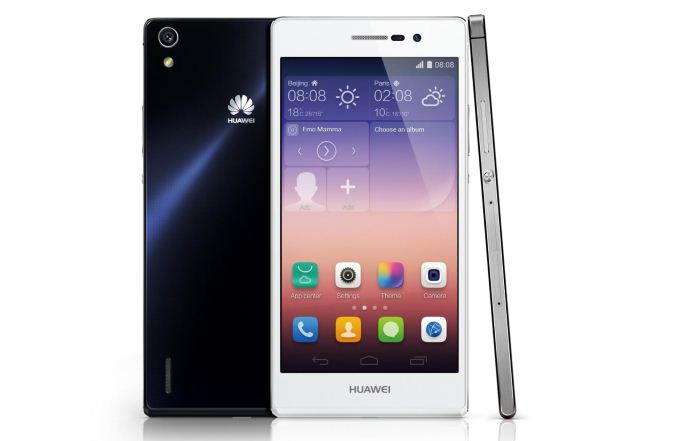 Today Huawei announced the Ascend P7, its new flagship smartphone. The P7 replaces last year's Ascend P6 and brings significant improvements across the board. Huawei is positioning the device to compete better in the high-end market with improved specs across the board and an improved design which is reminiscent of Apple's iPhone 4 with sheets of glass on both the front and back of the device and a metal band around the edge. The rest of the known specifications are laid out below.
Huawei Ascend P7 vs P6
Ascend P7
Ascend P6
SoC
HiSilicon KIRIN 910T 4 x 1.8GHz Cortex A9 + Mali-450 (28nm HPM)
HiSilicon K3V2 1.5GHz Cortex A9 + Vivante GC4000
Memory
2GB LPDDR3
2GB LPDDR3
Storage
16GB NAND + MicroSDHC
8/16GB NAND + MicroSDHC (single SIM SKU)
Display
5.0" 1920×1080 IPS LCD
4.7" 1280×720 IPS LCD
Cellular Connectivity
GPRS/EDGE/DC-HSPA+/Category 4 LTE
2G / 3G HSPA (EvDO China SKU)
Dimensions
139.8 x 68.8 x 6.5 mm, 124g
132.7 x 65.5 x 6.2 mm, 120g
Camera
13MP (4128 x 3096) Rear Facing Sony Sensor w/ F2.0 aperture, 8MP FFC
8MP (3264 x 2448) Rear Facing Sony Sensor w/ F2.0 aperture, 5MP FFC
Battery
9.5Wh
7.6Wh
OS
Android 4.4.2 + Emotion UI 2.3
Android 4.2.2 + Emotion UI 1.6
Other Connectivity
802.11a/b/g/n + BT 4.0, USB2.0, GPS/GNSS, DLNA, NFC
802.11b/g/n + BT 3.0, USB2.0, GPS/GNSS, DLNA
SIM Size
Micro-SIM
Micro-SIM
Huawei continues to include their own SoC in their flagship devices. The HiSilicon KIRIN 910T is a quad-core Cortex A9 design with Mali-450 GPU built on a 28nm HPM process. The Cortex A9s are clocked at up to 1.8GHz, which is quite high for a A9 design. I'm curious to see how the high clocked A9s stack up to Qualcomm's Krait 400. I suspect it's a better perf/watt choice to use higher clocked A9s than a high frequency A15, however the driving factor here is probably performance/area and then perf/watt.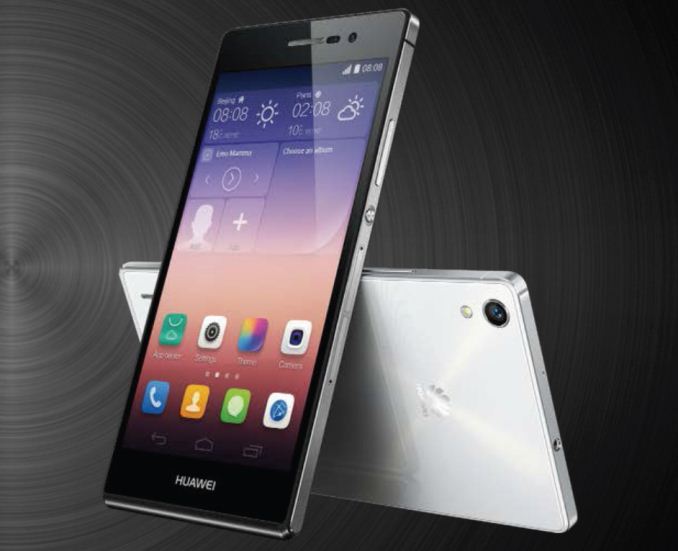 The KIRIN 910T features HiSilicon's own integrated LTE modem. For a device aimed at the high-end market this is definitely something needed to be competitive. The P7 will launch with support for LTE Bands 1, 3, 7, 8 and 20. With the exception of Canadians in 2600MHz (Band 7) markets, North American users are out of luck with the international launch SKU. In terms of connectivity Huawei has moved to Bluetooth 4.0 and included support for NFC. The device's battery capacity increased from 7.6Wh to 9.5Wh. Poor battery life was one of the major complaints about the Ascend P6 and it looks like Huawei doesn't want to have the same issue this time around (although software tuning can be just as important as hardware/battery selection).
Like other recently launched devices, Huawei is putting big stress on the camera. The Sony-sourced 13MP sensor on the back is fairly standard for today's high-end Android smartphones but the front camera is much more unique. Huawei has used an 8MP sensor for the device's front facing camera. This is the next step in what appears to be a very rapid shift in front camera resolution. It was only a year ago that 2MP was the de-facto standard for the front facing camera on flagship smartphones. With the new front camera Huawei is promoting some new software features like front facing panoramas to fit in larger groups of people. In addition, both the front and back cameras are capable of 1080p30 video recording.

In terms of software the device runs Android 4.4.2 with Huawei's emotion UI on top. Like many recently launched flagship devices, Huawei is touting a feature they call "super power-saving mode" which can dim the display and turn off everything except the basic functions of the phone when the battery is at ten percent or lower. Huawei has indicated that the device will launch in black, white, and pink finishes with a recommended retail price of 449 euros in China, Australia, and Europe sometime around Q3 2014 with other markets to follow later.