Humble #13: Sunday Edition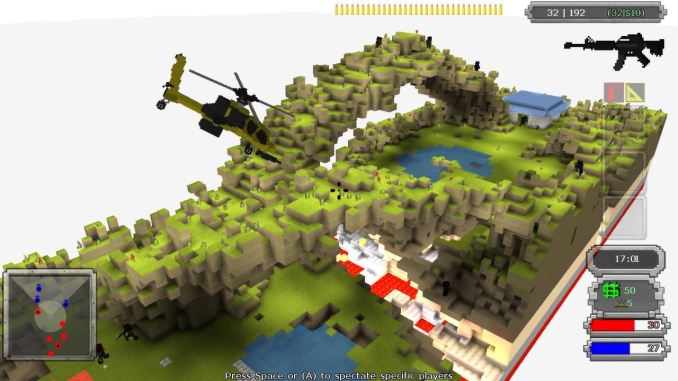 Things are winding down, and with yesterday's less-than-compelling (for me anyway) Eve Online bundle I had hoped we'd see something with a bit more teeth today. Well, guns, zombies, and orcs have teeth of a sort, right? Here's the short list of the three games in the latest daily bundle:
Guncraft (73%, 07/2013): this is an FPS game with typical multiplayer game modes – CTF, Deathmatch, Survival, Siege – built with graphics similar to that of Minecraft. It's not just "Minecraft with guns"…though that's probably close enough. $1 or higher donation required.
Ravaged: Zombie Apocalypse (~25%, 08/2013): the original Zombie Apocalypse was a top-down arcade style homage to the Left 4 Dead series that became repetitive rather fast; Ravaged was a post-apocalyptic vehicle/FPS game. Combine the two (maybe?) and you get this game, which has more in line with the Ravage game than the Zombie Apocalypse; what few user reviews I could find have not been at all favorable, unfortunately. Beat the average (currently $2.42) to unlock.
Orc Attack: Flatulent Rebellion (~50%, 05/2014): a brand new game with very few reviews at present, you can be one of the first to own and review this apparent stinker. Fight off the polluting humans with lots of hot air, I guess. Pay $9 or more to unlock.
Guncraft looks to be the best offering here, and with a normal price of $14.99 it's certainly worth picking up for a buck. $2.50 to unlock Ravaged (normally $14.99 as well) will likely end up being an extra $1.50 donation for a game you don't play, but I've done worse things. As for the orcs (or orks if you prefer) and their intestinal issues, perhaps it will prove humorous to some of you, but I'm going to have to pass gas on that one. (*Cough*, excuse me!) With only one more bundle remaining, I'm hoping Humble ends this two week stint on a high note. (Erm…sorry, again.)