Humble Daily #6: Hammerwatch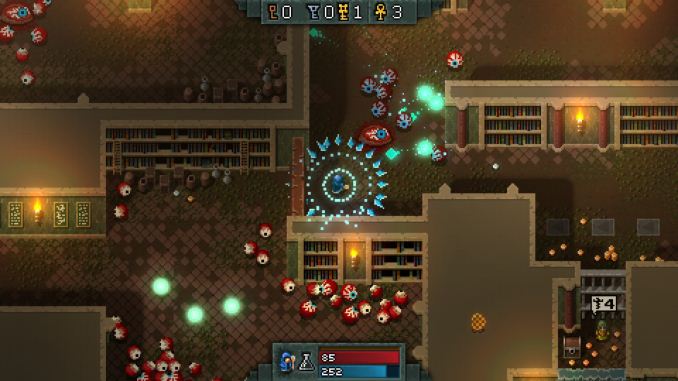 It's the weekend, so I didn't expect too much excitement from the Daily Humble Bundles going on. Today's bundle gives you a single game, along with some artwork. The game in question is a hack and slash action game Hammerwatch (72%, 08/2013), which is sort of like the old Gauntlet game from the 80s but with somewhat updated graphics and cooperative gameplay available over the Internet. That's a good start, but it seems a bit odd that the base bundle only gives you the artwork and soundtrack – no game for you unless you beat the average price (currently $7.77).
There's a bonus order available at the $8 mark, so you might as well go whole-hog on this one. The bonus is nothing more and nothing less than three extra copies of the game that you can give to friends, so if you're having trouble finding partners for your assault on Castle Hammerwatch, that should help. And you might want the help if you plan on completing the game, as it reportedly gets very difficult for solo players in the higher levels. The game has received okay reviews, though it's not widely reviewed; the user reviews tend to rate the game slightly higher than the critic reviews, if that's any help. The charity options for this bundle are Child's Play Charity along with the Electronic Frontier Foundation. The game normally costs $9.99 on Steam, so for $8 you could get four copies which is a decent rebate. But if you're not much into retro multi-player hack and slash games, you might give this one a pass.