Intel Announces the Xeon E7-8894 v4 CPU: 24 Cores at 2.4 GHz for $8898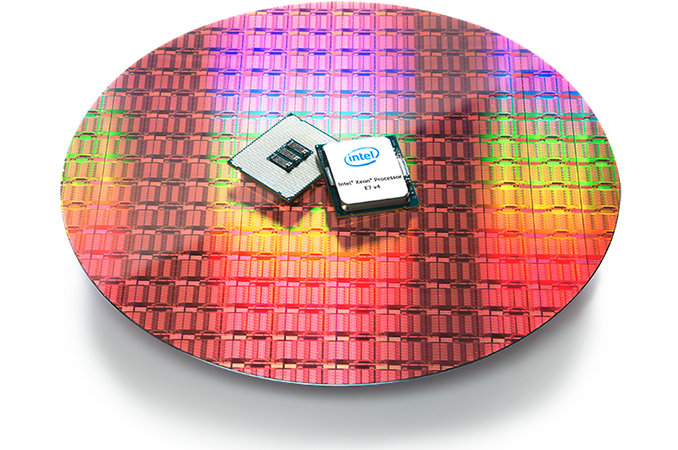 In the past week, Intel has launched a new halo CPU – its highest-performing multi-core CPU for multi-socket mission-critical servers, the Xeon E7-8894 v4. The new processor is based on the Broadwell-EX die and has approximately a 200 MHz higher base frequency than its direct predecessor, released in Q2 2016. Intel said that the new CPU has set a number of records in various benchmarks. Intel's customers interested in the chip will also have to pay a record price too.
The flagship Intel Xeon E7-8894 v4 processor features the Broadwell-EX XCC (extreme core-count) die and has 24 cores with Hyper-Threading technology, 60 MB of L3 cache, 165 W TDP, a default frequency of 2.4 GHz and a turbo frequency of up to 3.4 GHz. Like other Broadwell-EX XCC CPUs, the new chip has quad-channel DDR3/DDR4 memory controller support and can manage up to ~3 TB of DRAM per socket (when used in conjunction with four Jordan Creek 2 scalable memory buffers). The CPUs are also equipped with 32 PCIe 3.0 lanes and three 9.6 GT/s QPI links for multi-socket environments.
Intel E7-8800 v4 Xeon Family
E7-8867 v4
E7-8870 v4
E7-8880 v4
E7-8890 v4
E7-8894
v4
E7-8891 v4
E7-8893 v4
TDP
165 W
140 W
150 W
165 W
165 W
140 W
Cores
18 / 36
20 / 40
22 / 44
24 / 48
10 / 20
4 / 8
Base Freq
2400
2100
2200
2200
2400
2800
3200
Turbo
3300
3000
3300
3400
3500
3500
L3 Cache
45 MB
50 MB
55 MB
60 MB
60 MB
60 MB
QPI (GT/s)
3 × 9.6
3 x 9.6
3 x 9.6
DRAM
DDR4-1866
DDR3-1600
DDR4-1866
DDR3-1600
PCIe
PCIe 3.0 x32
3.0 x32
3.0 x32
Price
$4672
$4762
$5895
$7174
$8898
$6841
$6841
Intel's multi-core Xeon E7 processors are designed for various heavy-duty servers with four, eight or more sockets (to support more than eight sockets special third-party node controllers are required). Such mission-critical machines typically to be available 24/7/365 and this is why the Xeon E7 v4 and the Broadwell-EX range has a host of various RAS (reliability, availability, serviceability) features. The Xeon E7-8894 v4 CPU has exactly the same set of capabilities as its direct predecessor, the Xeon E7-8890 v4 released last year.
Intel claims that due to increased default frequency (and obviously because of the core count in general), the Xeon E7-8894 v4 sets a number of performance records in various general, server, HPC, big data analytics, business processing, database and other benchmarks, such as SPECint_base2006, SPECompG_2012, and so on.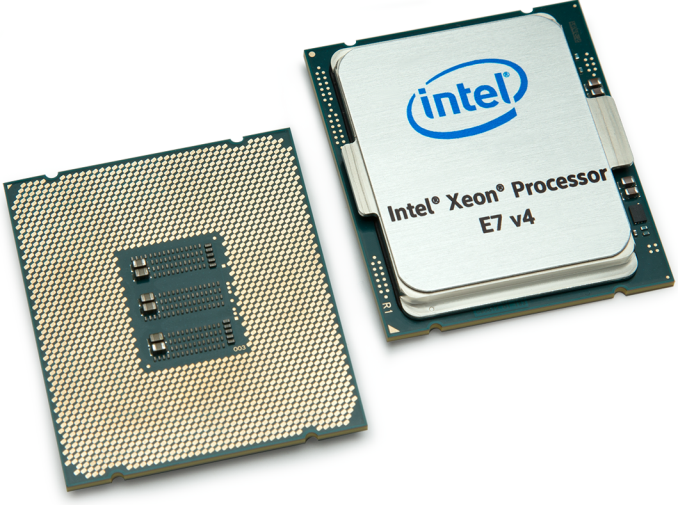 The Intel Xeon E7-8894 v4 processor carries a tray price of $8898, which is the highest price of an Intel mass-produced CPU ever. Its predecessor on the top spot in the range, the 24-core Xeon E7-8890 v4 (which runs at 2.2 GHz) is priced at $7174 and still sits at its original tray price. As always, there are customers willing to pay such sums of money for server CPUs that deliver certain levels of performance. Moreover, there are workloads that benefit from a +200MHz (9%) performance increase so significantly (from a financial point of view to the owners of the machines) that it justifies paying extra 24% (or $1724) for a 200 MHz frequency increase (provided that this is the only advantage that this CPU has over the E7-8890 v4).
Intel Xeon E-Series Families (February 2017)*
E3-1200 v5
E3-1500 v5
E5-1600 v4
E5-2600 v4
E5-4600 v4
E7-4800 v4
E7-8800 v4
Core Family
Skylake
Skylake
Broadwell
Broadwell
Broadwell
Core Count
2 to 4
2 to 4
4 to 22
8 to 16
4 to 24
Integrated Graphics
Few, HD 520
Yes, Iris Pro
No
No
No
DRAM Channels
2
2
4
4
4
Max DRAM Support (per CPU)
64 GB
64 GB
1536 GB
3072 GB
3072GB
DMI/QPI
DMI 3.0
DMI 3.0
2600: 1xQPI
4600: 1xQPI
3 QPI
3 QPI
Multi-Socket Support
No
No
2600: 1S/2S
4600: 1S/2S
1S, 2S or 4S
Up to 8S
PCIe Lanes
16
16
40
32
32
Cost
$213 to
$612
$396 to
$1207
$294 to
$7007
$1223 to
$3003
$4061 to
$8898
Suited For
Entry Workstations
QuickSync,
Memory Compute
High-End Workstation
Many-Core Server
World Domination
*Intel also has the E3-1500M v5 and E3-1500M v6 mobile parts which are left out of this table
We've asked Intel to disclose the official per-core turbo numbers for comparison to their other chips, as well as a full range of DRAM support depending on memory type and memory density. We will update this news piece as we get more information.
Related Reading: