Intel Forms New Group for Autonomous Vehicles and Announces $250M Investment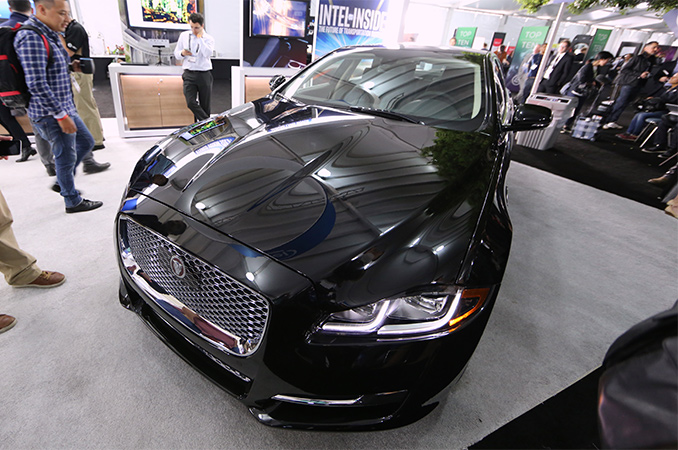 Intel this week announced several initiatives to push into the emerging autonomous driving market. The company formally established a new internal organization called the Automated Driving Group (ADG) dedicated solely to the development of solutions for autonomous vehicles, and announced plans to invest $250 million in the creation of various technologies that enable autonomous driving. Intel has also teamed up with Delphi and Mobileye to develop a turnkey autonomous driving platform that could be used by different automakers. The first cars featuring the platform are expected to emerge in 2019.
Intel Bets on Self-Driving Cars
Intel has been working with various makers of cars for over a decade, so the company is not a complete newbie to the auto industry. For example, Intel's CPUs have powered several generations of infotainment systems in many cars by various brands. However, when it comes to autonomous vehicles, much more sophisticated computing platforms are needed. Firstly, such platforms use a multitude of sensors in addition to sonar, LIDAR, odometry, and cameras. Secondly, they use very specific processing units that analyze sensory data in real time as well as AI technologies to make decisions.
Over the past few years, Intel acquired numerous companies to accumulate various types of IP it needs not only for autonomous vehicles, but also for many other AI-driven applications. For example, Intel bought Saffron Technology specializing in cognitive computing (AI + signal processing) in late 2015, a developer of driver assistance system called Yogitech in April '16, machine learning specialist Nervana Systems in August '16 as well as computer vision expert Movidius in September '16.
All of Intel's assets related to self-driving cars will now be poured into the ADG, which will be managed by Doug Davis, a long-time Intel veteran who oversaw the company's efforts in embedded computing, networking, and IoT. Kathy Winter, who used to manage software and services for automated driving at Delphi, will assist Mr. Davis.
It is noteworthy that Intel did not form a group that would address cars in general and which goal would have been top-to-bottom platforms for autonomous systems. The company intends to address very specific components of future cars and will thus have to make sure that its platforms for autonomous vehicles are compatible with technologies developed by third parties. Initially, the company plans to develop a platform for self-driving cars with Delphi and Mobileye, but eventually it will inevitably have to work with the likes of NXP, Infineon or Renesas (the largest suppliers of automotive semiconductors, according to IHS).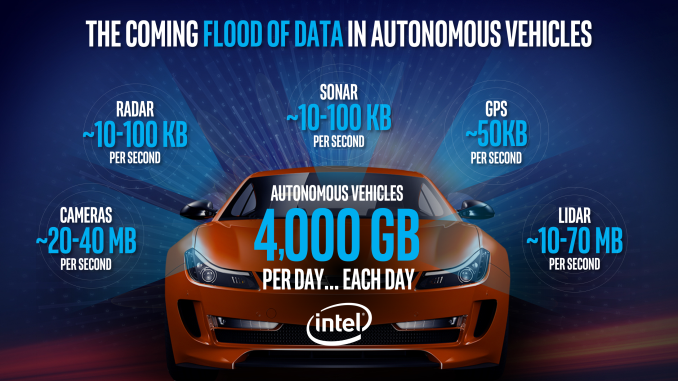 Meanwhile, Intel's CEO points out that every self-driving car is going to generate roughly 4 TB of data every day, which leads to three implications. Firstly, such cars are going to need powerful chips to process the data in real-time. Secondly, developers of autonomous driving platforms will have to own datacenters to analyze the vast amounts of data captured by vehicles and develop more sophisticated AI technologies. Thirdly, the communications infrastructure will have to handle increased amounts of data. Intel's Xeon CPUs already power the majority of the world's datacenters and the proliferation of autonomous cars will drive demand for the company's processors in the future. In the meantime, ADG is supposed to bring more Intel chips to cars, creating new business opportunities.
First Intel-Powered Self-Driving Cars to Hit the Road in 2019
One of the first projects that the ADG will work on will be a platform for autonomous vehicles jointly developed by Intel, Delphi and Mobileye that is due in 2019. Another important project for the ADG will be collaborative work with BMW and Mobileye on an autonomous car platform that the former intends to use by 2021. Unfortunately, for now, Intel does not disclose any other efforts that its ADG will deal with.
Intel, Delphi and Mobileye have already developed a prototype of their platform based on Intel's current-gen Core i7 CPU (they do not disclose which one, so we can think of everything between the i7-6600U and the i7-6950X) and an undisclosed Mobileye silicon. Intel says that over time the platform will migrate to a more powerful CPU to be introduced over the next few weeks, but we do not know whether that chip will power vehicles in 2019, when the platform is set to be used commercially. Meanwhile, Mobileye says that the platform will feature compute performance of approximately 20 TFLOPS (we suspect we are dealing with 8-bit integer operations here), which is in line with what NVIDIA expects from its Xavier SoC for self-driving cars that will start sampling in late 2017.
NVIDIA and a number of other companies have worked on solutions for autonomous cars for several years now, but while Intel is announcing its intentions to address self-driving vehicles only today, this does not mean that the company is starting only now and from scratch (still, it is evident that Intel is somewhat behind of its rival here). As a result of its recent acquisitions, the chip giant already has a lot of IP related to AI, deep learning, computer vision and other technologies needed for self-driving cars. Moreover, the company's ADG intends to invest $250 million over the next two years in the development of technologies relevant for autonomous vehicles, such as connectivity, context awareness, deep learning, security, safety and so on.
The establishment of Intel's Automated Driving Group is a sign that the company is taking autonomous vehicles seriously and plans to be a part of a major technology revolution (a good message to send to investors). At the same time, right now the ADG raises more questions than provides answers, at least, from a technology point of view. In any case, Intel promised to announce an element of the upcoming platform for self-driving cars in the next few weeks (CES is January) and perhaps this is when the company discloses more information about the upcoming solution.
Sources: Intel, New York Times.