Logitech Acquires Saitek Brand and Product Lines, Expands Its Sim Controllers Biz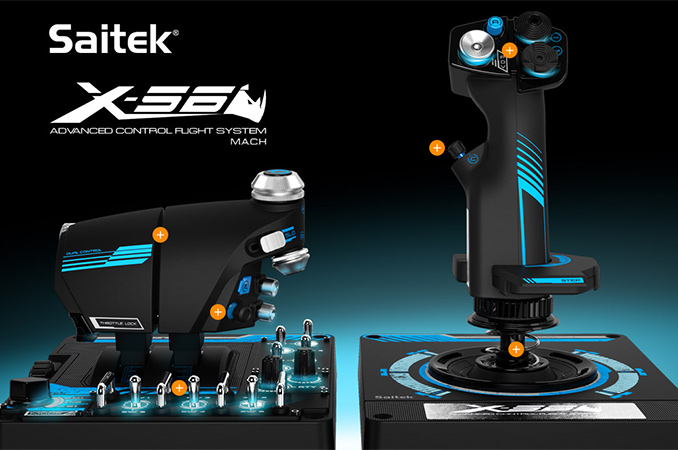 Logitech this week announced that it has taken over the Saitek brand as well as the family of flight and space simulation game controllers from Mad Catz for $13 million in cash. The acquisition expands Logitech's portfolio of game-specific controllers and could eventually help the company to address the emerging VR gaming market with custom products.
Saitek was founded in 1979 as a maker of electronic chess games, but diversified into PC peripherals in the 1990s, focusing on custom controllers for driving and flight simulation games. Over time, the company released its own keyboards, mice and even audio products for PCs, but kept its key specialization, which are game-specific controllers for various simulation titles. Mad Catz bought Saitek in 2007 for $30 million and greatly expanded Saitek's families of R.A.T. mice and S.T.R.I.K.E. keyboards for gamers. Mad Catz continued to develop game-specific peripherals for flight simulators under Saitek brand. In the recent years, it added a special controller for Farm Simulator into its lineup and even inked an agreement with Cloud Imperium Games to build licensed controllers for Star Citizen. Fast forward to today, Logitech acquired only the Saitek brand as well as assets related to Saitek's line of flight, farm and space simulation controllers, leaving mice and keyboard assets to Mad Catz.
There is a great rationale behind Logitech's decision to buy only a part of Saitek. Logitech already has gaming wheels products for driving simulation market in its Logitech G product lineup. The addition of Saitek's Pro Flight controllers (joysticks, pedals, panels, etc.) opens up a new market for the company and does not create any internal competition (unlike mice and keyboards used to be sold under the Saitek brand). While this market is relatively small, customers here tend to be very loyal (partly because they do not seem to have a wide choice of peripherals) and loyal customers are not easy to find.
Logitech says that it has a vision how to evolve Saitek's product line and while it does not reveal any details, it hints that dedicated game controllers for VR could be a way to go. At present, we only have to wonder what we are going to see from Saitek and Logitech in future, but the transaction in general gives Logitech something to start with when it comes to VR peripherals.