Meizu Launches the PRO 6 Plus: 5.7-inch SAMOLED and Exynos 8890 SoC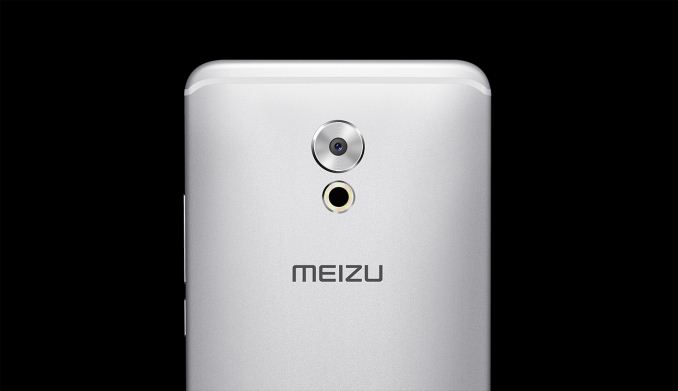 Meizu added a new flagship phablet to its smartphone lineup today. The new 5.7-inch PRO 6 Plus is the direct successor to the PRO 5, but it incorporates the updated styling from the smaller 5.2-inch PRO 6. On paper at least, the PRO 6 Plus appears to be a definitive upgrade relative to Meizu's previously released phones, unlike the PRO 6 which trailed the older PRO 5 in performance, battery life, and audio quality and failed to separate itself from the similar but less-expensive MX6.
The PRO 6 Plus incorporates the same aluminum unibody construction and elegant styling as the PRO 6. The slightly raised, circular camera surround with Meizu's circular, dual-tone LED flash ring below give the back of the PRO 6 Plus a distinct look. The plastic antenna strips are colored to better match the sandblasted aluminum chassis and stick close to the upper and lower edges to further minimize their appearance. Its rounded edges and radiused corners make it comfortable to hold, although its smooth finish makes it feel a bit slippery. The 2.5D edge-to-edge glass covering the front eliminates sharp edges, enhancing the smooth feel of the phone.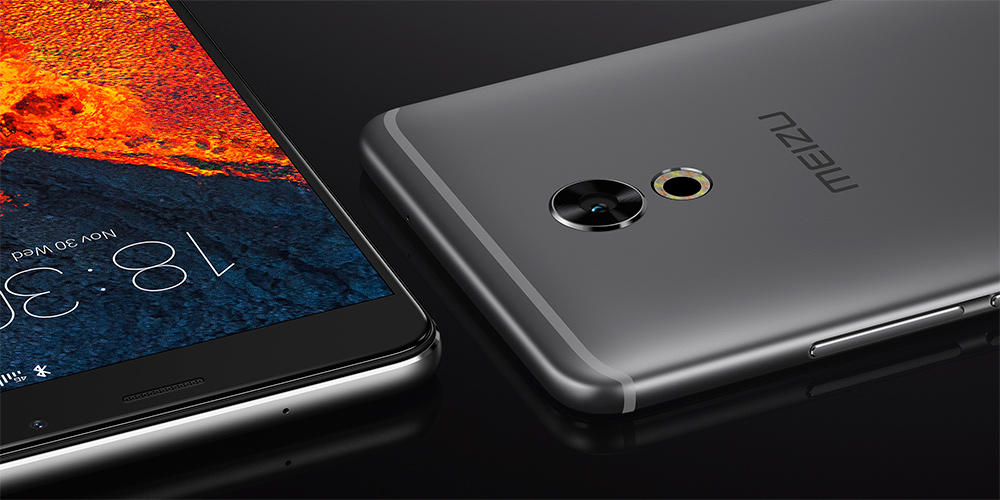 What separates the design of the PRO 6 and PRO 6 Plus from so many other metal unibody phones, however, is Meizu's attention to detail. Every edge and hole—the camera surround, ring flash, speaker holes—has a polished chamfer, and the single piece volume rocker and power button near the top of the right edge are inset into a polished groove. All of these extra machining features give the PRO 6 phones a premium look and feel.
Meizu PRO 6 Series
Meizu PRO 6
Meizu PRO 6 Plus
SoC
MediaTek Helio X25
(MT6797T)

2x Cortex-A72 @ 2.5GHz
4x Cortex-A53 @ 2.0GHz
4x Cortex-A53 @ 1.5GHz
Mali-T880MP4 @ 850MHz

Samsung Exynos 8890

64GB:
4x Exynos M1 @ 2.0GHz
4x Cortex-A53 @ 1.5GHz
Mali-T880MP10

128GB:
4x Exynos M1 @ 2.6GHz / 2.3GHz
(1-2 core / 3-4 core load)
4x Cortex-A53 @ 1.6GHz
Mali-T880MP12

RAM
4GB LPDDR3-1866
4GB LPDDR4-3666
NAND
32GB / 64GB (eMMC 5.1)
64GB / 128GB (UFS 2.0)
Display
5.2-inch 1920×1080 SAMOLED
5.7-inch 2560×1440 SAMOLED
Dimensions
147.7 x 70.8 x 7.25 mm
160 grams
155.6 x 77.3 x 7.3 mm
158 grams
Modem
MediaTek (Integrated)
2G / 3G / 4G LTE (Category 6)

FDD-LTE / TD-LTE / TD-SCDMA / WCDMA / CDMA (China only) / GSM

Samsung Shannon
2G / 3G / 4G LTE (Category 12)

FDD-LTE / TD-LTE / TD-SCDMA / WCDMA / GSM

SIM Size
2x NanoSIM (dual standby)
2x NanoSIM (dual standby)
Front Camera
5MP, 1/4" OmniVision OV5695, 1.4μm, f/2.0
5MP, f/2.0
Rear Camera
21.16MP, 1/2.4" Sony IMX230 Exmor RS, 1.12µm pixels, f/2.2, PDAF + Laser AF, HDR, dual-tone LED flash
12MP, 1/2.9" Sony IMX386 Exmor RS, 1.25µm pixels, f/2.0, PDAF + Laser AF, 4-axis OIS, HDR, dual-tone LED flash
Battery
2560 mAh (9.73 Wh)
non-replaceable
3400 mAh
non-replaceable
Connectivity
802.11b/g/n/ac, BT 4.1 LE, NFC, GPS/GNSS, USB 3.1 Type-C
802.11a/b/g/n/ac, BT 4.1 LE, NFC, GPS/GNSS, USB 3.1 Type-C
Launch OS
Android 6.0 with Meizu FlymeOS 5.2
Android 6.1 with Meizu FlymeOS 6
The Meizu PRO 6 Plus, like the PRO 5 before it, uses a 5.7-inch SAMOLED display from Samsung; however, resolution increases to 2560×1440, which is a vast improvement over the PRO 5's 1080p panel whose pixel density was insufficient to overcome the limitations of its PenTile subpixel arrangement. The display's brightness ranges from 3 nits to 430 nits in direct sunlight when using the auto-brightness boost feature, according to Meizu. Although an APL value was not specified, I assume these are for 100% APL based on our measurements of the PRO 6, which achieves 436 nits at 100% APL and 512 nits at 50% APL.
Meizu also claims 103% coverage of the NTSC color gamut, which is good news for people who prefer highly saturated, vivid colors. Meizu introduced several different screen modes, including a proper sRGB mode, in FlymeOS 5.2, along with a color temperature slider, to allow for some adjustment of the display's output, although it's unclear if these features carry over to FlymeOS 6.
Most phones are now incorporating special night modes that filter out blue light for nighttime reading or low-light situations, and the PRO 6 Plus is no exception. It's also the first Meizu phone to come with an always-on display (AOD) that shows the time, date, battery level, and notifications when the phone is locked. If enabled, Meizu claims it only consumes 1% of the battery's charge per hour.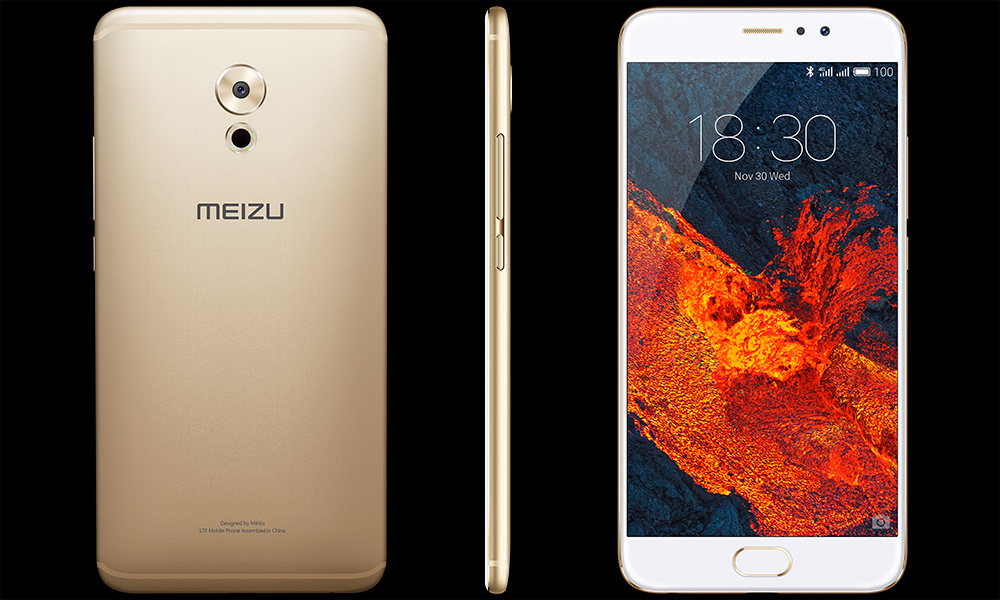 Inside the PRO 6 Plus is an Exynos 8890 SoC. Meizu has used Samsung's Exynos chips in previous phones, most recently the Exynos 7420 in the PRO 5, and with Snapdragon 820/821 off the table because of its ongoing licensing disagreement with Qualcomm, the Exynos 8890 is a logical choice. The octa-core CPU uses a big.LITTLE pairing of four low-power ARM Cortex-A53 cores and four higher-performance, custom Exynos M1 cores from Samsung. Core frequencies vary depending on which storage option is selected. The version with 64GB of UFS 2.0 NAND uses a lower-binned SoC that limits the peak frequency of the Exynos M1 cores to 2.0GHz and the A53 cores to 1.5GHz, while the version with 128GB of internal storage allows the A53 cores to run at 1.6GHz and the M1 cores to run at up to 2.3GHz when three to four cores are active or 2.6GHz for better single-threaded performance when only one or two cores are active. Both versions use an ARM Mali-T880 GPU and come with 4GB of LPDDR4 RAM, but the lower-binned SoC only includes ten cores instead of the Exynos 8890's usual twelve like in the 128GB version. While the amount of internal storage is reasonable, there's no microSD support for storage expansion.
The PRO 6 Plus' 3400mAh battery is a little on the small side given its size. Huawei's 5.9-inch Mate 9 comes with a 4000mAh battery, for example. Even several smaller 5.5-inch phones such as Samsung's Galaxy S7 edge (3600mAh), Xiaomi's Redmi Note 3 Pro (4050mAh), and Meizu's own M3 note (4100mAh) come with larger batteries. Meizu clearly prioritized thickness and weight over battery capacity, but we'll have to wait and see how it performs in our battery tests before we can assess the impact of this decision. Regardless of how long the battery lasts, it should charge quickly thanks to Meizu's mCharge fast charging technology that pulls up to 24W (8V/3A) at the wall.
Around back is a 12MP camera based on Sony's IMX386 Exmor RS sensor with 1.25µm pixels. It employs a hybrid autofocus system that combines the benefits of phase detection (PDAF), laser, and contrast methods. The PRO 6 Plus also includes 4-axis optical image stabilization (OIS), a first for Meizu, which should help improve low-light photography by allowing sharp exposures up to 0.25 seconds. Covering the camera sensor is a 6-element lens array with f/2.0 aperture. Meizu also says its improved image-enhancing algorithms and noise processing take full advantage of Samsung's integrated ISP.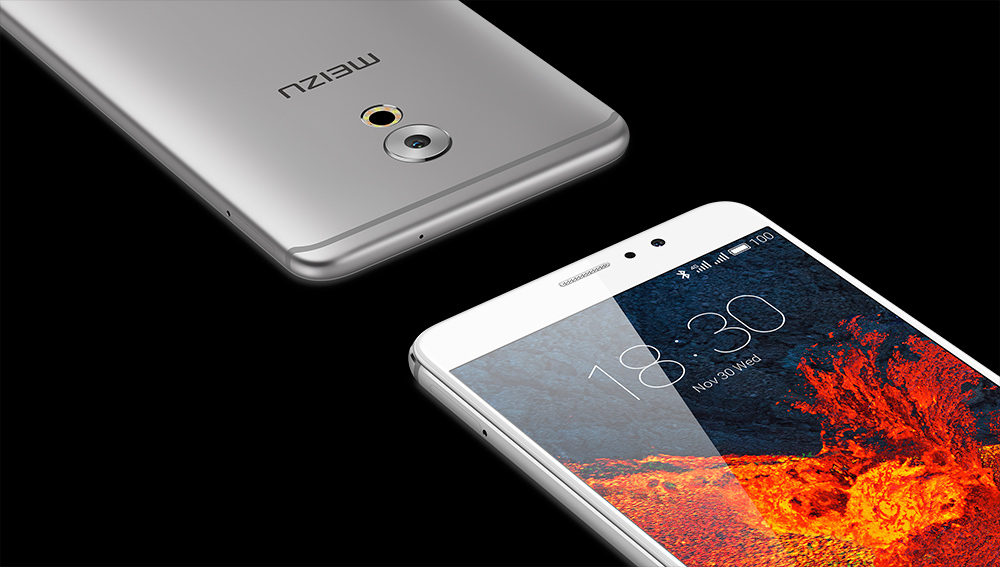 One of the PRO 5's best features was its excellent sounding audio subsystem. The PRO 6 took a more traditional approach and its results were disappointing by comparison. Fortunately, the PRO 6 Plus uses the same ESS Technology es9018k2m SABRE32 DAC as the PRO 5, which supports 16/24-bit audio from 44.1kHz to 192kHz with a dynamic range of 127dB and low noise. It also includes a dual-channel AD45275 power amplifier from Analog Devices.
The PRO 6 Plus comes with a touch-based, capacitive fingerprint scanner integrated into the front-mounted home button along with Meizu's pressure sensitive screen technology it calls 3D Press, which the PRO 6 and PRO 6s also include. Because the software API's are proprietary, the ability to press an icon on the home screen and open a shortcut menu or press on a hyperlink, email, or text message to open a preview are generally limited to Meizu's apps.
In addition to 3D Press support, Meizu's new FlymeOS 6 includes more than 400 new features, including the "One Mind" artificial intelligence engine that optimizes system performance by monitoring how the phone is used and prioritizes resources to the most used apps.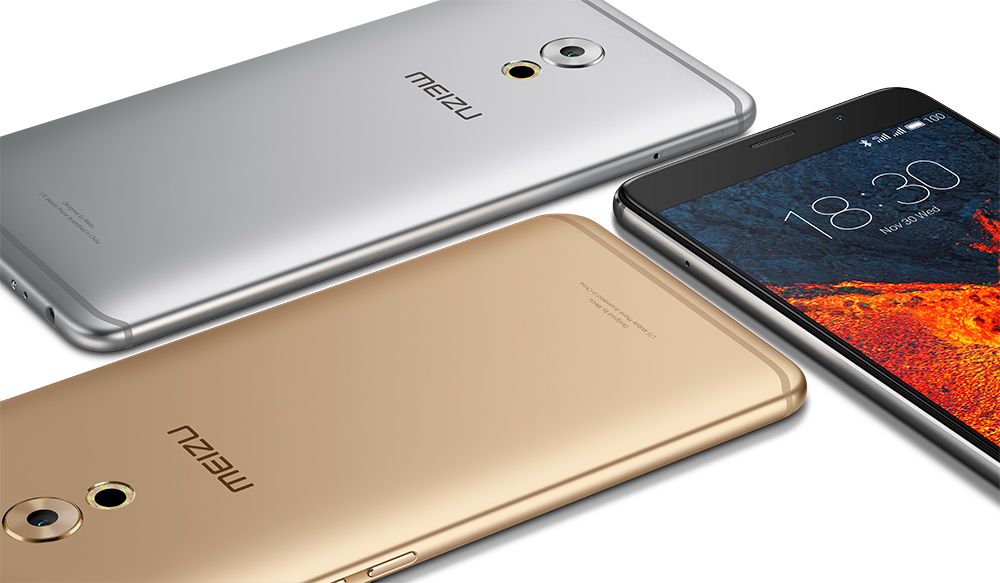 The PRO 6 Plus is available in three different colors: gold, gray, and silver. The gold and silver colors come with a white front, while the darker gray color comes with a black front. You can also choose between 64GB (¥2,999) or 128GB (¥3,299) of internal storage. The integrated Samsung Category 12 LTE modem supports 5-mode operation (no CDMA) and the following frequency bands (no LTE support in the US): FDD-LTE B1 / B3 / B7, TDD-LTE B38 / B39 / B40 / B41, WCDMA B1 / B2 / B5 / B8, TD-CDMA B34 / B39, GSM 850 / 900 / 1800 / 1900 MHz. It will be available in many Asian and European countries in December.