MSI Releases the 'VR One': A Backpack PC For VR From $1999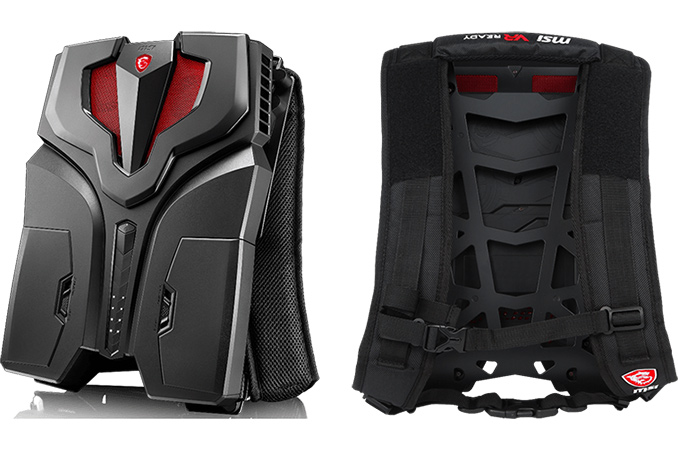 MSI has started to sell its VR One backpack PC designed for virtual reality enthusiasts. The MSI VR One system is now available in the US, and comes equipped with an Intel Core i7 and an NVIDIA GeForce GTX 1060/1070. The backpack promises to pack a lot of performance and can even be overclocked. However, the combination of high FPS and a relative freedom of movement is going to cost: the system starts at $1999.
MSI's VR One backpack PCs rely on the company's expertise in mobile computing and high-end notebooks. The VR One systems are based on the Intel Core i7-6820HK (4C/8T, 2.7/3.6 GHz, 8 MB LLC, 45 W) processor with an unlocked multiplier as well as NVIDIA's GeForce GTX 1060 6 GB (VR One 6RD) or GeForce GTX 1070 8 GB (VR One 6RE) GPUs. The key components of the backpack are cooled down using an MSI proprietary cooling system featuring nine heatpipes and two blowers that ensure that the CPU and GPU never overheat even if overclocked (the HM170 chipset supports CPU overclocking). In fact, MSI even supplies its special Shift application that allows the user to boost both the compute and the cooling performance with just a few clicks.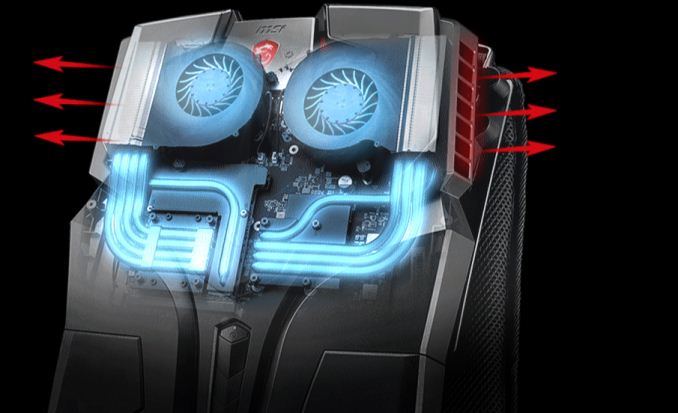 The system comes equipped with a 256 or a 512 GB M.2 PCIe 3.0 x4/NVMe SSD with up to 2.2 GB/s read performance and have another M.2/SATA slot for an additional drive to install more gaming titles. No spinning HDD is equipped by default for obvious reasons.
MSI VR One Specifications
VR One 6RD
VR One 6RE
CPU
Intel Core i7-6820HK
4 cores/8 threads
2.7 GHz/3.6 GHz
8 MB LLC
45 W
PCH
Intel HM170
Graphics
NVIDIA GeForce GTX 1060
1280 stream processors
80 texture units
48 ROPs
192-bit memory interface
6 GB of GDDR5 8 GT/s memory
NVIDIA GeForce GTX 1070
2048 stream processors
128 texture units
64 ROPs
256-bit memory interface
8 GB of GDDR5 8 GT/s memory
Memory
Two SO-DIMM slots
16 GB DDR4-2133 installed
compatible with up to 32 GB of DDR4-2133
Storage
256 GB M.2/PCIe SSD
(up to 2.2 GB/s)
+ one extra M.2/SATA slot
512 GB M.2/PCIe SSD
(up to 2.2 GB/s)
+one extra M.2/SATA slot
Wi-Fi
Rivet Networks Killer 1535 802.11ac + BT 4.1
Ethernet
None
Display Outputs
1 × HDMI 2.0
1 × mDP 1.2
Audio
3.5 mm audio in and 3.5 mm audio out
USB
4 × USB 3.0 Type-A (5 Gbps)
1 × Thunderbolt 3 (40 Gbps)/USB 3.1 Type-C (10 Gbps)
Other I/O
DC12V-out for HTC Vive
Dimensions
409 mm × 292 mm × 54 mm
16.1 × 11.49 × 2.12 inches
Weight
3.6 kg
PSU
External
Batteries
91 Wh
OS
Windows 10 Pro
One of the key things about VR gaming backpack PCs is connectivity. The VR One features all the ports needed to connect a VR headset like the HTC Vive with the ports right on top. To simplify connection of the Vive, MSI even supplies a special 3-in-1 cable with HDMI, USB 3.0 and power wires. Moreover, the system packs the Rivet Networks Killer 1535 Wi-Fi 802.11 ac + Bluetooth controller as well as Intel's Alpine Ridge controller to enable one USB-C/Thunderbolt 3 port.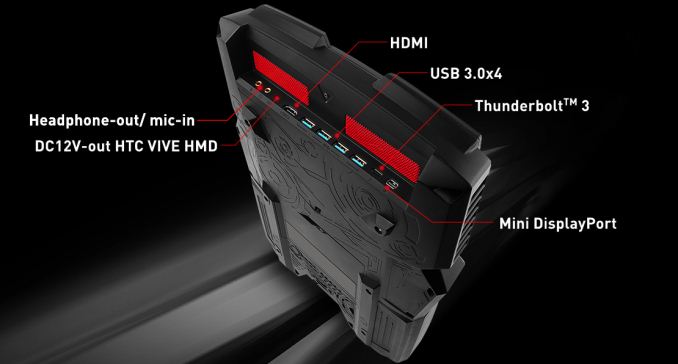 The whole design of VR One's motherboard resembles the design of MSI's gaming laptops, which helps to make the PC relatively thin (54 mm) and relatively light (3.6 kilograms). Meanwhile, two hot-swappable batteries enable MSI's VR One to work completely autonomously for about 1.5 hours each. In fact, the whole outside design of the MSI VR One is optimized primarily for backpack, not desktop operation (unlike ZOTAC's VR Go). While the VR One can be put on a desk, it will have to lie down, making its ports less accessible. So, the VR One is a system made primarily for virtual reality gaming, not for general-purpose computing.
Right now MSI offers the VR One 6RD with the GeForce GTX 1060 and a 256 GB SSD for $1999 in the U.S. The more advanced VR One 6RE with the GeForce GTX 1070 and a 512 GB SSD will be available a little later for $2299.
Related Reading: