NBASE-T Alliance Receives Boost with IEEE P802.3bz Approval for 2.5G/5G Ethernet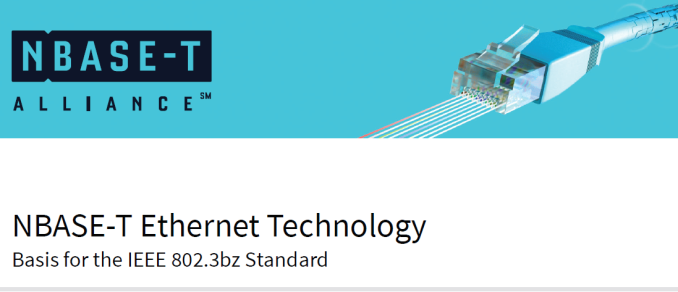 Wired networks relying on traditional Cat 5e and Cat 6 cables (at their maximum channel length of 100m) have been limited to 1 Gbps so far. At the other end of the spectrum, 10 Gbps required augmented cables (Cat 6A or better) for transmission lengths typical in enterprise and business scenarios. Despite 10 Gbps Ethernet having been around for more than 10 years now, cost and power consumption aspects have limited its adoption on a wider basis. The NBASE-T Alliance was created to bring in support for speeds between 1 and 10 Gbps, while retaining the use of existing cabling infrastructure.
NBASE-T has become popular because it can act as an effective wired backhaul for 802.11ac wireless access points. With theoretical speeds exceeding 1 Gbps, the time and environment are right for technology that can replace the existing 1 Gbps network ports. 10GBASE-T is not really an effective solution because of the cost as well as power requirements aspect. Almost all enterprise access points are powered using Power over Ethernet (PoE). The IEEE 802.3af-2003 standard allows for up to 15.4 W (12.95 W assured), while PoE+ (IEEE 802.3at-2009) can provide up to 25.5 W. However, the 10GBASE-T standard doesn't currently support Power over Ethernet, even though it is being considered. Therefore, 10GBASE-T has not turned out to be an effective and universal solution to this challenge despite the bandwidth availability. This is where the 2.5 Gbps and 5 Gbps options provided by NBASE-T equipment become attractive. Some NBASE-T switches already implement PoE / PoE+, and are effective solutions for driving compatible 802.11ac wireless access points.

Netgear's M4200-10MG-PoE+ Managed Intelligent Edge Series Switch with 5G/2.5G Switching for High-Speed Wave 2 802.11ac Deployments
On September 23, 2016, the IEEE P 802.3bz 2.4G/5GBASE-T Task Force (which started work in March 2015) ratified the IEEE P802.3bz Standard for Ethernet Amendment: Media Access Control Parameters, Physical Layers and Management Parameters for 2.5 Gb/s and 5 Gb/s Operation. It allows 2.5 Gbps operation over standard Cat 5e cables, 5 Gbps over Cat 6, and 5 Gbps over Cat 5e under select conditions. All of these are up to at least 100m channel lengths.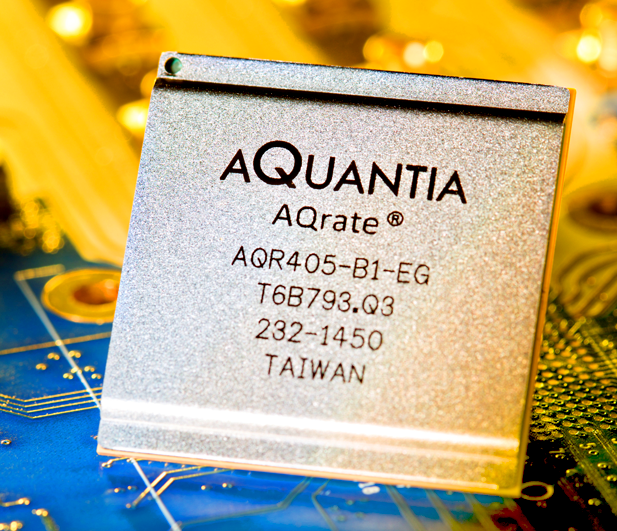 The AQrate Family of NBASE-T PHYs from AQUANTIA – One of the Leading Market Players
The ratification is a big boost for the NBASE-T Alliance. The standardization also lends more credence to the NBASE-T plugfests scheduled to be conducted in October 2016. It will also bring more 2.5G/5GBASE-T products into the market, bring prices down and drive up adoption. The most important aspect is that the existing cabling infrastructure doesn't need a overhaul. This makes it very attractive for business and enterprise users.
From a power user / enthusiast viewpoint, NBASE-T equipment will be a good upgrade. However, readers planning on wiring up their homes would do well to go with Cat 6a cables for future-proofing purposes. 10GBASE-T products (both switches and motherboards / PCIe cards) for enthusiasts are already in the market, thanks to vendors like Asus. NBASE-T adoption will mainly be dictated by business and enterprise users in the near future. As local bandwidth requirements increase in the premises of the average consumer, 2.5G/5GBASE-T will surely find its way into networking gear for traditional consumers also.