NVIDIA Q1 FY2015 Financial Results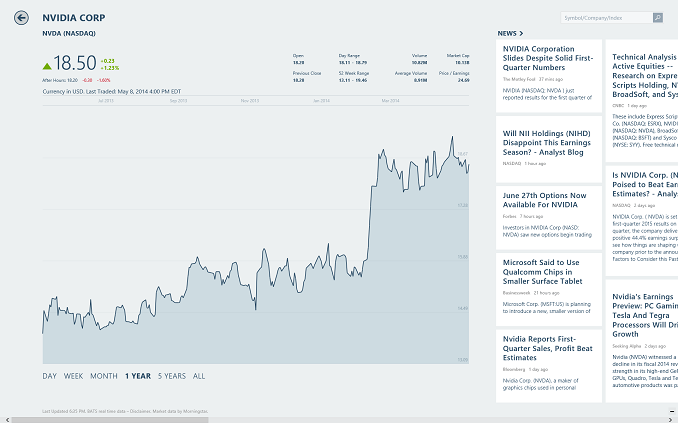 This afternoon NVIDIA announced their quarterly earnings for Q1 2015. Overall GAAP revenue came in at $1.1B, up 16% year over year and down 4% sequentially. Gross margin was up slightly to 54.8%, up from 54.3% from Q1 2014, and up 0.7% from the previous quarter.
Most impressive of the numbers was the rise in net income, up 75% from Q1 2014 and coming in at $137M. Operating expenses were relatively flat sequentially, but up 4% from a year ago. This lead to an Earnings Per Share (EPS) of $0.24, an 85% increase from Q1 2014, although down $0.01 from last quarter. Non-GAAP EPS came in at $0.29, handily beating the analysts' estimates of $0.17.
NVIDIA Q1 2015 Financial Results (GAAP)
In millions except EPS
Q1'2015
Q4'2014
Q1'2014
Q/Q
Y/Y
Revenue
$1103
$1144
$955
-4%
+16%
Gross Margin
54.8%
54.1%
54.3%
+0.7%
+0.5%
Operating Expenses
$453
$452
$436
flat
+4%
Net Income
$137
$147
$78
-7%
+75%
EPS
$0.24
$0.25
$0.13
-4%
+85%
NVIDIA Q1 2015 Financial Results (Non-GAAP)
In millions except EPS
Q1'2015
Q4'2014
Q1'2014
Q/Q
Y/Y
Revenue
$1103
$1144
$955
-4%
+16%
Gross Margin
55.1%
53.8%
54.6%
+1.3%
+0.5%
Operating Expenses
$411
$408
$396
+1%
+4%
Net Income
$166
$187
$114
-11%
+46%
EPS
$0.29
$0.32
$0.18
-9%
+61%
The GPU business is still the dominant division of NVIDIA, coming in at over 81% of the company's entire revenue with $898M. GPU sales were strong for Q1, with revenue up 14% year over year, but down from Q4 2014. Most impressively, GeForce GTX GPUs for both desktops and notebooks grew 57% with strong demand for the newly released GTX 750 which is the first GPU based on Maxwell. NVIDIA stated that demand was strong in all markets for Desktop GPUs, and high-end notebook GPU volume also grew, but overall notebook GPU revenue was down. NVIDIA stated the seasonal decline in the desktop market more than offset the GTX GPU sales, contributing to the quarter over quarter decline.
Also on the GPU side, Quadro revenue increased with demand from all major OEM desktop and mobile workstation vendors. GRID sales were strong, and Tesla was also up. Tesla and GRID revenue increases was attributed to GPU acceleration opportunities, VDI deployments supporting Citrix, and streaming gaming providers.
Tegra Processor sales, which account for 12.6% of revenue, were up 35% year over year, and unlike GPU sales they were also up quarter over quarter 6%. The strong quarter for Tegra was attributed to a volume increase for smartphone and auto infotainment systems, but Android tablet SoCs were down partially offsetting the revenue gains. Automotive systems was up a healthy 60% year over year. Game consoles and embedded devices were down from Q1 2014, but the sequential growth of the Tegra division was attributed to the strong auto infotainment and embedded devices, so while embedded is down year over year, it's recovered somewhat from the previous quarter.
NVIDIA has one other source of revenue which it reports on, which is $66M from patent license agreements with Intel.
NVIDIA Quarterly Revenue Comparison (GAAP)
In millions
Q1'2015
Q4'2014
Q1'2014
Q/Q
Y/Y
GPU
$898
$947
$786
-5%
+14%
Tegra Processor
$139
$131
$103
+6%
+35%
Other
$66
$66
$66
flat
flat
NVIDIA is projecting their Q2 revenue will be flat at $1.1B plus or minus 2%.
Overall it was a good quarter for NVIDIA. The strong demand for their new Maxwell GPUs. NVIDIA's share of notebook computers is the highest since 2010. Although uptake of the Tegra 4 has been slow in tablets, NVIDIA has seen growth in Smartphone adoption as well as a strong automotive presence which is becoming more important with the growth in automotive infotainment systems in every single automotive brand. I'm sure they are hoping for some design wins with the Tegra K1, which looks like a nice upgrade over the Tegra 4, however there was no mention of it in the earnings release. We still have a few months for them to hit their target for the first half of 2014.