NVIDIA Releases GeForce Experience 3.0 – New UI and Features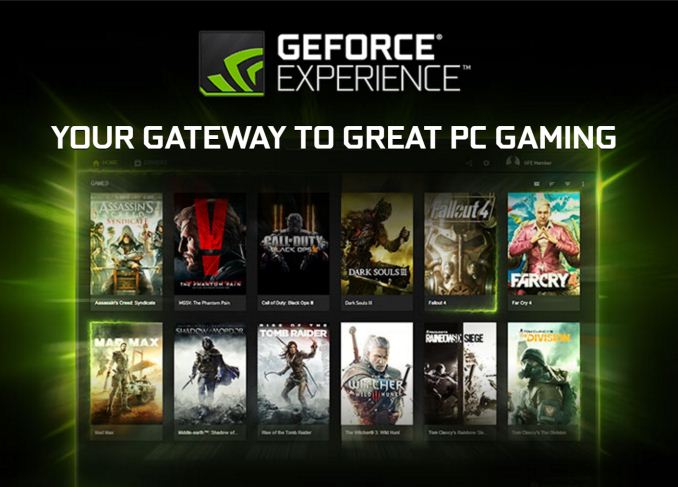 These past several years NVIDIA has made continued efforts to create a gaming ecosystem that rivals those found in the console market. The venue for these efforts has centered around GeForce Experience and the utilities that it provides. Which has included but is not limited to: game settings optimizations, game streaming and recording, and GPU driver management. Today's release brings a new user interface, new features, and better performance than previous generations of GeForce Experience.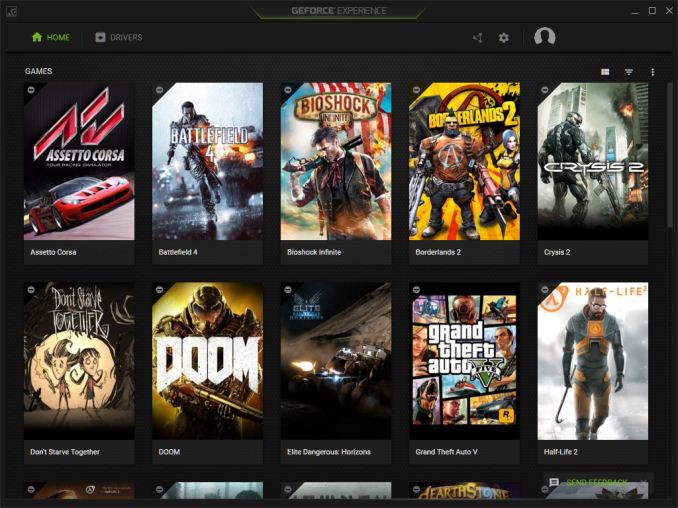 This time around NVIDIA is requiring a sign in through either Google, Facebook, or NVIDIA's own account service. This both follows through and contrasts with plans that NVIDIA announced nearly a year ago with respect to account requirements. In their original plan, NVIDIA intended to make GeForce Experience the one true portal to driver releases, making registeration a de facto requirement to get NVIDIA's frequent driver releases. Instead, NVIDIA has still opted to require a sign on for GeForce Experience, but has backed off on the driver portal aspect. As a result they've continued to issue new driver releases through their web page, even though, according to NVIDIA, that the majority of their driver updates are already served through GeForce Experience.
Moving on we find GeForce Experience 3.0 has a complete redesign, featuring both a new user interface and additional features. After signing in we start with the game view. By default, games are listed in a grid with a mouse over revealing buttons to hide the game, play, or view the games details. From the details view we get GeForce optimization, allowing quick and automatic configuration of many games.
If the alternative details view is chosen then we are shown a list of games on the left with the games details view to the right, again with all of the optimization options. I had to poke around a couple of minutes to find everything, but considering there is only the games list in the default home screen, a GPU driver's tab, shadow play, settings, and account information, it doesn't take long to explore all that GeForce experience has to offer.
NVIDIA GeForce Experience Performance Comparison
GFE 2.11.3.5
GFE 3.0.5
Cold Start (seconds)
4.5
4.0
Warm Start (seconds)
4.5
2.5
Memory Usage
222.3 MB
88 MB
NVIDIA states that GeForce Experience 3.0 runs three times faster and uses half the memory. When putting this to the test on my machine my measurements were more like two times as fast and a third the ram. Granted, this was just a quick and informal test on my personal system and results likely will very, nevertheless it is indeed faster and in my case the new version uses a miniscule amount of ram. In fact while 3.0.5 started up with 88MB of ram is shortly settled in with only 54 MB of ram used.
Within the driver tab we have our ability to update drivers and view GPU driver and NVIDIA gaming news. But more importantly, ShadowPlay has now been upgraded to the Share Overlay UI. According to NVIDIA, GeForce Experience can now record gameplay at 60fps and at up to 4K in full screen and windowed modes, with 4K DSR as an experimental feature. After recording, this footage can be uploaded either complete or trimmed back to YouTube. For live streamers GeForce Experience can livestream straight to Twitch and YouTube Gaming at 1080p60. Additionally, screenshots can be captured, edited, and uploaded to Imgur and Google Photos without leaving the game.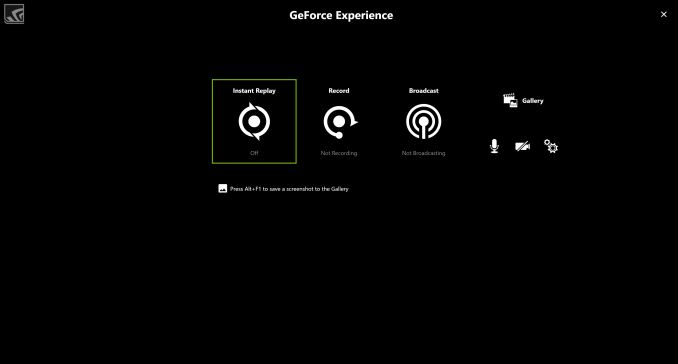 On top of all these social features Geforce Experience 3.0 brings in Gamestream Co-op. This allows players to not only broadcast to friends, but also play co-op and let friends take control of the game as well. Though, Henry@Nvidia over on the GeForce forums notes that this is still classified as an experimental feature, even though the beta started almost exactly a year ago. To enable this option "Allow experimental features" must be enabled from the settings menu. Gamestream Co-op and these other Gamestream Experience Share features are also available now on Optimus enabled notebooks.
GeForce Experience can be updated from inside the GeForce Experience app or downloaded from GeForce.com. I'll note that when I went to take took a look on my machine the upgrade failed, though downloading and installing GeForce experience from the website had no hitches. NVIDIA also requests that feedback and feature requests be sent in through the feedback form on the bottom right of the GeForce Experience 3.0 window or that you leave your comments in the GeForce.com Forum thread.