Palit Announces KalmX: A Passively-Cooled GeForce GTX 1050 Ti Graphics Card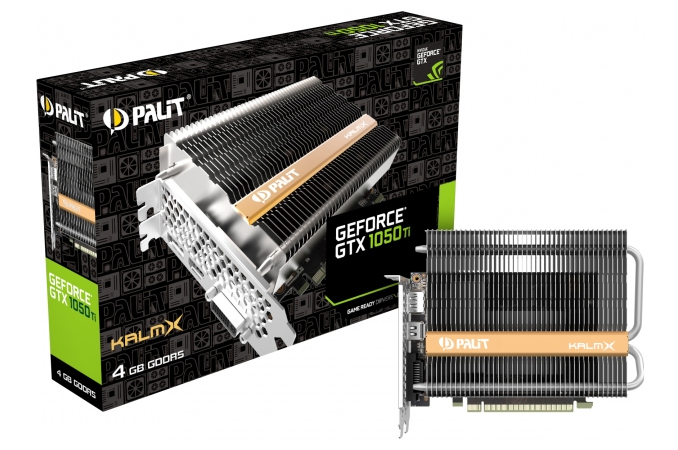 Palit has quietly launched a passively-cooled graphics card based on NVIDIA's GeForce GTX 1050 Ti GPU. The sizeable board uses a large aluminum heatsink with heat pipes and requires substantial height clearance in a case. Meanwhile, its indisputable trump card is a lack of any noise.
Producers of graphics cards nowadays tend to differentiate from each other by using different cooling systems and increasing performance of their products by boosting GPU frequencies beyond the recommendations of GPU developers. Modern high-end graphics cards use coolers with two or even three fans with a low rotation speed to reduce noise levels, but it is hard to find a passively-cooled graphics board that produces no noise at all. Palit decided to go head first into this and developed a video card with a passive cooler featuring a contemporary GPU powered by NVIDIA's Pascal architecture under the brand KalmX.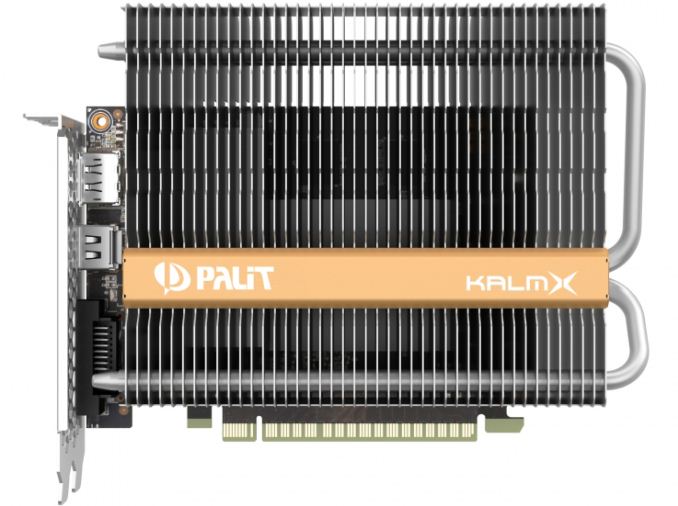 The Palit GeForce GTX 1050 Ti KalmX uses a unique PCB design and has a dual-slot aluminum heatsink that features two heat pipes. The card runs at reference frequencies (1290/1392 MHz base/boost for the GP107 GPU) and is equipped with 4 GB of GDDR5 memory operating at 7000 MT/s. The board does not require any additional power connectors as it consumes no more than 75 W, but its cooler is large and may not fit into some compact computers. As for connectivity, the board features an HDMI 2.0b output, a DisplayPort 1.4 as well as a dual-link DVI-D header.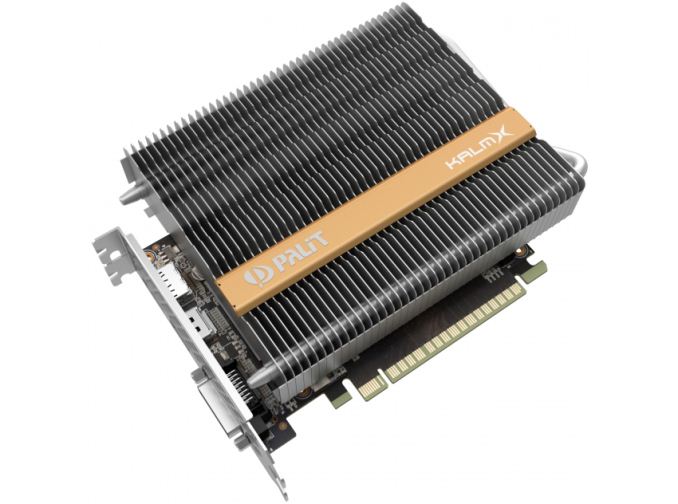 Palit did not announce MSRP of the GeForce GTX 1050 Ti KalmX and it is unclear whether the producer plans to charge a premium versus NVIDIA's MSPR for the GTX 1050 Ti ($139) for passive cooling. At press time, one of Amazon's partners was selling Palit's passively-cooled GeForce GTX 750 Ti KalmxX Silent 2 GB for $238, but such overprice is not common. If we get updated pricing, we'll update this news.
Related Reading: