Pre-Orders for LG's 32UD99 Display Available: 4K, DCI-P3, HDR10, FreeSync for $999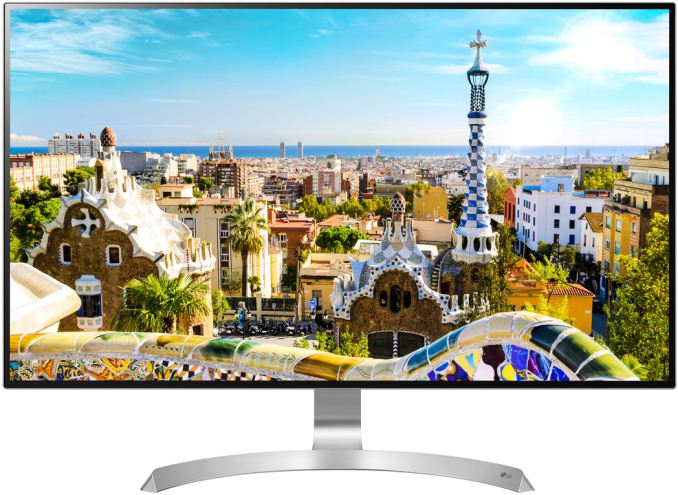 LG and its partners recently disclosed the complete specifications as well as the price of the LG 32UD99 flagship consumer display. The 32-inch display will feature a 4K (UHD) resolution, support for HDR10, a 95% DCI-P3 color gamut, and support for AMD's FreeSync that the manufacturer announced in December. Multiple retailers in the U.S. are now taking orders on the monitor with ETA in April or May. The price of the display is in line with other high-end consumer products, clearly emphasizing its positioning for enthusiasts and prosumers.
As reported, the LG 32UD99 is based on an IPS panel with a native 3840×2160 resolution that can reproduce 1.07 billion colors and cover over 95% of the DCI-P3 color space as well as 100% of the sRGB color gamut. The display supports HDR10 capabilities (LG does not disclose information about 3D LUT (look-up tables)) and comes factory-calibrated. The panel features 350 nits typical brightness, 5 ms response time, a 60 Hz refresh rate and 178° viewing angles. The display also supports AMD's FreeSync technology that works in the range between 40 and 60 Hz via DisplayPort.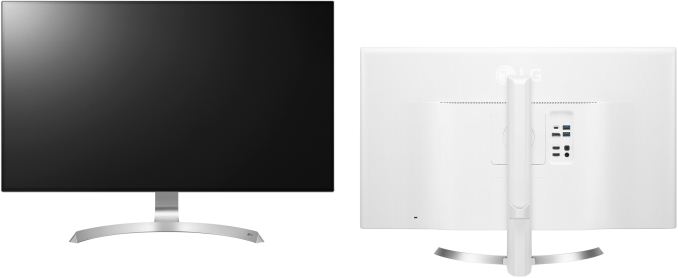 Specifications of the LG32UD99 Display
32UD99-W
Panel
31.5" IPS
Native Resolution
3840 × 2160
Maximum Refresh Rate
60 Hz
Response Time
5 ms
Brightness
350 cd/m² (typical)
500 cd/m² (peak)
Contrast
unknown
Viewing Angles
178°/178° horizontal/vertical
HDR
HDR10
Dynamic Refresh Rate
AMD FreeSync (at 40 ~ 60 Hz)
Pixel Pitch
0.1816 mm²
Pixel Density
140 ppi
Display Colors
1.07 billion
Color Gamut Support
DCI-P3: 95%
sRGB: 100%
Stand
Tilt (2~15°),
pivot (90°) and
height (110 mm) adjustable
Inputs
1 × DisplayPort 1.2
2 × HDMI 2.0a (HDCP 2.2)
1 × USB Type-C (DP 1.2).
USB Hub
2-port USB 3.0 hub
(supports Quick Charging)
Audio
5 W × 2
audio out port
Launch Price
$999.99 (not confirmed by LG)
Judging by the specifications and feature-set of the 32UD99, we can guess that LG generally positions the monitor for different kinds of applications. The consumer standard for DCI is used by a number of consumer electronics devices, a variety of Apple devices and has good prospects to be adopted for televisions as well. While LG is not confirming that they're going with the consumer version of DCI (as opposed to the digital projection version), it's reasonable to assume that like their other DCI-capable monitors, the 32UD99 will follow the consumer standard as well. As with other DCI-P3 displays, we have to remind you that at present Microsoft's Windows 10 needs better support for differing color spaces. That being said, HDR will be the most distinctive feature of the new monitor because it is still rare on consumer displays.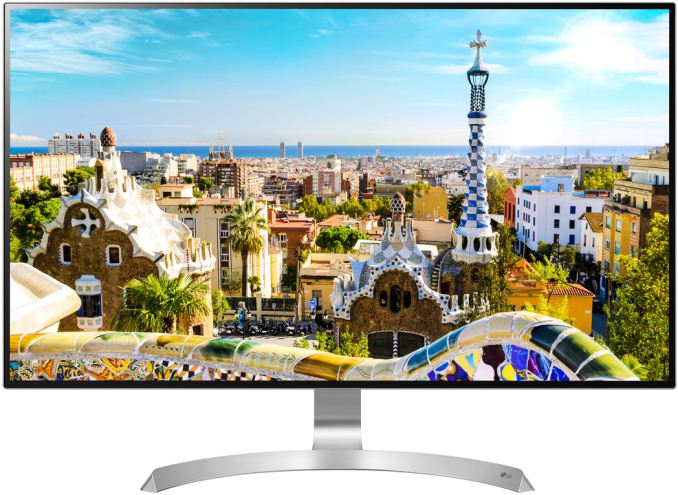 When it comes to input/output capabilities, the LG 32UD99 is equipped with two HDMI 2.0a ports supporting HDCP 2.2 protection technology (these are the ports that must be used to watch content with HDR10), one DisplayPort 1.2 and one USB Type-C header that can be used as a video input as well for charging laptops. Like many flagship displays today, the 32UD99 comes with speakers – in this case 2×5 W. In addition, the monitor has a dual-port USB 3.0 hub and an audio output.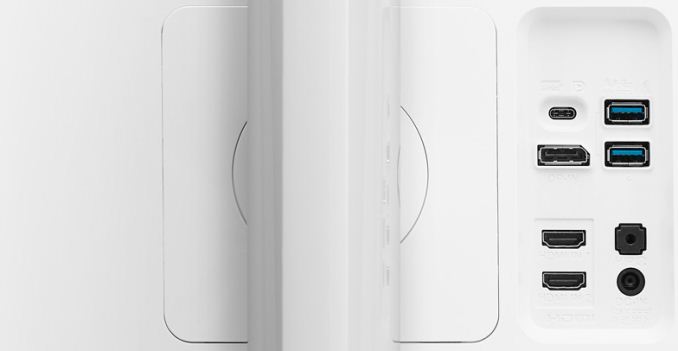 Amazon and B&H are now taking orders on the LG32UD99 for $999.99. Amazon promises to ship the product in 2-4 weeks, whereas B&H expects the display to become available in late May. Keep in mind that as of today LG does not have an exact launch date for the monitor and thus retailers may delay their shipments.
Related Reading: