Samsung CFG70: Curved 144Hz Displays with Quantum Dot Backlighting and AMD FreeSync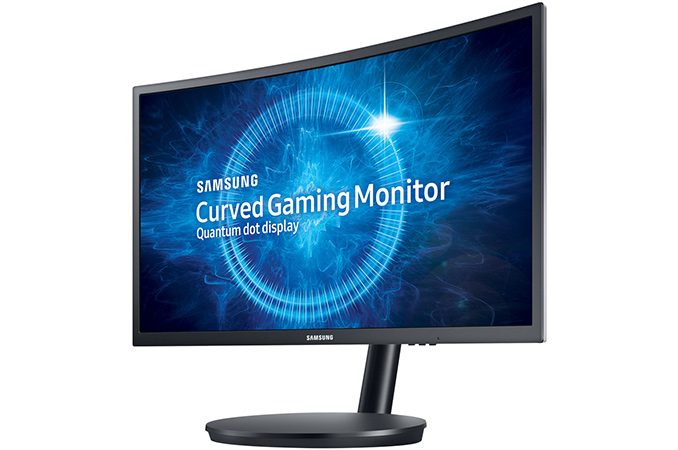 Samsung was among the first television manufacturers to use quantum dot technology for its products, and this week the company has continued that trend by introducing the industry's first curved monitors for gamers featuring quantum dots. The new 24" and 27" displays boast a wider color gamut and a very high contrast ratio, in addition to support for AMD's FreeSync technology and a 144 Hz refresh rate.
Samsung's CFG70 monitors are based on the company's curved 8-bit VA panels with 1 ms moving picture response time (MPRT), as well as a 144 Hz refresh rate as well as the static contrast ratio to 3000:1, which is higher compared to many advanced displays on the market. As for brightness, the 24" CFG70 offers 350 nits, which is in line with other contemporary high-end displays. At present, Samsung does not share a lot of details about its CFG70 monitors, but we do know that the screens have 1800R curvature along with 178° viewing angles.
The purpose of using quantum dot technology is to expand color gamut of the display by increasing intensity of red and green wavelengths (you can read more here). Samsung confirms that in the case of the CFG70, quantum dots help to produce more accurate dark reds and greens, which increases the contrast. In addition, Samsung says that the use of quantum dot technology for the backlighting of the CFG70 has allowed the company to expand the color gamut to 125% of the sRGB color space.
However despite the monitors' larger-than-sRGB gamut, at this point Samsung is only confirming that the monitors' firmware supports the sRGB color space, listing nothing about the AdobeRGB or DCI-P3 color spaces. This is an important consideration due to the fact that it potentially limits the usefulness of having a color gamut over 100% of sRGB to begin with. With most monitor designs, manufacturers who offer larger gamuts also support color spaces that can use that gamut, which doesn't appear to be the case for Samsung.
The catch then is that having a gamut that exceeds a particular standard will not produce an accurate result when using that wider gamut. Case in point, sRGB content would end up oversaturated since it's meant for a smaller gamut, and the lack of support for larger color spaces makes it difficult to use the wider gamut with anything else. It is hard to believe that Samsung decided to develop a set of monitors that would produce incorrect colors out-of-the-box, so hopefully Samsung is offering a true 100% sRGB mode as well. This would negate the wider gamut of the monitors, but it would ensure their accuracy.
Moving on, the improved contrast ratio should give you the idea about the advantages that the quantum dot technology brings to the CFG70.
Samsung's CFG70 Gaming Curved Displays with Quantum Dot
24"
C24FG70FQN
27"

Panel
24" VA
27" VA
Native Resolution
1920×1080
unknown
Maximum Refresh Rate
144 Hz
Response Time
1 ms MPRT
Brightness
350 cd/m²
Contrast
3000:1
Viewing Angles
178°/178° horizontal/vertical
Curvature
1800R
Color Gamut
125% sRGB
Dynamic Refresh Rate Tech
AMD FreeSync
Inputs
1 × DP 1.2
2 × HDMI 2.0
Audio
3.5 mm input/output
Link
C24FG70FQN
–
Besides being the first curved gaming monitors with quantum dots, the Samsung CFG70 are also among the first displays to use AMD's FreeSync over HDMI technology (for maximum compatibility, the devices are also equipped with DisplayPort inputs). While we do not know the exact dynamic refresh ranges supported by the screens, 144 Hz maximum refresh rate implies on relatively wide dynamic ranges, more than enough to allow for AMD's low framerate compensation to work.
The CFG70 displays currently do not have direct rivals: there are not of a lot of monitors that use quantum dots right now, and when it comes to gaming monitors with high refresh rates, Samsung is the first maker to use the tech. Moreover, the CFG70 are the first curved displays to feature quantum dots.
Samsung said that the CFG70 displays will be available worldwide, but did not mention their prices. Given the unique combination of characteristics, it is reasonable to expect Samsung to try to capitalize on it.