Update: Samsung Recalls Galaxy Note7 Due to Battery Fires, Initiates Exchange Program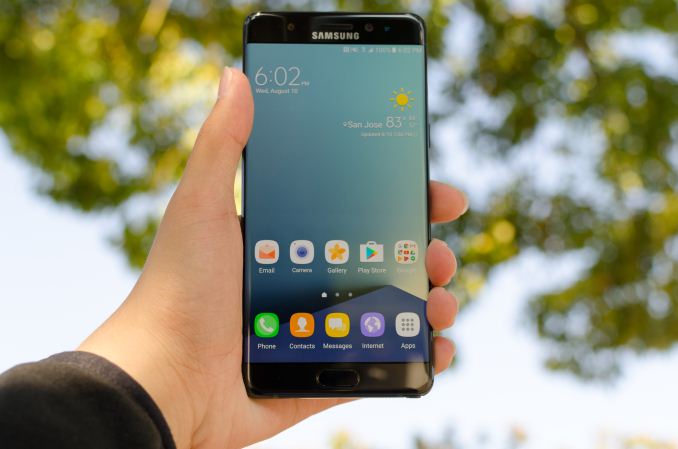 Update 09/02, 8:20pm ET: Moving quickly, Samsung has esbtablished a product exchange program for Note7 owners in the US. Samsung is giving owners the option of either replacing the Note7 with a fixed unit starting next week, replacing it with an S7 and refunding the difference. Under most circumstances, Samsung is also offering an additional $25 gift card or bill credit for the trouble.
Exchange current Galaxy Note7 device with a new Galaxy Note7 (available next week)
Exchange current Galaxy Note7 for a Galaxy S7 or Galaxy S7 edge and replacement of any Note7 specific accessories with a refund of the price difference between devices.
The carriers meanwhile have their own programs to augment this, including offering loaner phones until the fixed Note7s are ready, and of course handling full refunds.
---
Update 09/02, 4:30am ET: According to Bloomberg, Samsung has initiated a global recall of the Galaxy Note7. All users who already have Galaxy Note7s will receive a replacement device. According to CNN Money, Samsung is aware of 35 cases thus far.
Samsung has also released an official statement on their website.
Samsung is committed to producing the highest quality products and we take every incident report from our valued customers very seriously. In response to recently reported cases of the new Galaxy Note7, we conducted a thorough investigation and found a battery cell issue.

To date (as of September 1) there have been 35 cases that have been reported globally and we are currently conducting a thorough inspection with our suppliers to identify possible affected batteries in the market. However, because our customers' safety is an absolute priority at Samsung, we have stopped sales of the Galaxy Note7.

For customers who already have Galaxy Note7 devices, we will voluntarily replace their current device with a new one over the coming weeks.

We acknowledge the inconvenience this may cause in the market but this is to ensure that Samsung continues to deliver the highest quality products to our customers. We are working closely with our partners to ensure the replacement experience is as convenient and efficient as possible.
---
Samsung has reportedly stopped shipments of the newly launched Galaxy Note7 amid reports that some units have caught fire after being received by users. The news was originally reported by Reuters after a number of users posted photos and videos of charred Galaxy Note7 phones online. According to the report, news sources in South Korea are also reporting that Samsung plans to launch a recall of the defective units so their batteries can be replaced, although this has not been confirmed by Samsung at this time.
While Samsung declined to comment on the initial reports, they have since released the following statement:
"In response to questions on Galaxy Note7, we are conducting a thorough inspection. We will share the findings as soon as possible. Samsung is fully committed to providing the highest quality products to our consumers."
It's not yet clear how extensive the issue is, but even a small percentage of the total units sold would represent a substantial recall. It was originally reported that shipments had stopped in South Korea, and later reports from news outlets and users have stated that the shipment delays are in effect in several markets worldwide. Some sources are reporting that there may be a complete recall of the phones to ensure that all potentially defective units are taken off the market. Such a recall would be unprecedented in the mobile space, and it would be a significant blow to Samsung after launching the Galaxy Note7 just last month to favorable reviews from tech publications and users alike.
The news caused a decline in Samsung Electronics Co Ltd's stock value, with seven billion dollars being knocked off its market value as of last Thursday. Without knowing the extent of the problem, it's difficult to say where things will go from here for Samsung and the Galaxy Note7. With any luck there will be further communication in the coming days from Samsung about the issue and their plans to resolve it for affected users.