Samsung's SSD 850 EVO 4 TB Now Available from Major Retailers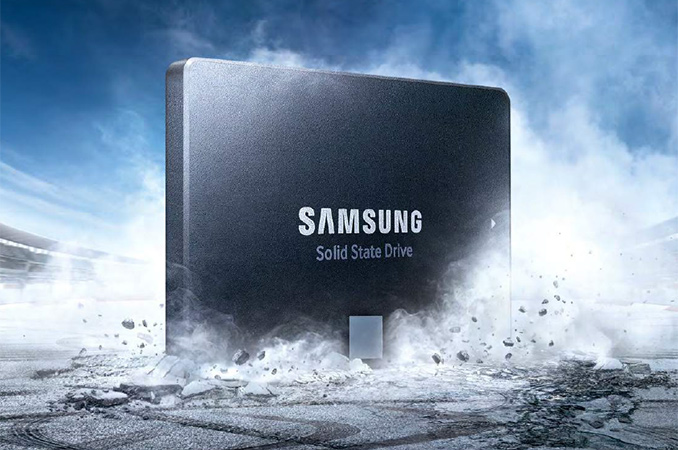 Samsung quietly added its 4 TB 850 EVO SSD model to the product to the lineup back in May (according to its own datasheet) without making any formal announcements. Earlier this month the company lifted the embargo on reviews of the product (you can read ours here) and began to ship the high-capacity SSD to its partners. By now, all the major retailers already either have the product in stock, or are taking pre-orders with ETA about a week from today, at a US MSRP of $1499.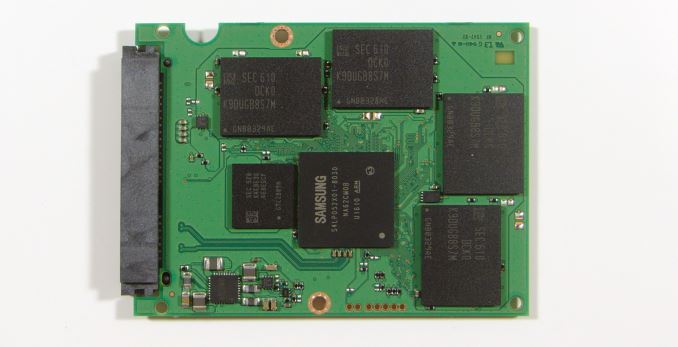 The Samsung SSD 850 EVO 4 TB (MZ-75E4T0) comes in a 2.5"/7 mm form-factor with SATA interface and is based on the company's TLC V-NAND memory (3D, 32-layers). The 850 EVO 4 TB drive is based on the MHX controller and is equipped with 4 GB of LPDDR3 cache (previously we were told we knew about the MHX ASIC supported 2GB max, which is interesting). Like the rest members of the 850 EVO family, the 4 TB model fully supports 256-bit full disk encryption that is compatible with the TCG/Opal 2.0 and IEEE1667 specifications, which is important for workstation users.
Samsung SSD 850 EVO Specifications
Capacity
120 GB
250 GB
500 GB
1 TB
2 TB
4 TB
Controller
MGX
MEX
MHX
NAND
Samsung 32-layer 128 Gbit TLC V-NAND
DRAM
256 MB
512 MB
1 GB
2 GB
4 GB
Sequential Read
540 MB/s
Sequential Write
520 MB/s
4KB Random Read
94K IOPS
97K IOPS
98K IOPS
4KB Random Write
88K IOPS
88K IOPS
90K IOPS
DevSleep Power
2 mW
2 mW
2 mW
4 mW
5 mW
10 mW
Slumber Power
50mW
60mW
unknown
Active Power (Read/Write)
Max 3.7W / 4.4W
3.7W / 4.7W
3.1W / 3.6W
Encryption
AES-256, TCG Opal 2.0, IEEE-1667 (eDrive)
Endurance
75 TB
150 TB
300 TB
Warranty
Five years
As for performance, the Samsung 850 EVO 4 TB drive resembles other higher-end models in the 850 EVO family. The manufacturer declares maximum sequential read speed of 540 MB/s as well as maximum sequential write speed of 520 MB/s for the SSD. As for random performance, the drive delivers a top speed of 98,000/90,000 4K random read/write IOPS. Maximum power consumption of the drive is 3.1 W/3.6 W during active read/write operations, which is also in line with the rest of the high-end 850 EVO SSDs.
Right now, virtually all the biggest retailers in the world already have the Samsung 850 EVO 4 TB in stock, or, at least, list the drive and take pre-orders. We could say that the highest-capacity consumer-class SSD is now widely available, however, we should note that in many stores the first batch was sold out immediately and some only have several units left.
Samsung SSD 850 EVO 4 TB (MZ-75E4T0B) Availability
As of 7/22 9am
Retailer
Country
Local Price
Price in USD
In Stock
Amazon
U.S.
$1,499
$1,499
July 31, 2016
B&H Photo Video
U.S.
$1,499
$1,499
Ships in 7-10 days
CDW
U.S.
$1,648
$1,648
Yes
Fry's Electronics
U.S.
$1,499
$1,499
August 1, 2016
Newegg
U.S.
$1,499
$1,499
July 31, 2016
NCIX
Canada
CAD $1,920
$1,468
Ships in 1-2 weeks
Amazon UK
U.K.

£1,200

$1,570
July 30, 2016
Overclockers UK
U.K.
£1,200
$1,570
6 in stock
Scan
U.K.
£

1,283

$1,680
Yes
Amazon DE
Germany
€1,299
$1,413
1 in stock
Amazon ES
Spain
€1,605
$1,768
Yes
Amazon FR
France
€1,502
$1,654
6 in stock
Alternate
Austria
€1,399
$1,541
July 28, 2016
BA Computer
Austria
€1,391
$1,532
July 29, 2016
Bora Computer
Germany
€1,379
$1,519
5 in stock
CaseKing
Germany
€1,480
$1,630
Yes
CineMagic
Denmark
10,782 kr
$1,596
Yes
Komplett
Sweden
13,799 kr
$1,598
Incoming
Misco
Sweden
11,382 kr
$1,318
Yes
The Samsung EVO SSD with 4 TB capacity has MSRP of $1,499 in the US, and the high price indicates that this remains a prosumer play at this point. At $1,499, the price is over two times higher than the 2 TB 850 EVO model ($675.76 at Newegg), indicating a higher cost per GB in exchange for density. Ultimately the product will likely find its buyer among those who need a large amount of solid-state storage (in 2.5"/7mm form-factor).
Other Options, Mainly for Enterprise
Typically SSDs of such capacity are designed for servers and datacenters and come with professional grade features which makes them even more expensive. For example, the SanDisk Optimus Max 4 TB (SAS) is available for $2,685 at Amazon and for $2,718 at Ebay. Likewise, Samsung's own enterprise-grade PM863 3.84 TB SSD (SATA) has suggested price of $2,200, whereas its faster PM1633 3.84 TB (SAS) brother is sold for $3,092. Moreover, if you go to companies like Fixstars or Foremay, they build special-purpose SSDs for various non-PC applications. These products typically aren't even quoted for pricing, because they can feature different configurations and the order quantity affects the pricing, along with any support deal.
Nonetheless, when it comes to performance, capacity, endurance and price, the sky is the limit for solid-state storage. Multiple companies (including Samsung and Fixstars) now offer 2.5" SSDs with over 10 TB capacity and there are specialized solutions (such as those from HPE) that can easily cost $10,000 and north. In short, $1,499 may not be that expensive for a consumer drive.