Sony Announces SF-G UHS-II SD Cards: Up to Nearly 300 MB/s Read/Write Performance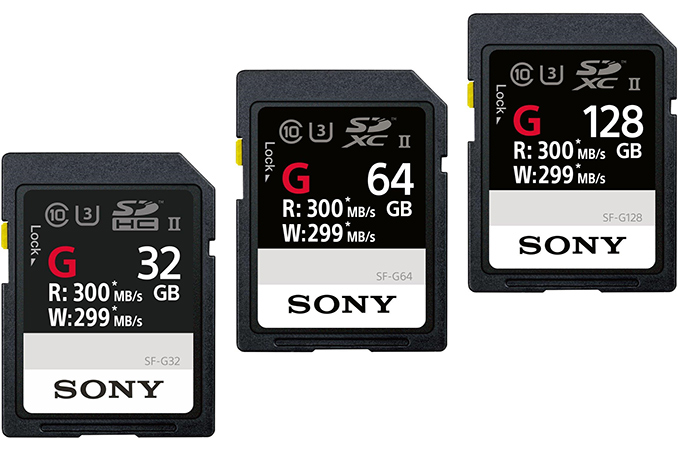 Sony has announced its new lineup of SD cards for advanced 4K/8K, DSLR, and mirrorless cameras. The new SF-G-series memory cards use the UHS-II bus and one of Sony's proprietary technologies to offer the company's highest read/write performance to date — up to nearly 300 MB/s. The cards will hit the market in the coming months.
The Sony SF-G-series memory cards will be available in 32 GB (SDHC), 64 GB (SDXC), and 128 GB (SDXC) configurations. The key selling point of the new Sony SF-G cards is their performance: up to 300 MB/s read speed and up to 299 MB/s write speed, which a quick look finds is around 15% faster compared to competing products (such as the SanDisk Extreme PRO SD UHS-II or the Lexar Professional 2000x UHS-II, both of which offer up to 260 MB/s writes). The new cards from Sony are compatible with various types of SD-supporting devices (cameras, card readers, etc.), but to take full advantage of their speed one needs a device that fully supports the UHS-II bus and has the extra pins the wider bus requires.
Sony is not reveaing how they're getting up to 299 MB/s sequential write performance in an SD card, instead only saying that it is enabled by its firmware. One possibility is that the cards use NAND flash memory with very large block sizes (supported by the SD 5.0 standard), which helps to boost write performance. In addition, the NAND controller inside the card may have a special pSLC cache with very fast writes and rather low usable capacities of the devices imply on that, but this could be verified only by testing one of these products.
Sony UHS-II SD Cards at Glance
32 GB
SF-G32
64 GB
SF-G64
128 GB
SF-G128
Usable Capacity
28.8 GB
57.6 GB
115.2 GB
Read Speed
up to 300 MB/s
Write Speed
up to 299 MB/s
Minimum Sequential Write Speed
30 MB/s
Interface
UHS-II
Availability
Spring 2017
SDA Labels
UHS-II, Class 10, U3
The new cards from Sony carry the Class 10 and U3 labels to show that their performance does not drop below 10 and 30 MB/s when used with those standards' respective workloads. Being positioned for professional use, the Sony SF-G cards are also waterproof, static-proof, temperature-proof, and shock-proof, which is beneficial for people who travel a lot and/or have to use memory cards in tough conditions. In case the data on cards is lost, Sony supplies its File Rescue tool with them.
Sony's SF-G-series SDXC cards will be available this spring. Pricing is to be determined, but it will vary depending on capacities. In addition to the flash memory cards, Sony will also offer its clients a UHS-II-capable MRW-S1 card reader with USB 3.0 interface, whose price is also unknown.
Related Reading: