Spot The Denverton: Atom C3000 Silicon On Display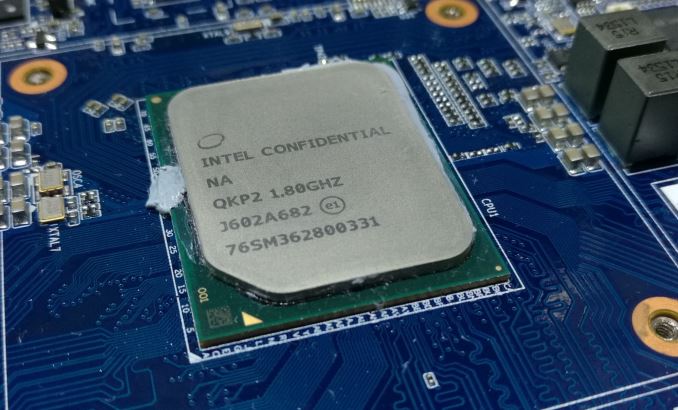 There are a few news items from Computex we didn't cover at the time that I want to visit. The first is Denverton, and how one manufacturer had a relevant beta motherboard on display during the show. Denverton is the successor to Avoton, Intel's 8-core Atom processor that we've seen in the ASRock C2750D4I and other and a variety of NAS and server based 'card' solutions (GIGABYTE showed a 46x C2750 server in 2U back at Computex in 2015). Avoton uses eight Bay Trail based cores, while Denverton will use the upgraded Cherry Trail microarchitecture design.
The Denverton based motherboard on show was an 'early' sample, offering four DDR4 slots supporting RDIMMs, four SATA breakout ports (for 16 SATA drives, sharing some SoC PCIe lanes), dual 10G SFP+ ports, dual gigabit network ports (via Intel I210), 32GB of eMMC and an Aspeed AST2400 board management controller. A single PCIe 3.0 x8 slot is provided for additional functionality.
The chip at the center of this, after we asked nicely for the heatsink to be removed, is a 1.8 GHz Denverton part built on Intel's 14nm process using the Airmont Goldmont microarchitecture. The QKP2 code is not yet public it seems, however we were told to expect this board in a 4-to-16 core design within similar power envelopes as the previous generation. Denverton is a new microarchitecture and 14nm die shrink compared to Avoton, so single core performance is expected to be more than a few percent higher but the main advantages of the die shrink will be power consumption per core.
Microarchitecture
Node
Release
Main SoC Name
Server Codename
Goldmont
14nm
2016
Apollo Lake
Denverton
Airmont
14nm
2014
Cherry Trail
Denverton
Silvermont
22nm
2013
Bay Trail
Avoton
Saltwell
32nm
2011
Clover Trail
Cedar Trail
Centerton
Briarwood
IDF is currently set for mid-August, and we will have at least a trio of editors there for the ride. At this point in development, we are likely to see some announcements being made towards the Denverton platform. If there is a full release at that time, we should see full specification sheets and pricing. Failing IDF, Supercomputing16 is in November.
Edit: Originally this piece claimed Denverton was Airmont, based on aged information. We have since concluded from multiple sources that it was perhaps originally going to be Airmont, but will now be Goldmont based.
Edit 2 (7/25): Based on a personal miscommunication, we have removed the original motherboard images from this news piece.