Western Digital Announces SanDisk Skyhawk Enterprise NVMe SSDs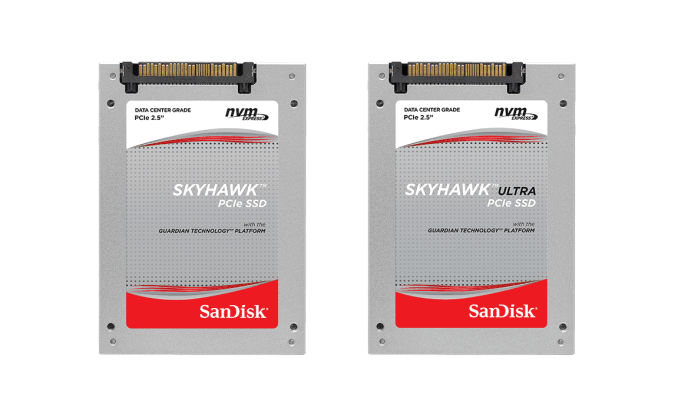 Today Western Digital announced the first enterprise NVMe SSDs under their SanDisk brand. The new SanDisk Skyhawk series are 2.5" U.2 SSDs intended for datacenter use. While Western Digital's HGST division already has NVMe SSDs like the Ultrastar SN200 series and their consumer-oriented WD brand recently added the WD Black M.2 NVMe SSD, SanDisk's previous PCIe SSDs have been based on their proprietary Fusion-IO architecture.
The SanDisk Skyhawk series includes 2TB and 4TB class drives. The standard Skyhawk models have usable capacities of 1920GB and 3840GB, while the Skyhawk Ultra models reserve more spare area and offer usable capacities of 1600GB and 3200GB. All four SKUs are based on a common platform with an unspecified PCIe 3.0 NVMe 1.2 controller. Performance and power consumption ratings are substantially lower than the HGST Ultrastar SN200 series, which use Microsemi's Flashtec controllers and draw up to 25 W compared to just 10.5 W average and 12 W maximum for the Skyhawk. The SanDisk Skyhawk SSDs do not support the U.2 dual-port mode that top of the line enterprise SSDs like the HGST Ultrastar SN200 and Intel SSD DC D3600 and D3700 are capable of using, but otherwise the SanDisk Skyhawk has the usual features expected of a datacenter SSD.
Series Specifications
Skyhawk
Skyhawk Ultra
Capacities
1,920 GB
3,840 GB
1,600 GB
3,200 GB
Form Factor
2.5"/15mm U.2
Interface
PCIe 3.0 x4 (NVMe 1.2)
Controller
unspecified
NAND
15nm MLC
Sequential Read (128 kB QD128)
up to 1500 MB/s
up to 1700 MB/s
Sequential Write (128 kB QD128)
up to 1170 MB/s
up to 1200 MB/s
Random Read (4 kB QD128) IOPS
up to 250k IOPS
up to 250k IOPS
Random Write (4 kB QD128) IOPS
up to 47k IOPS
up to 83k IOPS
Mixed Random Read/Write
( 70%R/30%W, 4kB QD128)
up to 99k IOPS
up to 150k IOPS
Average Random Read Latency (4kB QD32)
128 µs
127 µs
125 µs
126 µs
Average Random Write Latency (4kB QD32)
718 µs
1331 µs
351 µs
693 µs
Power
Idle
5.6 W
Operating
10.5 W
Endurance
0.6 DWPD
0.5 DWPD
1.7 DWPD
1.2 DWPD
Encryption
None
Power Loss Protection
Full in-flight data protection
MTBF
2 million hours
Warranty
5 years
Pricing for the SanDisk Skyhawk SSDs has not been announced. The drives are currently sampling to select OEMs and will be generally available in Q2.