Western Digital Shows Off Prototype 1TB SDXC Card at Photokina 2016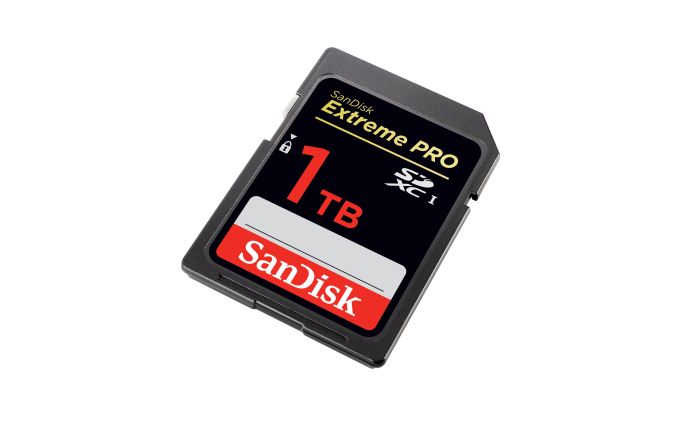 In recent years we have seen the development of 3D NAND push up the capacity and push down the prices of all sorts of flash devices, from SSDs to phones, and everything in between. Due to startup cost and longevity needs, we've seen 3D NAND focused primarily on permanent storage so far, but it looks like that is soon going to change, and 3D NAND will more widely make its way to removable storage.
This morning at the Photokina trade show in Germany, Western Digital is demonstrating a prototype 1TB SDXC card. This comes just 2 years after the previously-SanDisk portion of the company first demoed a 512GB prototype back at the show in 2014, meaning the new 1TB card comes more or less right on schedule with the breakneck pace of the NAND industry. More importantly, to our knowledge this is the first time that a 1TB SDXC has been shown off in any capacity. And while it's clearly a prototype – Western Digital isn't talking about when it's going to ship – that day will be sooner than later.
At the moment Western Digital isn't saying too much about the card, and its presence at Photokina is primarily to show off that they can now make such a card. The card is being related under the SanDisk Extreme Pro brand, but performance figures aren't being published at this time. We have however received confirmation that the card is internally composed of 32 NAND dies, which means we're looking at a 32 x 256Gbit configuration. So although Western Digital is not saying so at this time, the card is almost assuredly using the company's jointly developed 256Gbit 48 layer "BiCS" 3D NAND, or a newer incarnation thereof. In fact 1TB is the first SDXC capacity that would require 3D NAND, as 512GB cards could be build using 128Gbit planar dies.
Overall, Western Digital is pitching the new SDXC card at the photography and videography markets. In the case of the latter in particular, the company believes that the increasing use of 4K and 8K recording will drive greater storage requirements.