XFX Starts to Sell Single-Slot Mini-ITX Radeon RX 460 Slim Graphics Cards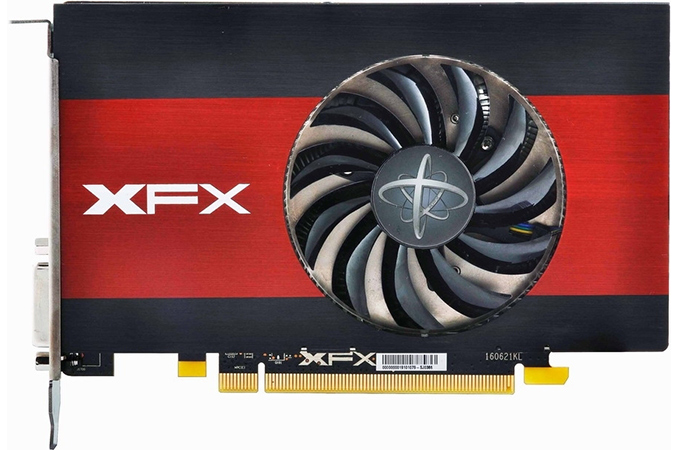 XFX has quietly started to sell its slim Radeon RX 460 video cards, which use a single-slot cooling system and can fit into a Mini-ITX computer. The cards features 2 or 4 GB of memory depend on SKU, as well as three display connectors, making them suitable for SFF and HTPC builds. Pricing of the cards is in line with AMD's recommendations at around $140.
The XFX Radeon RX 460 Slim Single Slot Design lineup consists of two graphics adapters carrying 2 or 4 GB of GDDR5 memory (operating at up 7 GT/s). The card ships with a 1220 MHz GPU boost clock – so XFX hasn't needed to make any sacrifices when it comes to top clockspeeds – and like every other RX 460 on the market we're looking at a cut-down version of the afformentioned Polaris 11 GPU (896 stream processors). The GPU is cooled by a relatively large cooling system featuring an aluminum heatsink with an 80- or a 90-mm fan at its center. When it comes to connectivity, the cards have one DL-DVI-D port, one DisplayPort 1.4, and one HDMI 2.0b port.
The AMD Polaris 11 GPU supports a contemporary feature-set via the DirectX 12 and Vulkan APIs. What's more, the graphics chip features hardware-accelerated decoding and encoding of HEVC (H.265) and VP9 video at 4Kp60, as well as HDR10 video output and HDCP 2.2 — all important capabilities for HTPCs. Last, but not least, performance of the GPU in graphics applications is considerably higher compared to most of today's iGPUs and thus the new boards can be used to upgrade various OEM PCs.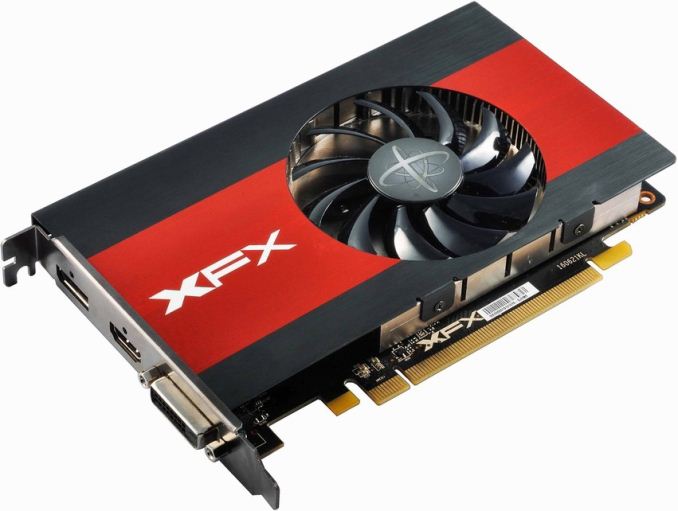 The key selling points of the XFX Radeon RX 460 Slim Single Slot Design graphics cards are their short length and uncommon single-slot width. The cards are just 170 mm long and thus are fully compatible with Mini-ITX builds. In addition, they can fit into densely packed systems that do not have a lot of spare space inside for a more traditional double-wide card. Furthermore the cards as sub-75W, and consequently do not require any auxiliary power connectors, which means they can be used to upgrade PCs whose PSUs don't offer those connectors.
XFX Radeon RX 460 Slim Single Slot Design Graphics Cards
RX-460P4TFG5
RX-460P2TFG5
GPU
AMD Polaris 11
Stream Processors
896
Texture Units
56
ROPs
16
Core Clock (MHz)
1090
Boost Clock (MHz)
1220
Memory
Capacity
4 GB
2 GB
Type
GDDR5
Clock
7 Gbps
Bus Width
128 bit
Outputs
DisplayPort
1 × DisplayPort 1.4
DVI
1 × DVI-D
HDMI
1 × HDMI 2.0b
TFLOPS (FP32)
Up to 1.95
TDP
75 W
Launch Date
2/2017
unknown
Additional Information
Link
Link
The XFX Radeon RX 460 Slim Single Slot Design graphics cards with 4 GB of GDDR4 memory are already available from Amazon and Newegg for $167.99 and $139.99 (this is AMD's MSRP for the RX 460 4 GB), respectively. The 2 GB version of the card is missing from retail, but it should hit the market eventually.
One of the images in the gallery courtesy of Newegg.
Related Reading: