ZOTAC Announces GeForce GTX 1080 for Mini-ITX PCs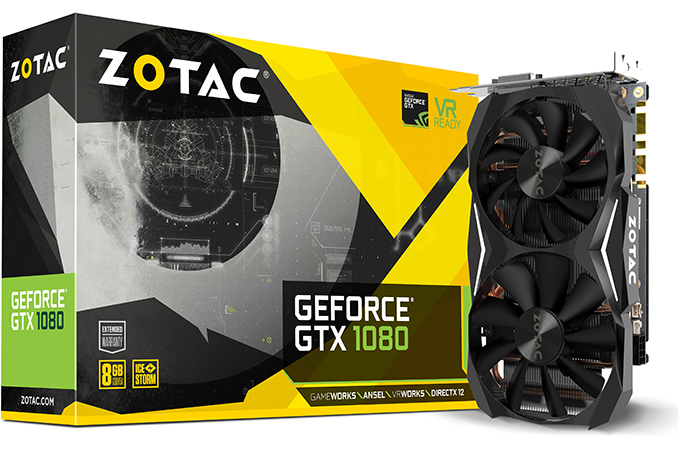 ZOTAC has introduced its GeForce GTX 1080 Mini, the industry's first video card for Mini-ITX systems running the GP104 GPU in its full configuration. The new graphics adapter will be compatible with miniature computers with proper cooling and will be the most powerful card for SFF PCs until something better emerges.
The ZOTAC GeForce GTX 1080 Mini (ZT-P10800H-10P) offers the same performance and connectivity as its larger brethren: it is based on the fully-fledged GP104 graphics processor (with 2560 stream processors, 160 texture units and 64 raster operations pipes) that works at 1620/1759 MHz (base/boost) frequencies and is equipped with 8 GB of GDDR5X memory featuring 10 Gbps and 320 GB/s of bandwidth. In fact, the GPU frequencies of ZOTAC's GeForce GTX 1080 Mini are slightly higher when compared to those of NVIDIA's reference cards which is worth mentioning. The board alo features three DisplayPort 1.4 connectors, an HDMI 2.0b port as well as one dual-link DVI header, which is exactly what NVIDIA's reference cards carry.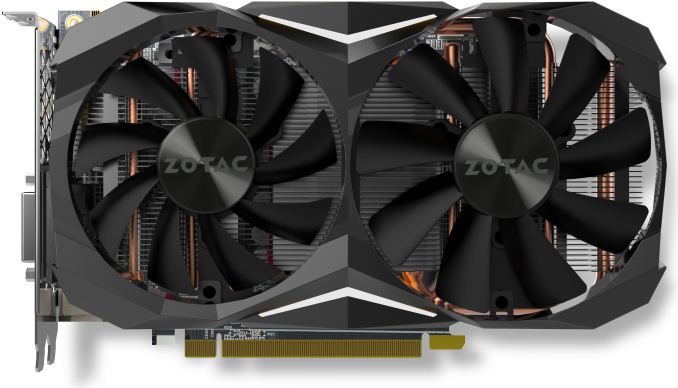 To squeeze a GeForce GTX 1080 GPU into Mini-ITX form-factor, ZOTAC had to develop a brand-new PCB with compatible with GDDR5X memory (so, the PCB is different from ZOTAC's GeForce GTX 1070 Mini launched earlier this year). It is unknown whether the manufacturer decided to go with NVIDIA's 5+1-phase VRM for the GTX 1080, or altered the VRM design somehow, but the card has one 8-pin PCIe power plug as well as two SLI-HB connectors, just like other boards in its class.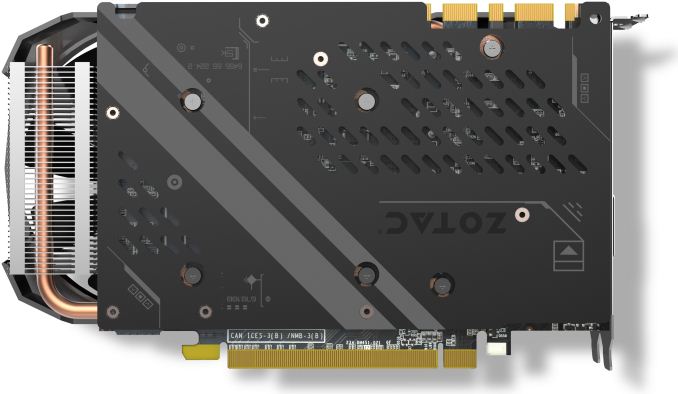 Since the GeForce GTX 1080 consumes up to 180 W of power, ZOTAC also had to design a relatively small cooling system for the ZT-P10800H-10P board. The company came up with a cooler that uses an aluminum radiator with at least three thick (and long) copper heatpipes as well as two fans. In addition, the GeForce GTX 1080 Mini card has a backplate, which has positive and sometimes negative effects. The cooling system seems to be a little longer than the one used on the ZOTAC GeForce GTX 1070 Mini, but the whole graphics adapter is barely longer than 17 cm (6.7") specified by the Mini-ITX spec. In any case, the majority of builds designed for gamers have a few cm of extra space inside and the length is not going to become a problem.
Specifications of GeForce GTX 1070/1080 for Mini-ITX PCs
ZOTAC
GeForce GTX 1080 Mini
ZOTAC GeForce GTX 1070 Mini
GIGABYTE GeForce GTX 1070 Mini ITX OC (OC Mode)

GIGABYTE GeForce GTX 1070 Mini ITX (Gaming Mode)

NVIDIA
GeForce GTX 1080
Founders Edition
NVIDIA
GeForce GTX 1070
Founders Edition
Stream Processors
2560
1920
2560
1920
Texture Units
160
120
160
120
ROPs
64
64
Core Clock (MHz)
1620
1518
1556
1531
1607
1506
Boost Clock (MHz)
1759
1708
1746
1721
1733
1683
Memory
Capacity
8 GB
8 GB
Type
GDDR5X
GDDR5
GDDR5X
GDDR5
Clock
10 Gbps
8 Gbps
10 Gbps
8 Gbps
TDP
180 W
150 W
180 W
150 W
Launch Date
Q1-2017
12/2016
7/2016
5/2016
6/2016
Launch Price
?
$395

?

$699
$449
ZOTAC plans to display its GeForce GTX 1080 Mini at CES and start its sales in 2017. The company did not announce exact pricing and ETA, but since this is a unique custom-designed product, it will likely be priced higher than NVIDIA's reference designs.
Related Reading: