ZOTAC Announces VR GO Backpack PC with GeForce GTX 1070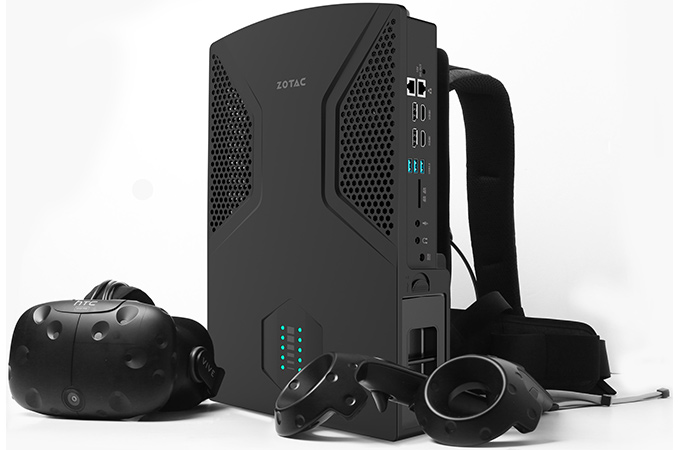 ZOTAC this week has formally introduced its VR GO backpack PC designed for virtual reality enthusiasts. The system is equipped with NVIDIA's GeForce GTX 1070 graphics, a quad-core CPU from Intel, rich I/O capabilities and a hot-swappable battery. Despite its positioning, the VR GO can be used like a normal desktop computer, which differentiates it from early prototypes of wearable VR PCs from other makers.
ZOTAC is mostly known for its graphics cards and high-performance small form-factor PCs, but not wearable systems (which are not that uncommon: industrial- and even space-grade wearable PCs have existed for years). To develop its VR GO computer, the company had to use experience it obtained from building SFF systems for gamers as well as to find ways to minimize weight and to ensure that the design can handle harsh treatment during gaming sessions. Basically, ZOTAC had to fix everything tightly inside the box while ensuring appropriate cooling and proper position of the I/O ports.
To make it convenient to connect a VR headset to the VR GO, one side of the device has the appropriate ports. The single side has one HDMI output, two USB 3.0 ports and one power connector on top of it. Such positioning greatly simplifies cable management and makes VR gaming with a PC on your back a little more comfortable. The system also comes with a removable battery pack that enables autonomous operation for (waiting on offical numbers) hours.

While virtual reality is considered as an important milestone for gaming, it hardly makes sense to develop a PC only for VR, which is why ZOTAC's VR GO is a powerful PC in general and can be used like a desktop computer too. It has three additional USB 3.0/3.1 Type-A connectors, an SD card reader, four additional display outputs (two HDMI, two DP), two GbE ports as well as two 3.5 mm audio jacks.
Inside the ZOTAC VR GO there is a custom motherboard in a proprietary form-factor carrying an Intel Core i7 CPU, two DDR4 SO-DIMMs, an M.2 SSD (PCIe 3.0 x4), an 802.11ac Wi-Fi module and NVIDIA's GeForce GTX 1070 MXM module. To cool down the CPU and the GPU (a total TDP of 150 W), ZOTAC uses a proprietary low-profile air cooling system but has not disclosed details. At this point, we do not know whether the manufacturer reinforced the design of its cooler's backplate somehow, but this is a logical thing to expect. To expand the storage capacity of the system, ZOTAC also added one bay for a SATA-based 2.5" storage device (either HDD, which might be affected by rapid movement, or a high capacity TLC SSD).
ZOTAC's VR GO system is not the first backpack-type PC developed by the company. At Computex 2016 the hardware manufacturer already demonstrated a wearable system, but that was largely a prototype and still in the early design stage. By contrast, the VR GO looks like a commercial product.
ZOTAC does not specify exact availability timeframe for its VR GO backpack PC other than Q4 2016 as well as its estimated price. We expect to see it at CES in early January for sure.
Related Reading