Acer Announces Aspire Switch 10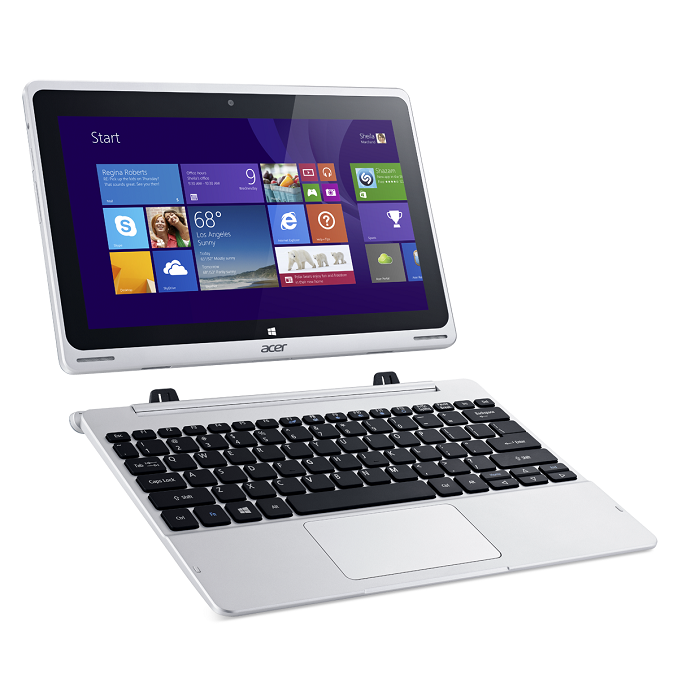 Acer took the wraps off of a new product today – the Acer Aspire Switch 10. This is a new take on the two in one for Acer, offering a Bay Trail-T equipped 10.1" tablet with a magnetic detachable keyboard design. The keyboard offers two hooks to connect the tablet to the keyboard without requiring a latching mechanism, but more secure than a comparable Surface keyboard.
Acer claims four modes for the tablet. First, there is Notebook mode, where the keyboard is attached the normal way, and Pad mode, which is just the tablet. That's all fairly standard in a two in one Windows tablet. The other two modes are based on the fact that the magnetic latching system on the keyboard is actually reversible – there is a Display mode where the display is simply turned around, and a tent mode where the display is turned around and the keyboard slightly folded up to give the same effect as a Surface with kickstand.
None of this is new to the Windows tablet scene of course– the Asus Transformer Book T100 offers a detachable keyboard, and Lenovo has several devices such as the Yoga and Flex lines which offer the four device modes, but Acer has done a unique take on it with the combination of reversible and detachable keyboard.
Specification wise, it's a pretty standard tablet. The device has a Bay Trail-T quad core processor (actual model number not disclosed), 2 GB of RAM, up to 64 GB of storage, and a 1366×768 10.1" IPS touch display. Where Acer seems to have focused their efforts was in dimensions and mass, where they are claiming a 8.9 mm thick chassis (20.2 mm with keyboard) and 0.59 kg (1.29 lb) weight for the tablet alone, and 1.17 kg (2.58 lb) for the combination.
Two in One Computers
Acer Aspire Switch 10
Asus Transformer Book T100
Microsoft Surface 2
Dimensions
H: 0.35" (8.9mm)
W: N/A
D: N/A
H: 0.41" (10.5mm)
W: 10.35" (263mm)
D: 6.73" (171mm)
H: 0.35" (8.9mm)
W: 10.81" (274mm)
D: 6.79" (172mm)
Weight
1.29lbs (590g)
1.21lbs (550g)
1.49lbs (676g)
CPU
Intel Bay Trail-T
Intel Bay Trail-T Z3740
NVIDIA Tegra 4 T40
GPU
Intel HD Graphics
Intel HD Graphics
NVIDIA Tegra 4 T40
RAM
2 GB LPDDR3
2 GB LPDDR3
2 GB LPDDR3
Storage
32-64 GB
32-64 GB
32-64 GB
Display Size and Resolution
10.1" 1366×768
10.1" 1366×768
10.6" 1920×1080
Battery
N/A
31 Wh
31.5 Wh
Price
$379 with keyboard
$349 with keyboard
$449 without keyboard
Other notable features are a zero air gap (direct bonded) display, which should help dealing with external light sources, and an auto brightness feature they are calling LumiFlex which they claim will help with colors when using the device under varying lighting sources. As to what this will actually do, we'll have to wait for a review sample to see. Acer is also supporting Windows 8.1 InstantGo which is the new term for Connected Standby and Bitlocker enabled storage.
Also, there's an optional keyboard dock with 500 GB of internal storage – no other specs of this accessory were announced.
Overall, the Aspire Switch 10 looks like a nice two in one, with an aluminum rear cover with a cross brush pattern. Prices start at US $379 with availability in late May.